Quick Links
About the Programme
About the evaluation
Key lessons from the evaluation
Read the evaluation report
Related content – East Ayrshire Pathfinder Evaluation Stories webinar
Technology Enabled Care (TEC) is defined as "where outcomes for individuals in home or community settings are improved through the application of technology as an integral part of quality, cost effective care and support".
About the Programme
This was a four-year programme, funded by Scottish Government's TEC Programme, Digital Health and Care Directorate (2019-2023) with the aim of helping local partnerships to contribute to the transformation of local health and social care systems using digital technologies, shifting local delivery upstream towards prevention and self-management.
The programme adopted the Scottish Approach to Service Design (SAtSD) and set up four Pathfinder areas to test this design-led approach to system transformation across their health and social care partnerships.
The Programme Pathfinders
The four Pathfinders were Aberdeen City, East Ayrshire, the Highlands, and Midlothian. The Named Partners were East Renfrewshire, Orkney, South Lanarkshire, and the Western Isles. Each Pathfinder consisted of a partnership of service users, Health and Social Care Partnerships (HSCPs), NHS and/or third and independent sector organisations.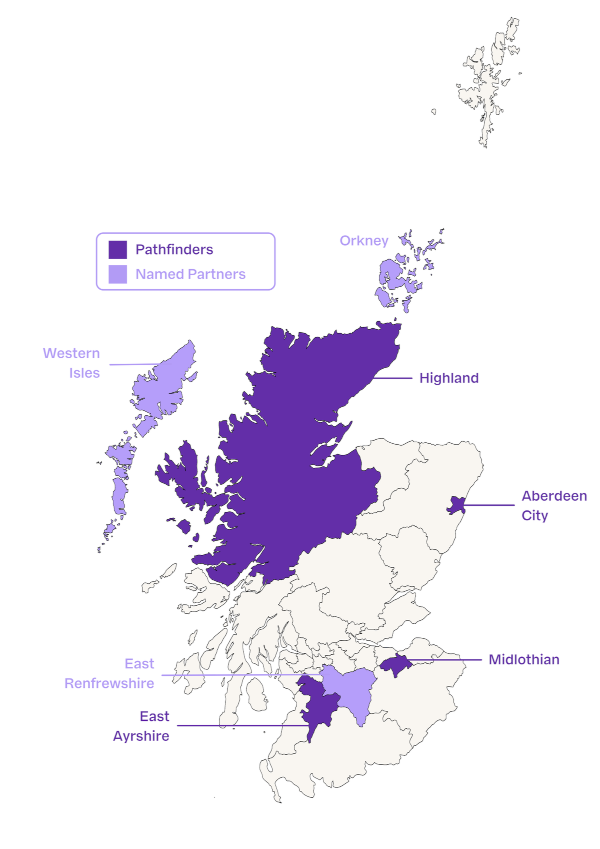 Highland: To transform the Highland Respiratory Care pathway towards a pathway that is truly patient centred, by co-designing it with patients and all those who either use or provide respiratory services from the outset.
Aberdeen City: To understand how TEC can play a role in supporting the delivery of multi-agency services for people aged 18+ who experience domestic abuse.
East Ayrshire: To use TEC as a key enabler to fully transform health and social care provision for people with long-term health conditions living in the Irvine Valley.
Midlothian: To transform traditional models of care to enable the increasing numbers of people living with frailty to achieve their best possible quality of life.
About the evaluation
We have provided the Pathfinders and National team with developmental evaluation support since 2020.
We supported the teams to develop outcome maps (or theories of change) and then consider and collate evidence against these maps. We held a series of twelve online collective support sessions which provided an opportunity for Pathfinder teams to share progress with the National team and with each other, get help with evaluation issues, and have protected time to reflect on and evaluate their progress in OutNav.
Over the last three years, the teams have produced analysis and reports in OutNav that have informed our summative evaluation and been shared locally to update wider partners on learning and progress. The learning from this developmental evaluation process has both shaped the implementation of the Programme and fed into the findings of the evaluation presented in this report.
Key lessons from the evaluation

Digital exclusion hinders progress towards a cultural shift in the use of digital technology. Digital exclusion is not only due to a lack of access to devices and technology but also due to lack of awareness and understanding of the supports and services available.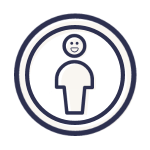 The transition to digital is transforming health and social care. However, it is crucial to adopt a person-centred approach that empowers the citizen to ensure that no one is left behind. The Scottish Approach to Service Design (SAtSD) has been a useful mechanism to apply a whole systems lens to understanding the problem from the perspective of people (citizens, healthcare professionals and carers).
Strong foundations requiring national direction and support are needed for the empowered citizen to transition and become the 'digital citizen' of our digital future.

HSCPs can play a role in local systems transformation by supporting 'digital translation' for local people and using person-centred and whole systems approaches, such as the SAtSD, to design services that meet the needs of people.
Read the evaluation report
For more lessons and findings, download the report from the TEC Scotland website.
TLS Final Evaluation full report
TLS Final Evaluation Executive Summary
---
Related content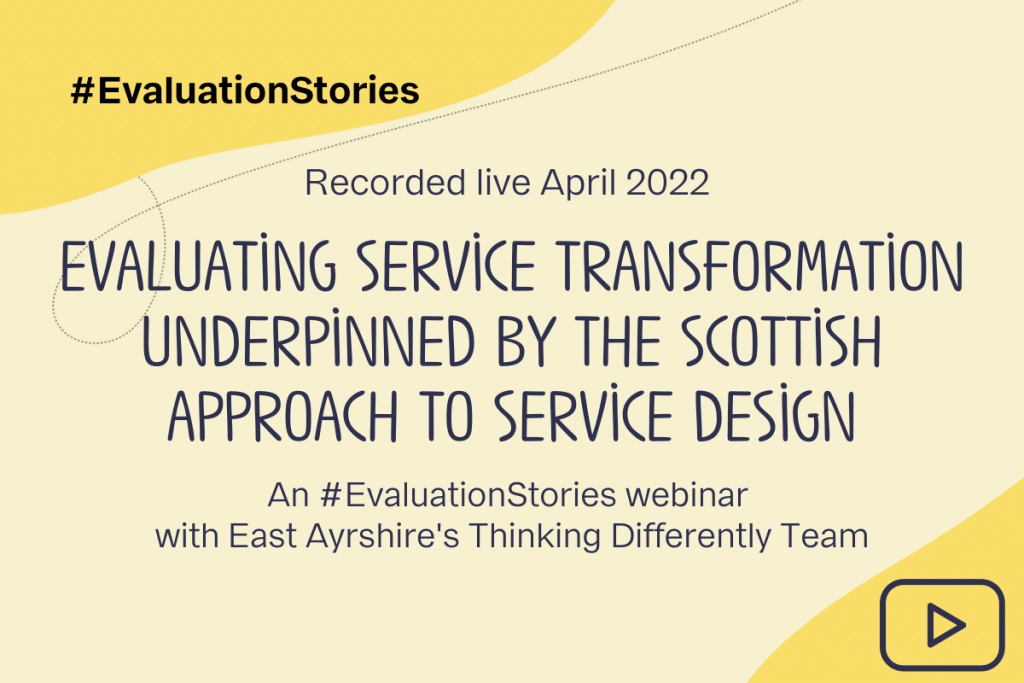 Recorded live in 2022, this Evaluation Stories webinar focused on the progress and learning from evaluation work carried out with East Ayrshire's Thinking Differently Team within the Health and Social Care Partnership, one of the Pathfinder areas taking the TEC Pathfinders Programme.
---