Part of our vision for OutNav was that it should help people produce beautiful outcome-focused reports. The last six months have seen intensive software development to get us firmly on that path.
Reports have a sleek new design, with improved look and feel thanks to the input of Michael Heins from More Yum. Enhanced functionality means you can present your work in a dynamic and interactive way.
We are excited to release our phase one developments – we hope you'll love the direction OutNav reporting is taking as much as we do! Here is an overview of the key changes:
Select which pathways to report on
The first change you will notice is the option to select specific pathways within your project to report on. This will benefit projects with multiple pathways; allowing you to focus on the progress of just one, or report on different pathways to different audiences.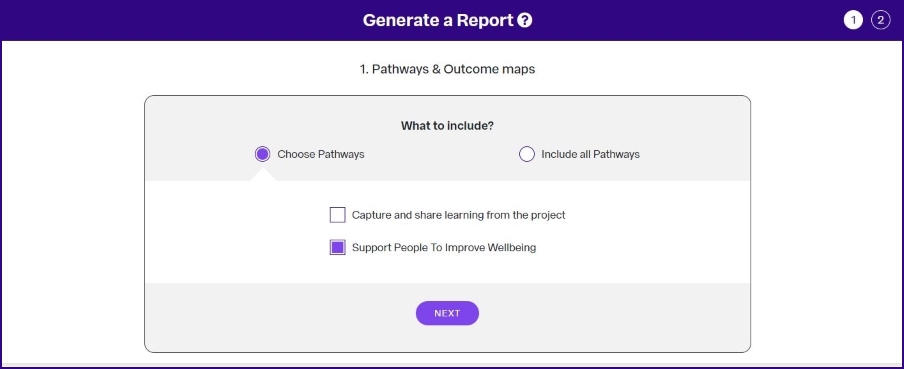 Three reporting options
There are now three reporting options to choose from – findings, full and custom – affording you the flexibility to choose the appropriate report for your audience. For example, you can report the progress of a specific pathway of a project at a team meeting or present a comprehensive report to external stakeholders.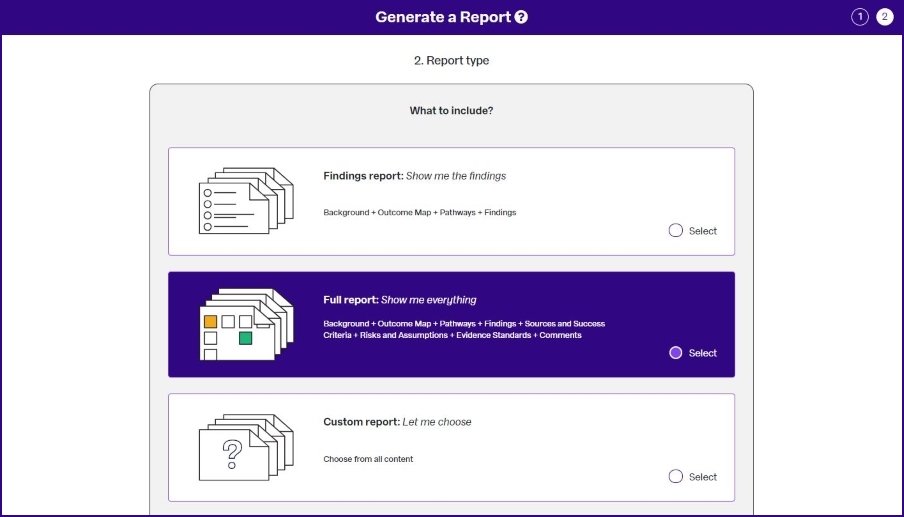 1. Findings report: show me the findings
Like the pathway findings report in the previous version, this report displays your outcome map, pathways and findings.
2. Full report: show me everything
This report presents all of your work in OutNav, including; outcome map, pathways, background, risks and assumptions, findings, sources and success criteria, evidence standards and comments.
3. Custom report: let me choose
This option allows you to customise your report from a list of all content options. Use this option to create reports for tracking the evaluation of a project, for example, by selecting pathways, findings, sources and success criteria and evidence standards.
Report on context and approach
Based on user feedback, full and custom OutNav reports now contain space for you to report on the project context, aims and objectives and the methodological approach. If you are unsure how to articulate the approach, we have provided a statement which can be used by all OutNav reports.
Other elements that can be incorporated into a report include:
Sources and success criteria – include a table of your sources and success criteria to give your audience more detail of your evaluation plan.
Risks and assumptions – add a slide that lists the risks and assumptions you have considered while analysing your project in OutNav.
Evidence standards – report on the evidence standards you used when assessing success throughout the project. In the near future, evidence standards will be editable, so your team can decide on its own standards of progress and evidence and show this within reports.
Interactive features for dynamic presentations
We have developed some interactive features to make your online OutNav presentations easy to navigate and more dynamic:
Navigation tool – Reports can be easily navigated via a bar at the bottom of the screen.
Save and download – You also have the option to save a completed report to the project landing or download a report as a Word document.
Linked content – The report's content page provides links to take you directly to specific sections. You can also navigate to your evidence standards when you click on the progress/confidence key.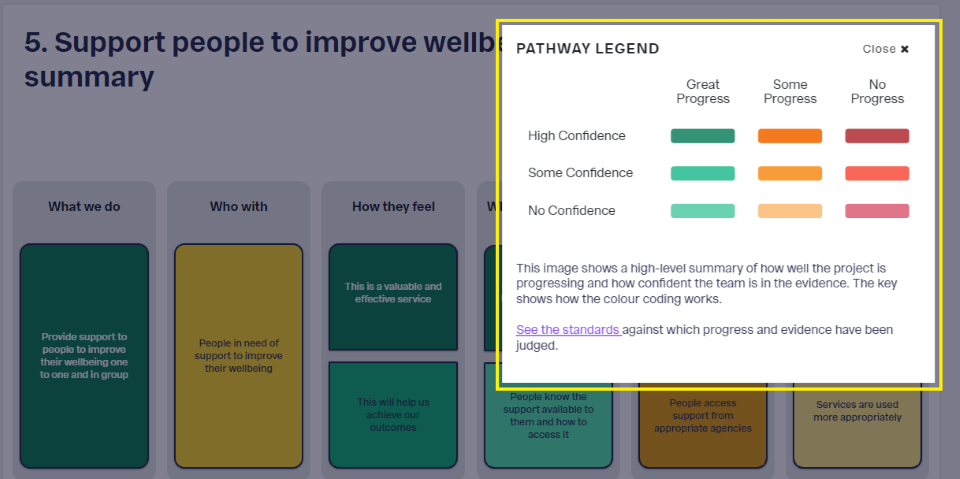 Interactive outcome maps and pathways – Hovering your cursor over a stepping stone will enlarge it and darken the rest of the screen so you can focus on the specific outcome area when presenting.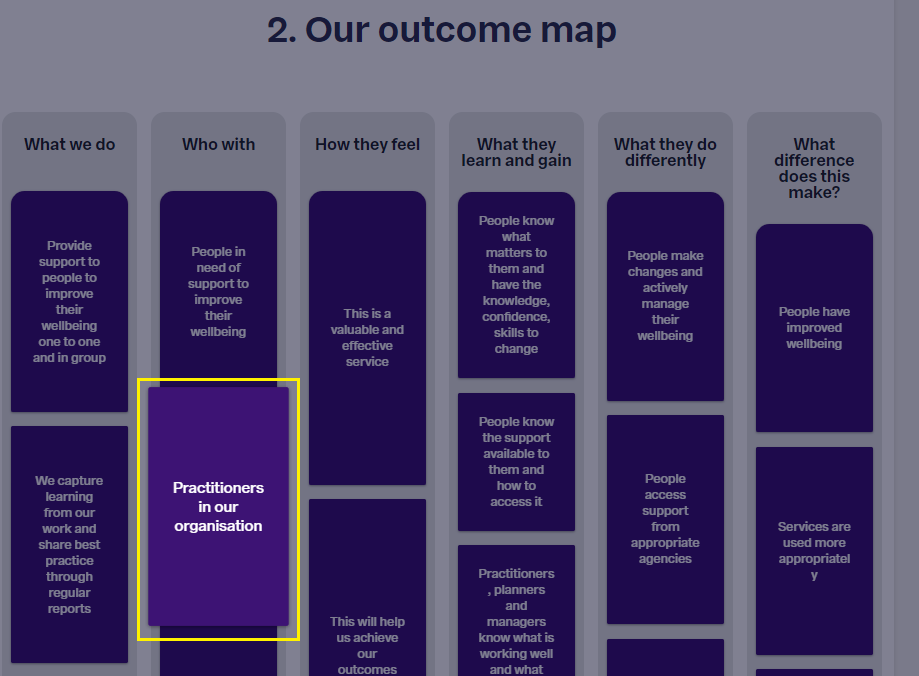 Show images – Clicking on an image in a report will enlarge it. There is also an option to scroll through images if there are multiple uploads under one stepping stone.
More to come…
Over the next few months, the OutNav reporting function will be under additional development to bring you more choice over the design and layout of reports. We will also be updating the downloadable OutNav reports to improve the look and feel of the content in a Word document format.
If you have any feedback or suggestions for us on the new reporting features, we would love to hear it!
Contact us