Everyone using our outcome evaluation software OutNav has access to a growing online knowledge base, with the option to raise a help request for specific support, whenever needed. But sometimes you can't beat the opportunity to talk through specific challenges of outcome evaluation – talking about your work provides enhanced learning and insight for everyone involved in the conversation.
Last month, we hosted our first online clinic so we could address any issues members of the OutNav Community (our software user community) might be having on OutNav and share some best practice. It was also an opportunity for everyone to hear about and learn from each other's projects and progress.
At Matter of Focus, we like to reflect after each OutNav Community event and share the learning more widely here on our website. Here are some of the issues we discussed in the clinic:
How can I make the most of the new OutNav reporting feature?
Rather than thinking of a report as something that is generated at the end of a project or evaluation, there are many ways in which the OutNav reporting function can be used. For example, using OutNav live reports during meetings to work on assessing the progress of a project is a great way to work collaboratively and allow everyone to have input on the evaluation.
How can I make the most of qualitative feedback in reports?
A simple yet effective way to make qualitative data more visual is through using a word cloud tool, as illustrated below. A word cloud increases the weight and size of a word depending on the number of times it has been used. Therefore, it can be helpful in visualising feedback from your project reviews. To try creating a word cloud of your own, we recommend using this free online tool.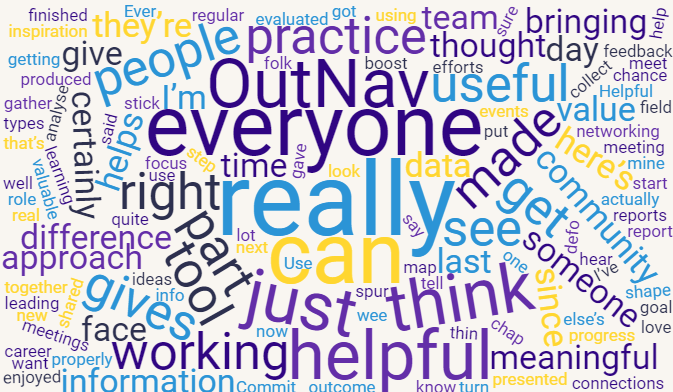 Another example of creating visual impact with your data is to create a graphic with a concise quote from your qualitative feedback, written in your organisation's colours and branding. Here's an example we've created using a client's opinion of our software: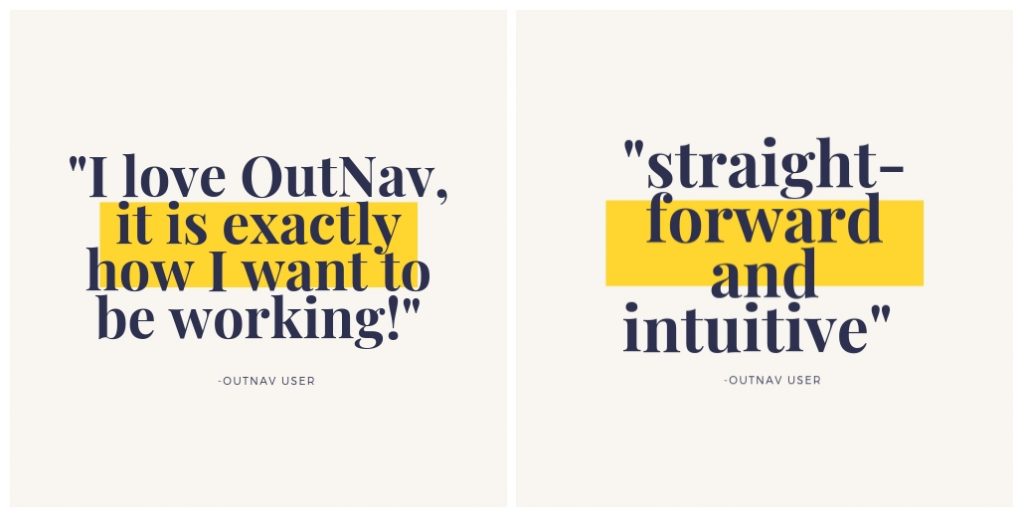 These graphics were created on Canva, an easy to use graphic-design tool website, which provides free design templates and uses a simple drag-and-drop method. This graphic was created using a basic template which was then customised to our styles.
My graphic is too large and won't upload, what can I do?
The file size of each graphic uploaded to OutNav is limited to 500Kb to ensure that you can generate reports quickly and that they will download at an efficient speed. This means you may need to reduce the file size of your graphic (jpg, jpeg, gif, png) without losing quality. We have provided some links to third party websites which can help you with this process. View this guidance here.
How can I upload multiple evidence files to one evidence source?
There are many places from where you can upload evidence in OutNav, but if you are uploading several files at once then the best place to do this is from project landing page, in the sources and library tab. Click here for guidance to take you through this process.
How can I add a reference in my stepping stone analysis?
Adding a link to your analysis of progress can be helpful when referring to a website or online resource. In order to make it easy for someone reading your report to view this reference, you can add a link to your text. Click here to view the steps on this process.

By the end of the clinic everyone had new ideas about things to do with their own projects, as well as clarity on any problems. We are scheduling the next online clinic soon!
To receive a regular round-up of our insights and news please sign up to our mailing list.
Sign up now
If you are not a current OutNav user and would like to arrange a demonstration of the software with one of our team, please get in touch.
Contact us