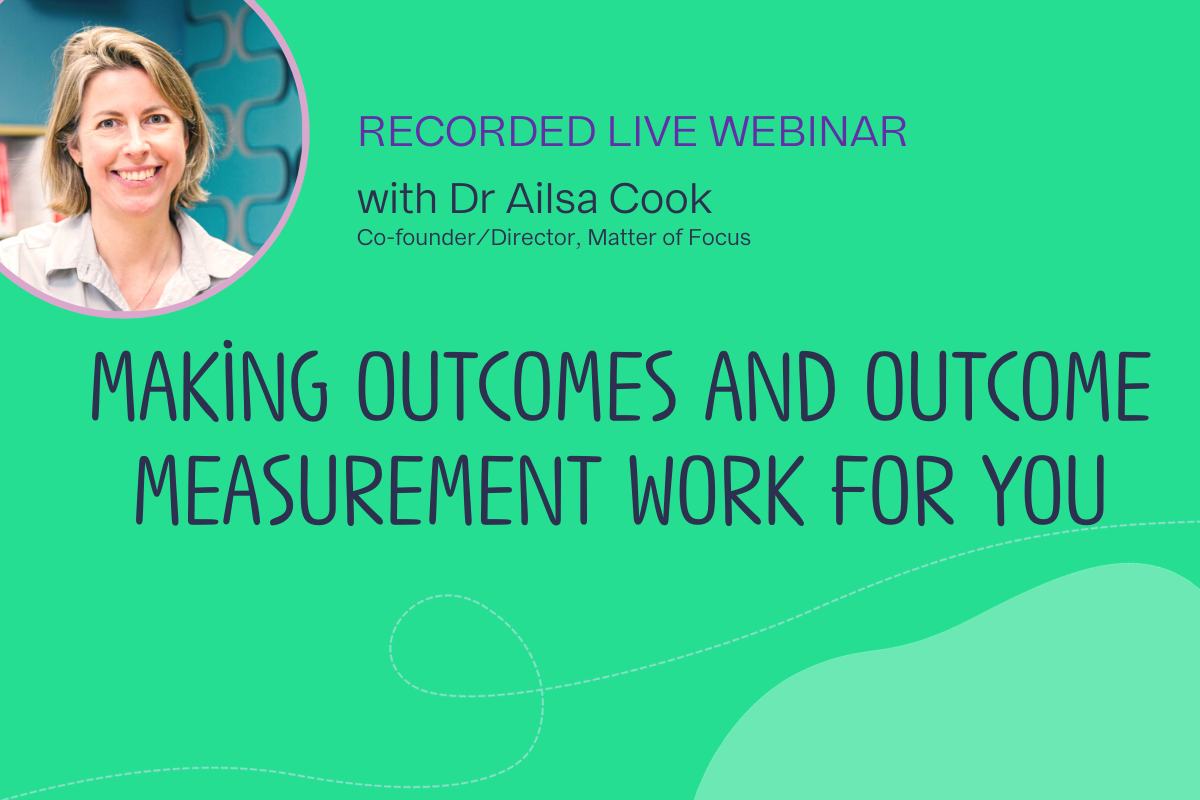 If your organisation, service or programme is finding itself in a tangle of outcomes, this webinar will explain what outcomes are (and aren't) and share some practical tools and a framework to help you work well with them. This webinar was recorded live in February 2021.
Focus on the outcomes that matter to people
There is a growing commitment across public services internationally to focus on the outcomes that matter to people. If your organisation is delivering a service or programme, it's right that you should be clear about not just what your organisation does, but also the difference your work will make to the people and communities your organisation cares about.
Being able to talk about and evidence your contribution to outcomes is key to running a sustainable and impactful service, organisation or programme.
This can be easier said than done.
If you're caught in a tangle of outcomes, you're not alone. Like many organisations, yours is likely grappling with the need to respond to what matters to the people and communities it cares about, whilst simultaneously aligning to multiple funder and strategic outcomes. And this is before you have started to measure or report on outcomes, which can add much more stress and paperwork into the mix.
We help to make outcomes work for you
Over a collective two decades of working with outcome challenges, we have learnt:
how important it is to understand what you mean by outcomes (and what to do if your funders and partners are less clear
how a focus on outcomes can help you improve
the benefits to staff in focusing on outcomes
the challenges organisations encounter when faced with overly simplistic outcome measures and indicators
the benefits of streamlining data-gathering and reporting around outcomes.
In our work with more than 100 organisations, we have learnt that taking control of outcomes will help your organisation manage in complexity, and tell a compelling story of the difference it makes.
Start your journey here, with this recorded webinar
This webinar was held live in February 2021. In it, Ailsa Cook shares some practical tools and a framework, explains what outcomes are (and aren't) and how to work with them, exploring the following:
Different types of outcomes
Why it's important to focus on outcomes
How to meaningfully measure outcomes
Who will find this webinar of interest?
This webinar will be of interest to people leading and working in public service organisations that are expected to report on outcomes or are looking to become more outcome-focused.
About your host
Ailsa Cook is a leader in the field of outcomes. Through her research and work with policy and practice, Ailsa has made a significant contribution to shifting the focus of public services in Scotland towards the outcomes that are important to citizens and communities.
Ailsa is a co-originator of the Talking Points Personal Outcomes Approach, now used across thousands of organisations in Scotland and beyond.
To receive a regular round-up of our insights and news please sign up to our mailing list.
Sign up now