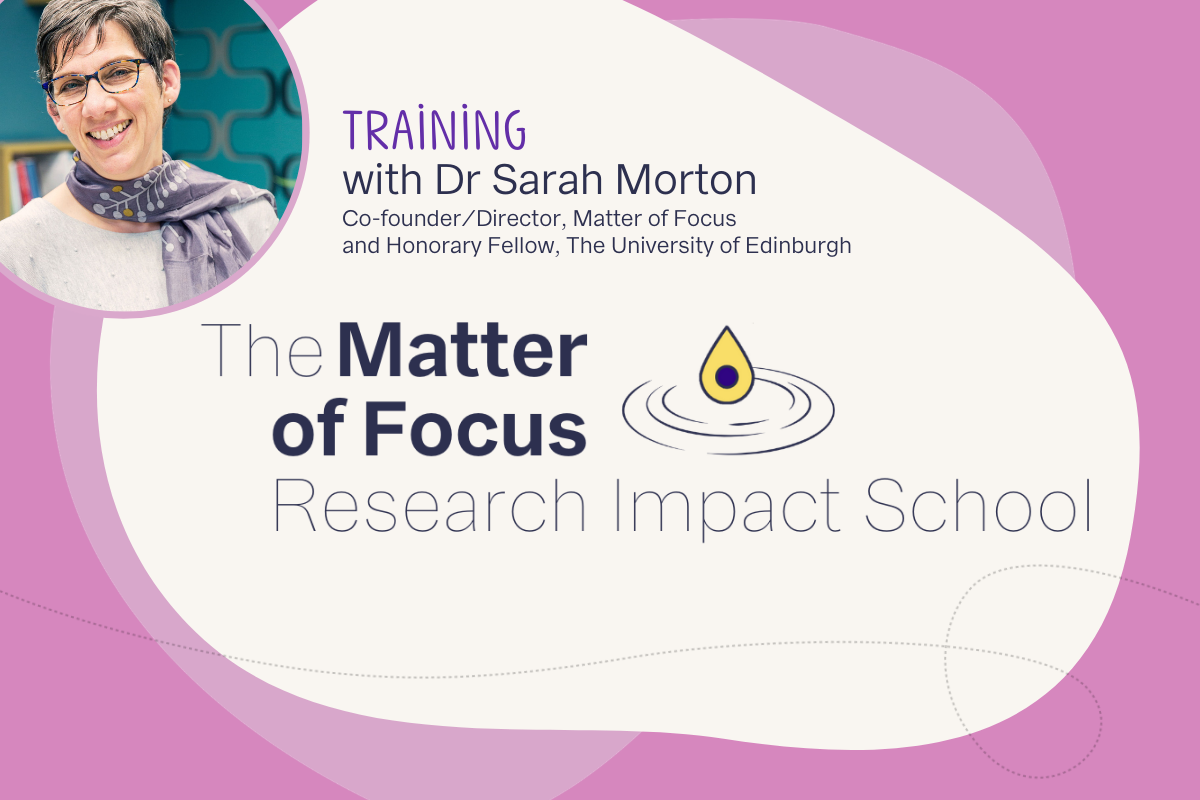 Our Research Impact School programme combines five live and engaging 2-hour workshops with a 6-month OutNav subscription to equip you with the knowledge, skills and tools to understand and assess the impact of your work, so that you can tell a robust story about the difference your research or evidence to action strategy makes.
---
Take this away to read at your leisure with our Matter of Focus Research Impact School booklet, containing full course details along with an introduction to our practical and meaninful approach to assessing research impact.
Download the Matter of Focus Research Impact School booklet here (pdf)
---
Available dates
Autumn 2021 start

: November 1, 8, 15, 22, 29; all 4.30 – 6.30 pm, GMT + showcase event 24 Jan 2022

Spring 2022 start

: April 20, 27, May 4, 11, 18; all 9.00 -11.00 am, BST + showcase event 29 June 2022
Supporting you to plan for and assess your research impact
The Matter of Focus Research Impact School training programme is for anyone that wants to develop a good understanding of research impact and bring a body of evidence together to tell a robust story or create a case study.
About the programme
This is a remote training programme that takes place on Zoom, using Miro and our own software OutNav. The programme includes:
five 2-hour workshops – one a week for five weeks
resources for tracking your research or knowledge initiatives' impact
a 6-month subscription to our software OutNav, so you can carry on tracking after the course.
In the workshops we will explore how to set out your impact map and use this as a lens for collecting and collating data that can demonstrate that your research or K2A strategy makes a difference.
The workshops will take you through a process of setting out the impact for your project or programme, auditing your data, improving feedback and pulling everything together into an impact narrative, case study or other report.
Week 1: Welcome and orientation. Approaches to assessing impact. Introduction to pathways.
Week 2: Define and refine a pathway to impact.
Week 3: Data for impact assessment- sources and approaches.
Week 4: Indicators and data for impact.
Week 5: Telling an evidence-based impact story for funders and stakeholders – Taking it forward.
Showcase event! A few weeks after the training ends, you will have an opportunity to share your work with people inside your organisation and other stakeholders that you would like to invite. This is also an opportunity to find out how others are progressing and celebrate your first steps on the road to impact tracking.
What will you work on?
You will need to focus on a specific project, programme or research portfolio. This will be easiest if you choose something well-defined, with existing impact goals. If you want to discuss this prior to the course, please get in touch.
Using our innovative impact tracking software OutNav
You will use OutNav, our innovative cloud-based software that provides a single place for you to hold your data and evidence, and assess progress towards impact.
Course leader and co-director of Matter of Focus Sarah Morton on how OutNav can help you with research impact.
At the end of the five-weeks of training you will have a six-month OutNav subscription to continue your tracking. The subscription comes with additional support including a one-hour follow-up call with course leader Sarah Morton, OutNav's online knowledgebase, twice-weekly online drop-in help sessions, and ongoing technical support. You will also become a member of our OutNav Community, which is invited to meet regularly online for discussion and shared learning.
You can of course choose to renew your OutNav subscription after this six month period. If you choose not to continue your subscription, you can download all of your work.
What will be covered in the training?
How to plot impact maps
Using impact maps to assess impact
Assessing impact – potential indicators (what works)
Identifying data (and gaps) and designing data collection
Building your impact story
Telling your impact story for different audiences, including REF and RCA impact case study requirements.
What will I learn and gain?
An understanding of the challenges of tracking the impact of research on communities, policy, practice or the public.
A measurable impact plan, with identified data and feedback.
Strategies for getting feedback that ensure your research impact assessment is robust and credible.
A chance to try a cloud-based impact tracking tool, with a six-month subscription to continue tracking.
Ongoing help and support via our OutNav Community for the duration of your OutNav subscription.
What difference will this make?
By the end of the course you will have a pathway to impact for your chosen project, with defined data and evidence, and an emerging impact narrative. You will also have a better understanding of how to track the impact of research and will be able to take the learning and apply it to other projects.
Who is leading this course?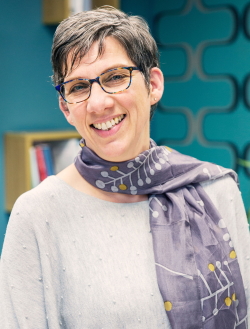 The Matter of Focus Research Impact School is led by
Dr Sarah Morton (co-founding director of Matter of Focus and Honorary Fellow University of Edinburgh).
Sarah has an international reputation as a leader in the fields of knowledge exchange and research impact, leading in-demand courses such as Making and Measuring Impact for NCRM, and has been an invited speaker on this topic in the UK, Canada and Australia. She has conducted eight independent impact studies and supported organisations and individuals to create and understand the impact of research and evidence-use strategies.
Is this programme right for you?
This course has a limited number of places for people who want to develop their understanding of research impact and want to track their knowledge mobilisation plans or strategies.
Please get in touch to discuss whether this programme of training is right for you.
How much does this programme cost?
£1000+ VAT per person, including the six-month subscription to our software OutNav, which starts at the end of the course.
What are the payment options?
When we receive your booking form, we will send you (or your nominated finance contact) an invoice for the course fees, with payment instructions based on your preferred method: payment can be paid by bank transfer or credit card.
How to book
Please complete the booking form below, selecting your chosen start date.
When you submit the form, please check for the on-screen confirmation message. You should also receive an automatic confirmation of submission emailed to you – if this doesn't arrive in your inbox, please check your junk folder.
We will also confirm your booking in person by email within two working days.
To receive a regular round-up of our insights and news please sign up to our mailing list.
Sign up now