In developing the software that supports our approach to outcome monitoring and evaluation, OutNav, it was really important to us to build something that would make reporting part of the process of learning and improvement, not simply an activity tacked on at the end.  
In this post I look at our OutNav reporting function developments to-date, including our latest feature release: live report sharing.
Developing OutNav live reports
We have spent the past six months working hard to create online – or 'live' -reports in OutNav that can be produced at the click of the button.
The reporting function takes all the work users have done in OutNav and turns it into a clear and well-presented report, including background, methods, graphics, text and of course the outcome maps.
Design challenges
Getting this far has been harder than you might think. We had two big design challenges to address:
Presenting outcome maps clearly and cleanly in a way that allows for as little or as much content as the very diverse projects and organisations we work with require.
Presenting qualitative reports in a clear and attractive way that integrate images and text meaningfully.
We have had to start from scratch, as there are no well-established ways of doing this using technology.
By engaging with our OutNav Community, we are continually learning about the functionality our OutNav clients value most. And then we're working out how to build it!
Earlier this year we were delighted to reach the point where OutNav users can view easily navigable, crisp and clear online reports at the touch of a button. And it has been lovely to receive positive feedback about this development from our clients.
This is so good, I really like the interactive nature of it…it's really sleek!

Melvina Robbin, Future Pathways
Reports can also be downloaded to edit and integrate into other documents. We are still in the process of developing this so that Word and pdf reports look as good as the online version – another major design challenge! We look forward to launching this over the summer.
This week we are delighted to release a new feature that enables OutNav live reports to be shared easily.
Sharing your live reports

You can now run an online report in OutNav and share it with anyone you want, regardless of whether they have an OutNav account.
You can share the link openly or with a password and set a date for access to the report to expire. The report is live, which means it continually updates as your OutNav team adds more information into the software.
Sharing the OutNav live reports means that viewers can benefit from the tool's high design standards, meaning you can share and continually update clearly-presented reports, without having to repeatedly invest in design input.
At the heart of live report sharing is the recognition that for most organisations their work to deliver social change never stops and the impacts and outcomes continue for months and years to come.
By sharing live reports, you have an opportunity to bring your stakeholders, funders and partners on the journey of learning and improvement with you, as well as ensuring that others get to learn from the successes (and failures) of your work.
When is it good to share?
How you use the live report sharing function depends on where you are in your journey:
Outcome mapping
You are working hard to develop your outcome map: during the process, use a custom live report to share your work in progress with people in your OutNav team. If there are people connected to your work who don't need to be on OutNav, but whose early feedback will help you develop your thinking, you can share a password-protected link to your live report with them.
Once you are happy with your outcome map and pathways, you can use the 'copy link' function to share your outcome map more widely, on your website or on social media perhaps. Sharing a link is the quickest way to ensure everyone can see your outcome map and pathways, whilst they are looking their best. You could also embed the link into presentations or reports – though viewers will need to be online to view them.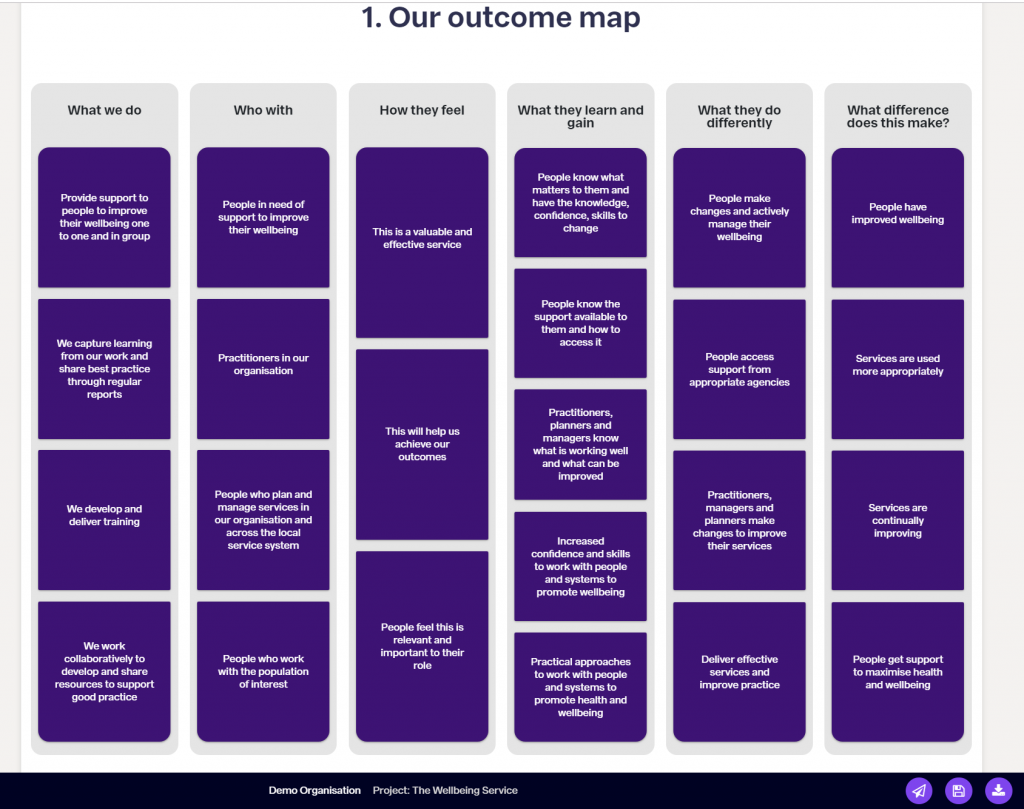 Tracking progress
At Matter of Focus we really encourage a collaborative approach to tracking progress.
As your team starts to track progress on OutNav you can quickly share a link to your work with teammates and others involved to get feedback, identify fresh examples of impact and help shape your thinking. If your work is at a very early stage or sensitive, you might want to use the password protect function.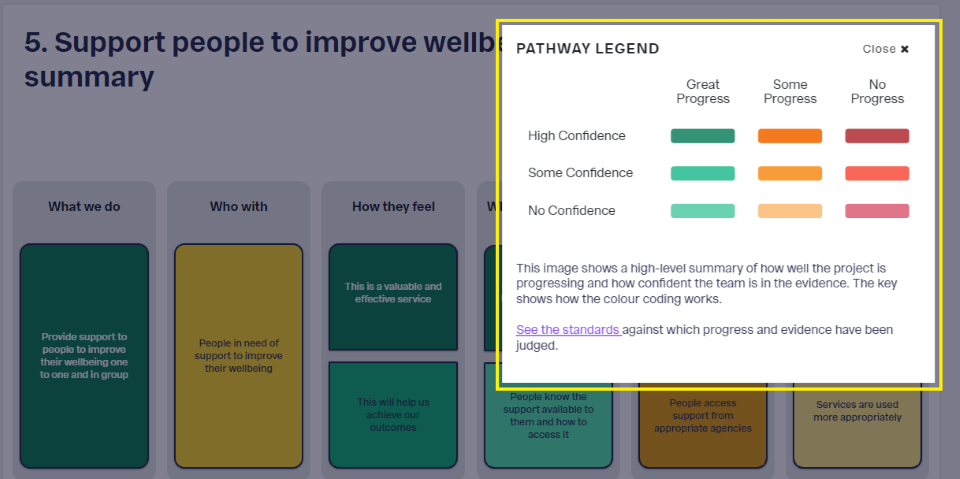 You can choose exactly what to include in the reports that you share, you might share different reports simultaneously with different groups of people. For example, you might share just a report of findings with an advisory group or user panel, but share a more detailed report, including risks and assumptions and evidence sources with team members.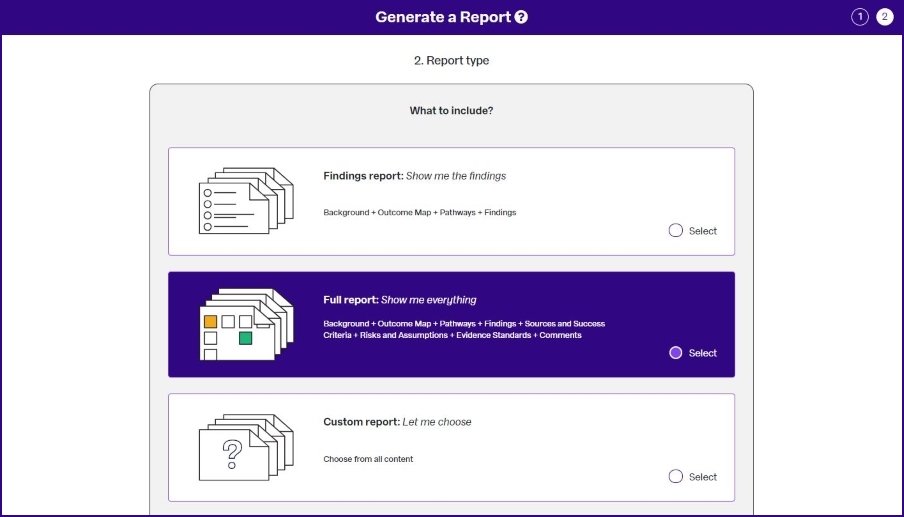 Once you are in the position to tell the story of your progress more publicly, you can use the 'copy link' function to tweet or share your report on presentations or on webpages.
Keeping track of who has seen your report
Every shared live report is stored in the report library accessed from the project home page. Here you can keep track of how many views your report has had and who it has been shared with. For projects at an early stage, this helps you keep track of who has had a chance to feedback into your work. For projects at dissemination stage, this provides important evidence about the reach of your work.
Practical help and support on using this new sharing feature is available in the OutNav Knowledgebase. Let us know how you get on!
OutNav Knowledgebase - Reporting