Time is tight for everyone 
at the moment
, but the pressure to work with and report on outcomes remains
.
We have developed a new, rapid programme for organisations that need help to clarify and evaluate their outcomes but don't have the luxury of time.
This programme combines a one-year OutNav subscription with a streamlined package of support with outcome mapping, data audit, data analysis and OutNav set-up that will get you up and running in just 30 days*.
After 30 days, you will have:
a better understanding of the outcomes that matter to your organisation, expressed in a clear framework that everyone can understand
a stronger understanding about how to work well with outcomes and evidence, and how to reconcile the demands of different funders
prioritised your most important data gathering tools
software to hold your outcome work and a summary outcome-focused report
a plan in place to support you to take the work forward.
What you get
We will engage your team in seven hours of online workshops over the course of 30 days*.
Between workshops you will get seven hours of expert help from the Matter of Focus team (e.g. to refine outcome maps, develop surveys, analyse and report on data).
A one-year subscription to OutNav
Membership of the OutNav Community, which includes access to twice-weekly drop in support sessions and shared learning meetings.
I think the work of Matter of Focus is transformational in terms of measurement, and ultimately showing how we contribute to social change.

Dr. Catherine Maternowska – Data, Evidence & Learning, End Violence Against Children Partnership
What to expect in our workshops
We are experts in facilitating workshops that help organisations build a shared understanding about how their work makes a difference. People tell us our workshops are fun, engaging, supportive, and help teams build confidence in their work.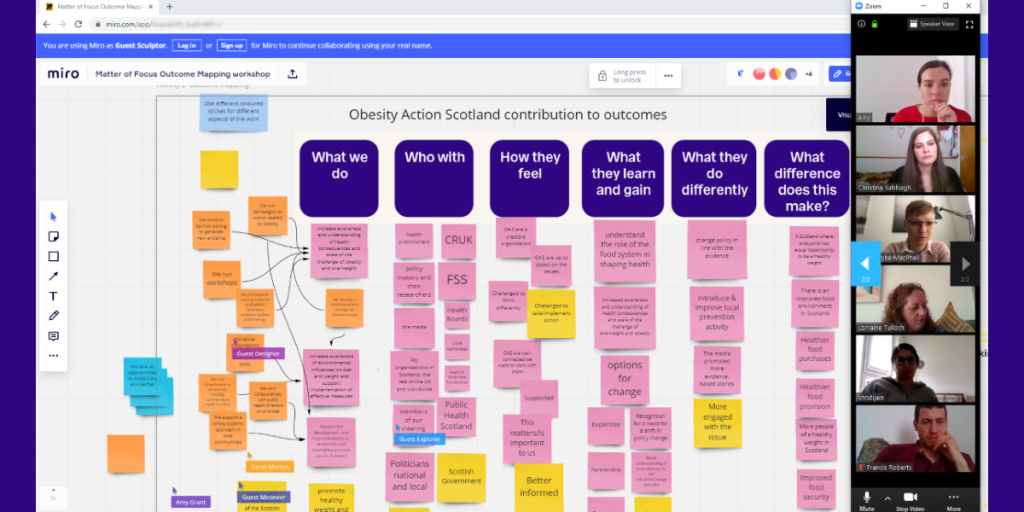 We have taken our workshops fully online and have been working successfully in this way with new clients throughout 2020. We bring together your team in Zoom or Teams and work alongside a shared Miro whiteboard space.
A typical programme would involve the following workshops:
2-hour outcome mapping workshop
The outcome mapping workshop is a fully participatory process of understanding and linking activities to the outcomes that matter to your initiative. It ensures that everyone agrees and can communicate what you do and why it matters.
We find it works well to invite diverse stakeholders to this workshop, including front line practitioners, people who use your services and partners.
By the end of the outcome mapping process you will have produced and refined an outcome map that shows how your organisation, project or programme makes a difference. The Matter of Focus team will put this into OutNav and send you a report that you can share with colleagues for discussion.
For more information about outcome mapping, see what is outcome mapping.

1-hour OutNav training workshop
This interactive workshop is for the people in your organisation who will be using OutNav. We don't place a limit on the number of OutNav account holders your project in OutNav can have – so everybody that needs access can get it, with different levels of permissions as required.
At this workshop your team will have the chance to learn the key features of OutNav and use their new skills to review and refine the outcome map developed in the outcome mapping workshop.
2-hour data audit workshop
In the data audit workshop, we will help you understand how much evidence is enough for your work. Together we will develop a strategy for data gathering and analysis that ensures you have the data you need to learn and improve and report effectively and efficiently to funders. We will then review your current data and identify gaps in your data collection.
At the end of the data auditing process, you will have a plan in OutNav that shows how your current data and feedback can help you evidence your outcomes and where more work is required.
In this workshop we will support you to bring together the data and evidence you have to generate an outcome-focused report in OutNav. We will provide guidance on what to include in a good report and how to blend qualitative and quantitative data with images and quotes to make your reports engaging.
After the workshop we can help you refine this report so you can share it widely.
OutNav gives us a streamlined way of pulling together data and reporting on our projects. It's a great basis for sharing our approach with stakeholders and funders.

Rhona Matheson – Chief Executive of Starcatchers
Getting the most out of this programme
To make this process a success, your organisation will need:
Capacity – every person involved throughout the process will need to be able to dedicate about 10 hours of time to the process. People attending just the outcome mapping workshop will not need to dedicate time beyond this workshop.
IT equipment – OutNav is a secure, cloud-based software which can be accessed from anywhere with an Internet connection, however it is best used on a laptop or PC. The workshops will involve screen sharing and so not fully accessible from a mobile phone.
For more on the security of OutNav, see Keeping your data secure in OutNav.
How much does it cost?
The costs for a relatively simple project or programme or small organisation is £4950 including VAT. 
Costs increase for larger or more complex projects, programmes and organisations to reflect the extra time taken to map outcomes, for example across multiple workstreams and funders.
When will this work take place?
Following an initial conversation to ensure that this programme is right for you, we are ready to agree and start this process with your organisation now. If you are not quite ready to start but would like to use up year-end underspend, we can agree the work now and schedule the workshops in for a later date.
*We're happy to spread workshops out over a longer period of time than 30 days should you want to.
Get in touch to explore this further
Please get in touch if you would like to arrange an informal chat to explore whether this package is right for your organisation.
Contact us