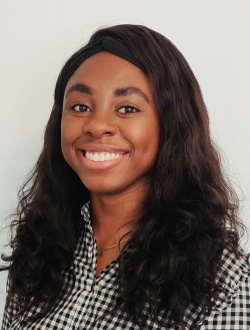 Adeola Akisanya-Ali
Evaluation Consultant
Adeola brings substantial experience working within the third sector, criminal justice and mental health. After graduating with an undergraduate in Legal Studies and Psychology from The University of Aberdeen in 2016, and postgraduate in MSc Criminology and Criminal Justice from The University of Glasgow in 2018, Adeola most recently went onto work in community project development and training; supporting women in the Renfrewshire community to provide community-led projects focused on mental health and wellbeing.
Adeola volunteers her time to advancing race equality and anti-racism, she is a co-founding member of Black Lives Matter Renfrewshire Group (subgroup of Diversity & Equality Alliance, Renfrewshire), and is a trustee at AMINA Muslim Women Resource Centre, Glasgow.
Adeola is passionate about utilising evaluation to promote the voices of those with lived experience to make real change.