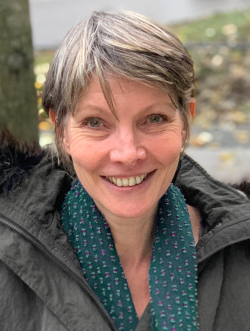 Dr Karen Barrie
Senior Product and Evaluation Consultant
Karen leads our Product Development Team to support the meaningful use and further development of OutNav. Her role includes making sure the software and surrounding support meets the needs of our growing OutNav Community and remains straightforward, enjoyable and rewarding. She is also an active member of our Evaluation Team, providing tailored support and evaluation services to clients.
Karen started her career as an IT systems analyst, designer and developer, progressing to project management and consultancy. She then specialised in 'Benefits Realisation', working in different sectors to help organisations understand, model and track the contribution of their IT investments to intended outcomes and maximise impact. She found new meaning and purpose when working in the health sector, prompting her to complete her MSc in Health Informatics in 2002. Since then Karen has worked in a variety of health and social care settings as project manager, improvement lead, facilitator, educator, researcher and evaluator.
Karen brings expertise in the use of participatory, inclusive and creative methods to the application of outcome focused approaches including:
Introducing a personal outcomes approach in a range of health service settings (with the Health and Social Care Alliance) and in care homes (with My Home Life).
Delivering workshops and resources to support busy practitioners, service managers and project teams to revisit routine data recording practices and to collate, make sense of, learn from and make best use of outcomes data, particularly by 'demystifying' qualitative analysis.
Teaching the 'Personalisation and Outcomes' and 'Using Qualitative Data for Service Improvement' modules in the University of Edinburgh's MSc for Integrated Service Improvement.
Conducting research into personal outcomes, for example:
– The multi-partner ESRC collaborative research programme 'Meaningful and Measurable' which reviewed progress in implementing a personal outcomes approach across diverse service settings;
– Practice-based appreciative action research to find meaningful ways of engaging with outcomes for people with communication difficulties and cognitive impairments;
– Undertaking a PhD to deepen understandings of personal outcomes for older people responding to and living with dementia in different ways.
Embedding a focus on outcomes in the self-evaluation of large quality improvement programmes such as the UK-wide My Home Life programme, and conducting independent outcomes based evaluations of services, projects and change programmes, most recently telling the human story of the 'Compassionate Inverclyde' community development initiative.