The beauty of an outcome 'map' is that it really does set you up on your journey to meaningful outcome evaluation. Once an organisation, project or programme has an outcome map, other tracking and evaluating processes become easier!  
(This post picks up from What is outcome mapping? – please take a few minutes to read it first if you haven't done so already, particularly if you're new to outcome mapping.)
Let's look at an example from our own work at Matter of Focus. This is our outcome map for 'Supporting users with the OutNav approach'. We hold this map in our software OutNav.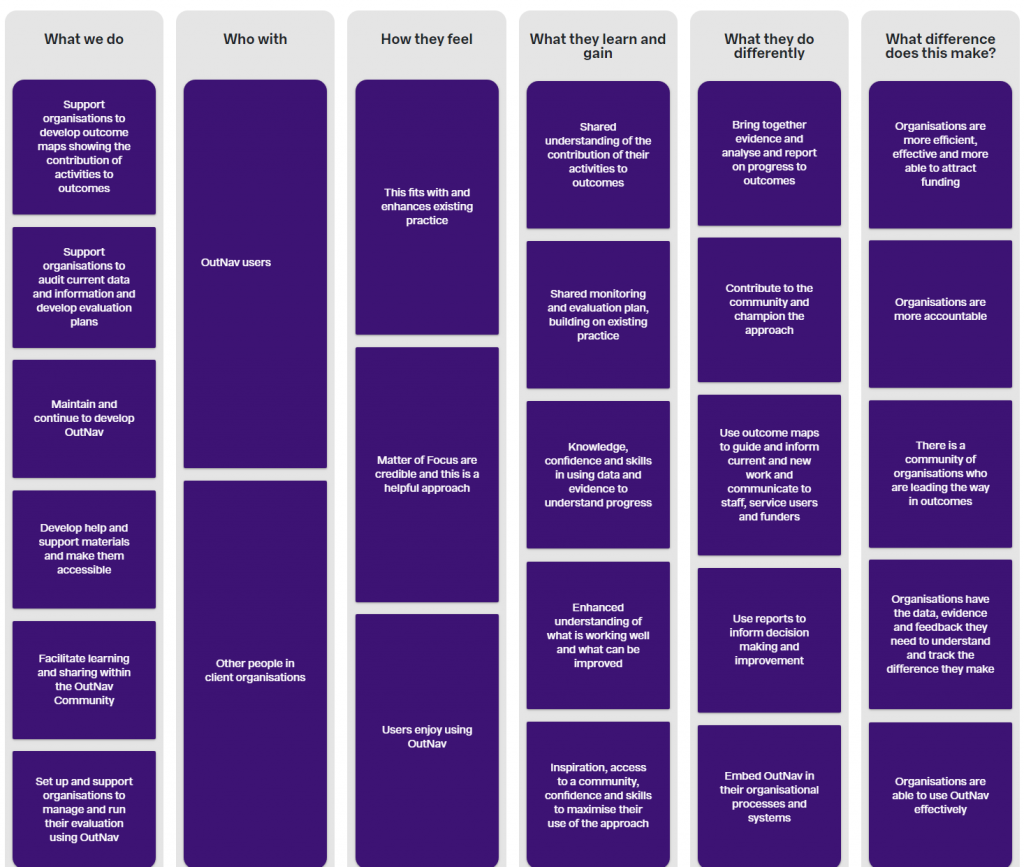 Creating pathways
We can focus our attention on how specific sets activities link to the outcomes we seek by plotting pathways through our outcome map. We have two pathways: Support organisations to get going on OutNav' and our ongoing 'Support our community of OutNav users'.
All assessment and reporting takes place at the level of these pathways. Below we look at our second pathway focusing on the ongoing support we provide for our OutNav users through the OutNav Community: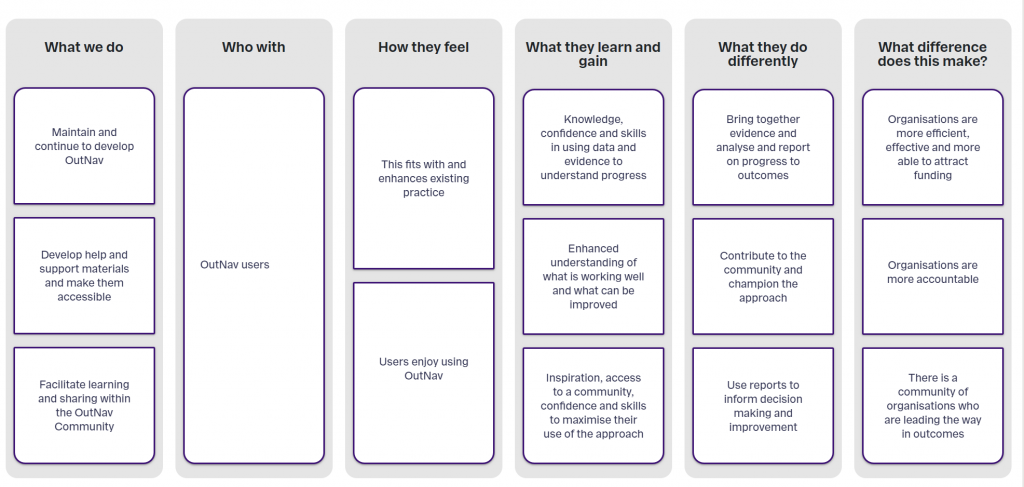 Using our outcome map to track progress
We can now use this outcome map to track our progress for all of the different levels of outcomes, from what we do (on the left) to higher level outcomes about what people learn, gain and do differently (as seen across to the right of the map).
In OutNav, we can plan how we will know we are successful for each step and then we know what information, data and feedback we need to collect in order to understand our progress. For example: 
Stepping Stone
Data
What we do
Facilitate learning and sharing within the OutNav Community

We need to demonstrate that we effectively deliver our Community engagement plan and log our activity.

Who with
OutNav users

We need to track the number of users of OutNav, as well as the number that attend our Community events, engage with our OutNav Community Twitter feed, and use of our OutNav Knowledgebase

How they feel
This fits with and enhances existing practice

We need to gather this information from event feedback, client interviews and our own team's reflections.

And so on throughout the outcome map, thinking about how to evidence each step. OutNav holds how we are planning and doing this: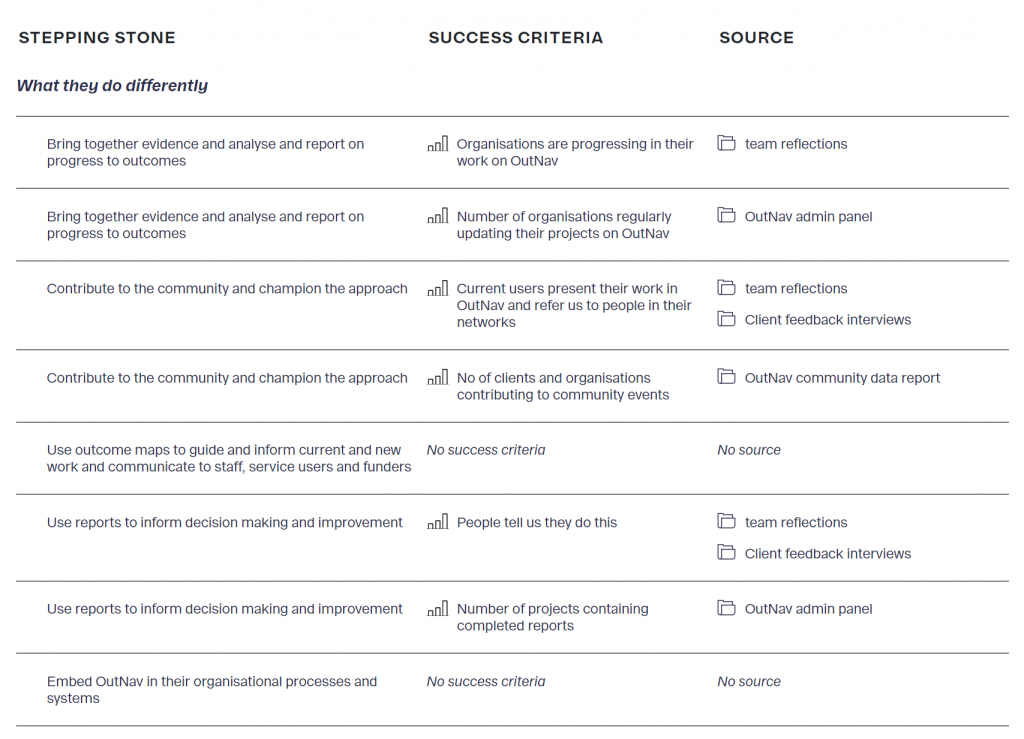 This gives us a clear picture of what we need to evidence or assess to see progress, as well as to report on outcomes.
Assessing progress in OutNav
Now that we have started the ongoing process of collecting information and data for each step, and – thanks to OutNav – we know exactly where to find it, we can look at our evidence, judge the quality of evidence and assess progress.
In OutNav we can see progress at a glance by using its colour coding system: we can instantly see where progress is better or worse, and where evidence is stronger or weaker.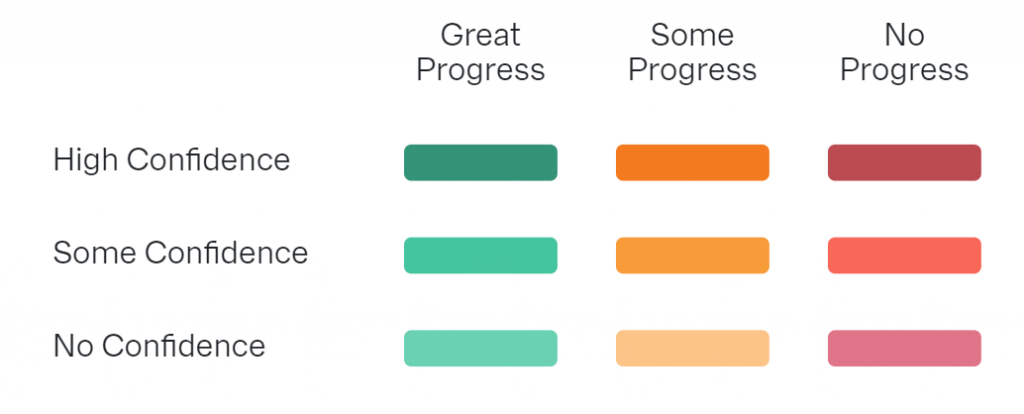 Here we can see our progress on the pathway to support our community of OutNav users: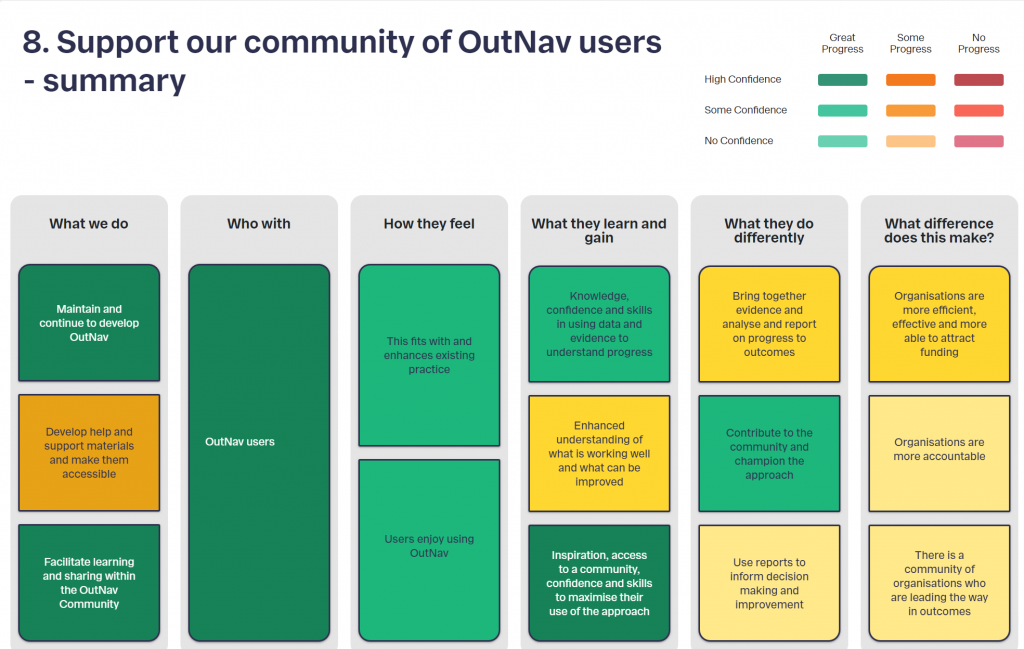 A system for planning, learning and evidencing outcome maps
We developed OutNav because Ailsa and I found that many people loved working with outcome maps, but there really weren't the systems to support them to drill down and assess progress.
We used to hand over an Excel spreadsheet with an outcome map and evaluation plan, but most people found it hard to keep tracking that way.
We have spent the last 18 months bringing to life our vision for a friendly and usable system to really enable organisations to embed outcome working into their practice, and to have simpler ways of showing how they make a difference.
We are proud that OutNav is up and running and supporting organisations!

We believe that effective use of data, feedback, evidence and research can really improve the efficiency and effectiveness of projects, programmes and organisations. Outcome mapping and tracking in OutNav means this information can be meaningfully pulled together to learn and improve, understand change, and to tell the story of the difference you make in the world.

We would love to hear about other approaches to outcome mapping, and about how other people use theories of change for data collection – please tweet us @Matter_of_Focus
We'll have more on the tricky language issues around assessment, measurement, success criteria and evidence in an Insight post coming soon! Please sign up to our mailing list so you don't miss out!

To receive a regular round-up of our insights and news please sign up to our mailing list.
Sign up now
If you want to find out more about OutNav and how it can transform your outcome evaluation, please contact us so we can discuss the fit with your organisation and give you a demonstration of OutNav.
How you can get in touch