Our evaluation stories webinars share the pioneering work of organisations that are using
OutNav
 to learn, improve, evidence and tell the story of the difference they make
.
Evaluating health and social care transformation:
learning from the House of Care programme
The House of Care programme aims to transform primary care to focus on what matters to people. It is part of a family of approaches seeking to shift health and social care services to be more preventative, personal outcomes focused, asset based and person centred.
Evaluation is a critical but complex component of any effective health and social care transformation programme.
Over the past year we have worked with the House of Care programme, supporting the evaluation of this work.
Watch the recording
About this webinar
We recorded this live and interactive webinar on 6th October 2020. In it, we share our:
approach to evaluating the House of Care programme
key findings
learning from adapting our approach to keep the evaluation work going through lockdown.
We also hear from different stakeholders involved in the evaluation, about:
why evaluate the House of Care? (Cath Cooney, former Director of Development and Improvement, the ALLIANCE)
learning from a local level (Alison Hannan, Grampian House of Care)
learning from a national level (Graham Kramer, Clinical Lead, House of Care)
and, putting learning into practice (Lindsay Oliver, National Director of Year of Care Partnerships).
Our Evaluation Stories webinars are interactive events with breakout room discussions. Please note that the breakout room discussions are not recorded.
Who will find this recorded webinar of interest?
This webinar will be relevant to people leading and commissioning transformation programmes in health and social care, and people with an interest in evaluation.
Read the report
---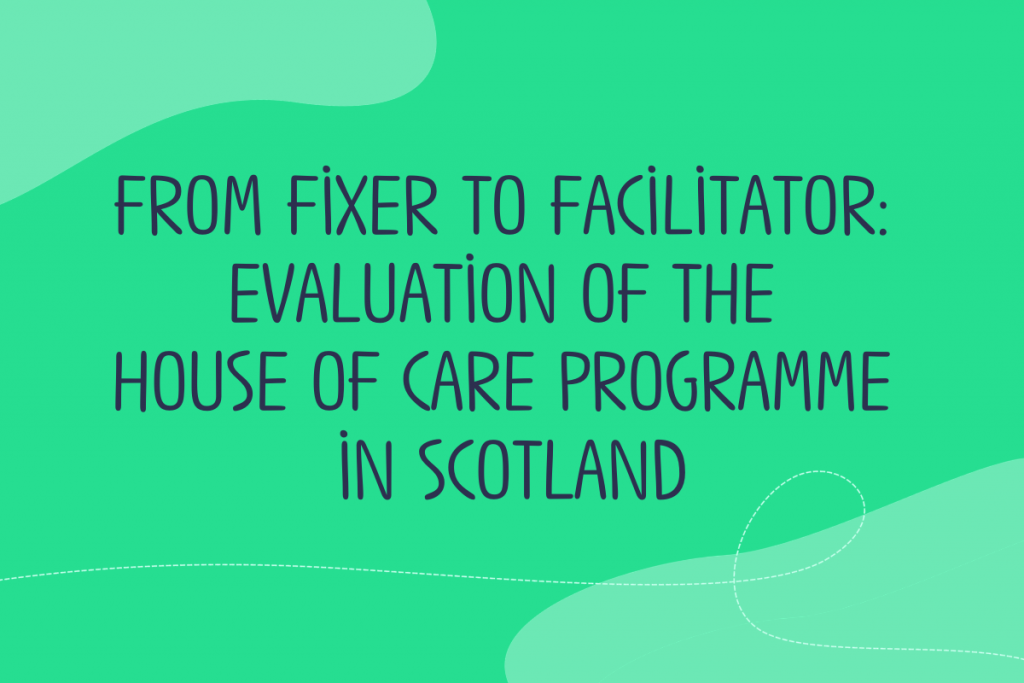 Read our our final evaluation report from this work – From fixer to facilitator: evaluation of the House of Care programme in Scotland.
Go to report.
---
To receive a regular round-up of our insights and news please sign up to our mailing list.
Sign up now