OutNav
Transform the way you evaluate outcomes and impact
What is OutNav?
OutNav is our innovative cloud-based software that underpins our approach to outcome monitoring and evaluation. It provides a platform to manage your outcome evaluation - a single place to hold your outcome maps and for collecting, collating and analysing data.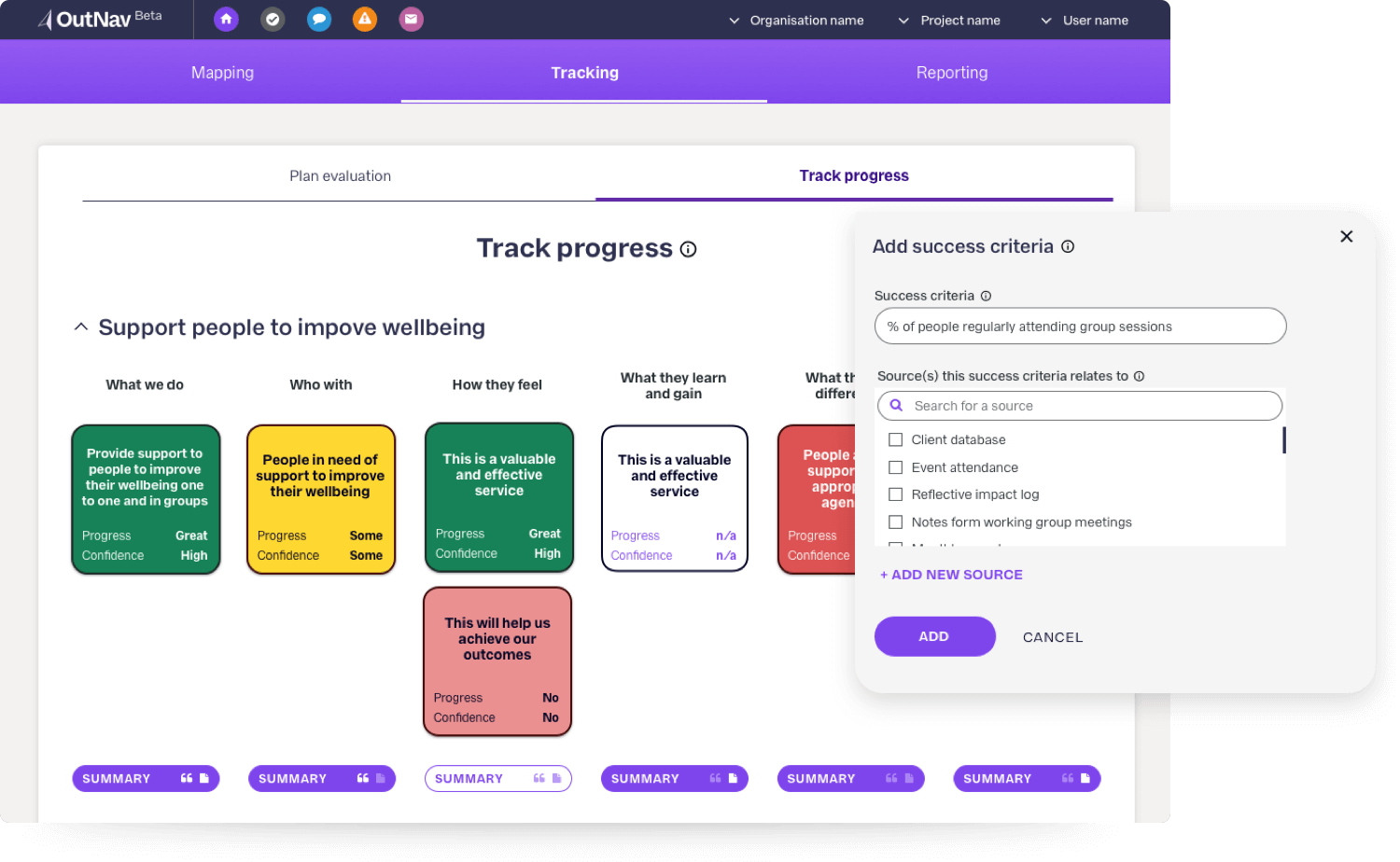 Key features
OutNav takes you on a logical and user-friendly journey through the steps to develop a meaningful and practical approach to outcome-focused monitoring and evaluation.
With OutNav you can...
Be more efficient: understand and prioritise activities that make the biggest impact.

Be more effective: streamline your data and evidence around the outcomes that matter to you.

Be more attractive to funders: tell a well-evidenced story of the difference you make.
OutNav can be used for any sized initiative, from single project to multi-organisation partnership, and has been designed to promote collaboration. Our tailored support process ensures OutNav fits your needs.
What our clients say
Drag to scroll
Previous
Next
Using OutNav has helped us to approach the way we evaluate in a fresh and inspiring way

Working with Matter of Focus has helped us be reflective, look at the bigger picture and network with others

Using OutNav has helped us to clarify the role and remit of our organisation, its members and the impact and outcomes of our work

Matter of Focus has helped us to use outcome pathways and integrate these into our new quality framework alongside our objectives, principles and values. We are in the process of rolling out the new framework and beginning work on OutNav.

Using OutNav has helped us organise our evidence of impact in a meaningful way.

OutNav gives us a streamlined way of pulling together data and reporting on our projects. It's a great basis for sharing our approach with stakeholders and funders.

When you're dealing with complex change, where so much is relying on people's emotion and the culture of practice, OutNav is an amazing tool for keeping you sane! It helped me see how things fit together. Once you get into the swing of it, it becomes so much easier to pull things apart and understand how it's working.

I think the work of Matter of Focus is transformational in terms of measurement, and ultimately showing how we contribute to social change.
We offer consultancy support with OutNav. The cost of our support depends on the size and ambition of what you would like to achieve with OutNav. We have a range of support packages for OutNav subscribers. Find out more about our tailored support packages.
In line with our mission and values, we aim to make our products and services an affordable way for public service organisations to become more effective, efficient and attractive to funders.
If you think our approach is a good fit for you but affordability is an issue, please get in touch to see how we can help.
Community of practice
Everyone we work with becomes a member of our OutNav Community: a positive, constructive space within which to share learning and solve problems together. We run face to face events in Scotland as well as webinars for our Community members.
Read more
Support services
We provide face to face and virtual support services to help you on your outcome evaluation journey. We can support you to map your outcomes, develop theories of change, collect and analyse data to evidence your work, and help with reporting.
Find out more