Working meaningfully towards outcomes and impact isn't easy so we offer support and discussion to help you on your journey.
We can help you build a shared understanding of what matters
Embedding this way of working works best if everybody feels invested in the approach. We are experienced in bringing together often large and varied groups of people/stakeholders to reach a shared understanding of what matters.

We host face to face and virtual learning environments where people come together to solve the outcome, impact, data and evidence challenges they face.
We find that most organisations benefit from facilitation to help them think through the outcomes and impacts that are important to them, and to link these to their activities. We offer further support to audit and improve data, feedback and evidence-use processes. Of course, OutNav helps support and embed this work, developing your capacity for outcome working in the future.
Support tailored to your needs
The content and timescale of the support can be tailored to suit your project, programme or organisation's needs and ambitions. Most commonly, we take teams through the following processes:
Outcome mapping
Our participatory process of understanding and linking activities to the outcomes that matter to your initiative ensures everyone agrees and can communicate what you do and why it matters.
Creating an evaluation framework
Our support can help you develop and refine systems and processes to understand your progress towards outcomes, and embed learning.
Data and feedback planning
We can audit your current data and help you develop a strategy for collecting and using data, information and feedback that is achievable and fit for purpose
Analysis
Our analysis workshops support your team to develop data analysis skills to work on your outcome maps; we cover qualitative data analysis, data visualisation, and combining qualitative and quantitative data.
Support packages
Standard support package for a single project
Outcome mapping: One full day or three online workshops to create up to three outcome maps.
Data auditing and data collection tools development: Face to face or online workshop to understand current data, identify gaps and develop new data collection tools.
Data analysis: Workshop with key staff to analyse data in OutNav and build capacity for internal data analysis
Strategic support for whole organisations
We will discuss your organisation's needs and ambitions for working more meaningfully with outcomes and evidence, and co-design a bespoke package of support. This commonly starts with face to face or online workshops to map organisational functions or streams of work alongside strategic objectives, before focusing on improving your data, evidence and feedback processes. We help build organisation capacity for working with outcomes, data, evidence and feedback so that you can work in this way without the need for external facilitation.
Support for groups or consortia
We work with groups and consortia that share a similar approach to help them map their activities to outcomes and tell their story. You can see this in action with the Edinburgh Community Health Forum here. The process is the same as the standard support package, but on a group basis.
How much does it cost?
The cost of tailored support depends on the size and scope of your requirements. Prices start at £4000 (plus VAT) for our standard support package for a single project.
In line with our mission and values, we aim to make our products and services an affordable way for public service organisations to become more effective, efficient and attractive to funders. If you think our approach is a good fit for but affordability is an issue, please get in touch to see how we can help.
Ongoing support with the OutNav Community
After initial consultancy most organisations will be able to use OutNav to spread the approach internally or take it to new projects or programmes. To support this, OutNav subscriptions include membership of our OutNav Community for every member of your OutNav team.
We arrange regular opportunities for Community members to come together for support and collaborative learning. We also host two online OutNav Clinics a week that OutNav users can drop into when they feel they would benefit from individualised help and advice from a member of our team.
---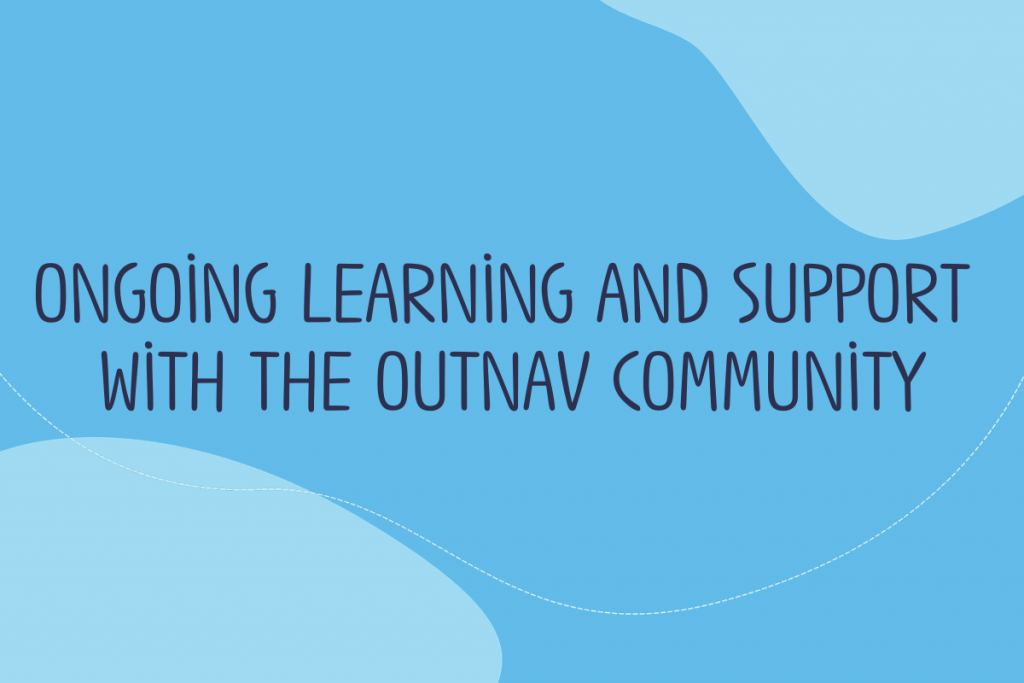 ---
Additional data and evaluation support services
We also offer extra support with data and evaluation at any point of your outcome or impact evaluation journey. This support can be provided as one-off items or as a package of ongoing support. For example:
Conduct interviews or focus groups with stakeholders or beneficiaries
Design and implement surveys and analyse results
Quality review of your analysis in OutNav and recommendations for improvement
Quality improve or write a report based on the data you have collected
Help visualise your data with graphs, wordclouds or infographics
Costs start at £850 + VAT for OutNav subscription holders
Are you looking for an evaluation partner?
We often work with organisations as an evaluation partner, which we do alongside our outcome mapping approach. This can include tailored support, coaching or mentoring staff, critical friendship, research and evaluation capacity building or training, or working alongside teams as they undertake their outcome evaluation journey. Please get in touch if you are interested in any of these.
To receive a regular round-up of our insights and news please sign up to our mailing list.
Sign up now
If you think we could help, we like to start with an informal chat about your initiative and your needs and requirements. Please send us a message and together we can find a good time to talk.
get in touch