Working meaningfully towards outcomes and impact isn't easy and can take time. Our team has more than 50 years' collective experience in helping organisations grappling with evidence and outcomes. We understand the challenges you face, and can help you through them.
We offer comprehensive packages of support to get your team up and running with our approach and working well with OutNav.
The scale of our support grows with the scope of what you are looking to achieve in OutNav. Support packages include a one year subscription to OutNav for your team.
Our standard packages of support to help you get going
Understand and track outcomes and impacts for defined areas of work
Our standard packages of support will get small organisations or single projects and programmes get up and running with a system for tracking progress, with help to pull together and improve data and evidence for defined areas of work.
The scale of our support grows with the scope of what you would like to achieve within OutNav. Our three standard packages – single, small and medium – are outlined in our pricing document. We have included an indication of the support you can expect at each level, but we will always work with you to structure this in a way that fits your needs.
Engaging, expertly-led workshops
Through a series of workshops and meetings we work with you to design and set up the system that will best support you to understand and track the outcomes and impacts that matter to your initiative. We then get everything ready for you in our software OutNav.
Our engaging workshops will support your team to work well with outcomes, impact, data, and OutNav. After you are up and running, your OutNav team can access our ongoing programme of OutNav Community learning and support sessions.
Find out more about what to expect from our workshops
By the end of our work together, you will have:
a better understanding of the outcomes and impacts that matter to your organisation, expressed in a clear framework that everyone can understand
a stronger understanding about how to work well with outcomes and evidence, and how to reconcile the demands of different funders
prioritised your most important data gathering tools
your outcome work set up in OutNav and a summary outcome-focused report
a plan in place to support you to take the work forward in OutNav
I think the work of Matter of Focus is transformational in terms of measurement, and ultimately showing how we contribute to social change.

Dr. Catherine Maternowska – Data, Evidence & Learning, End Violence Against Children Partnership
1-year OutNav subscription included
Standard packages come with a one-year subscription to OutNav for your team, which can be renewed alone at Year 2 or with an ongoing support package of regular review meetings to help you make the most of our approach and OutNav.
---
Enhanced packages of support
Understand and track outcomes and impacts for multiple areas of work
If you are looking to track outcomes for multiple strands of work across larger organisations, partnerships, or programmes that cross organisations, we will work closely with you to put together a bespoke package.
Following early conversations about what you are looking to achieve, we will put together a package of support that includes initial set-up and ongoing support over two or more years. Support includes multiple workshops to help understand the context for the work, map the outcomes and impacts that matter and identify, audit and improve your data and evidence. Through regular progress meetings we will support you to get strategic buy-in and ensure people in your team have the skills and tools they need to track progress.
---
Values-based pricing
In line with our mission and values, we aim to make OutNav and our support an affordable way for public service organisations to become more effective, efficient and attractive to funders.
If you are a small third sector organisation and think our approach is a good fit for you but affordability is an issue, please get in touch.
---
What to expect in our workshops
We are experts in facilitating workshops that help organisations build a shared understanding about how their work makes a difference. People tell us our workshops are fun, engaging, supportive, and help teams build confidence in their work. 
We have taken our workshops fully online and have been working successfully in this way since 2020. We bring together your team in Zoom or Teams and work alongside a shared Miro whiteboard space. Most online workshops are two hours long as we feel this is optimum for productivity.
Our current pricing reflects online workshops. We can offer in-person workshops, should you prefer this way of working, and will work with you to agree a suitable structure to make the most of our time together.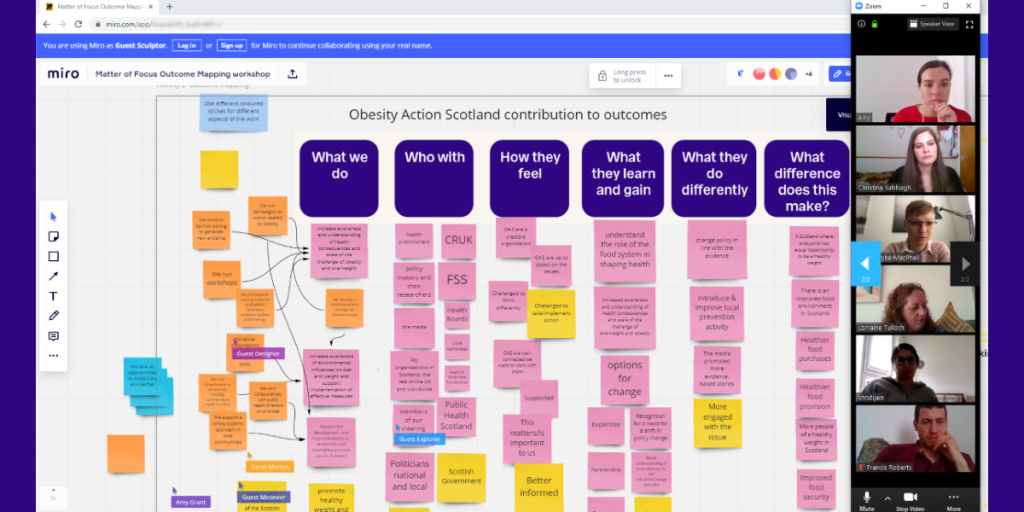 Our typical programme of workshops
The exact configuration of your programme of workshops will vary according to the support package you're on.
Context and success story workshop
We know that when work is about people and relationships then it is important to understand how you contribute to change, and what contextual factors might help or hinder your progress. We start our tailored support by engaging your team in contextual analysis that will help you understand the unique context of your work and identify enablers of change.
Outcome mapping workshop
The outcome mapping workshop is a fully participatory process of understanding and linking activities to the outcomes that matter to your initiative. It ensures that everyone agrees and can communicate what you do and why it matters.
By the end of the outcome mapping process you will have produced and refined an outcome map that shows how your organisation, project or programme makes a difference. The Matter of Focus team will put this into OutNav and send you a report that you can share with colleagues for discussion.
For more information about outcome mapping, see what is outcome mapping.
OutNav orientation session
This session is for the people in your organisation who will be using OutNav. We don't place a limit on the number of OutNav account holders your project in OutNav can have – so everybody that needs access can get it, with different levels of permissions as required.
Your team will have the chance to learn the key features of OutNav and use their new skills to review and refine the outcome map developed in the outcome mapping workshop.
Data audit workshop
In the data audit workshop, we will help you understand how much evidence is enough for your work. Together we will develop a strategy for data gathering and analysis that ensures you have the data you need to learn and improve and report effectively and efficiently to funders. We will then review your current data and identify gaps in your data collection.
At the end of the data auditing process, you will have a plan in OutNav that shows how your current data and feedback can help you evidence your outcomes and where more work is required. 
Data analysis workshop
In this workshop we will support you to bring together the data and evidence you have to generate an outcome-focused report in OutNav. We will provide guidance on what to include in a good report and how to blend qualitative and quantitative data with images and quotes to make your reports engaging.
After the workshop we can help you refine this report so you can share it widely. 
OutNav gives us a streamlined way of pulling together data and reporting on our projects. It's a great basis for sharing our approach with stakeholders and funders.

Rhona Matheson – Chief Executive of Starcatchers
Who should be in the workshops?
Embedding this way of working works best if everybody feels invested in the approach. We find it works well to invite diverse stakeholders to the context and success story, and outcome mapping workshops, including front line practitioners, people who use your services and partners.  We are experienced in bringing together often large and varied groups of people/stakeholders to reach a shared understanding of what matters.
After that a smaller evaluation or outcomes team can effectively take the work forward.
Getting the most out of OutNav and our support
To make this process a success, your organisation will need: 
Capacity – for our single standard package, every person involved throughout the process will need to be able to dedicate about 10 hours of time to it. People attending just context and success story, and outcome mapping workshops will not need to dedicate time beyond these workshops.
IT equipment – OutNav is a secure, cloud-based software which can be accessed from anywhere with an Internet connection, however it is best used on a laptop or PC. The workshops will involve screen sharing and so not fully accessible from a mobile phone.
For more on the security of OutNav, see Keeping your data secure in OutNav.
If you think we could help, we like to start with an informal chat about your initiative and your needs and requirements. Please send us a message and together we can find a good time to talk.
get in touch