D
igital innovations 
are bringing
 massive benefits to 
public service 
organisations:
improving efficiencies and communications
,
and
- as has accelerated
during the recent public health crisis
- 
t
ransform
ing
 service delivery
. 
One thing that hasn't changed is the importance of focusing on what matters to people and understanding how, and indeed if, our activities are really making the difference that we hope.
This is where our contribution to digital innovation can help…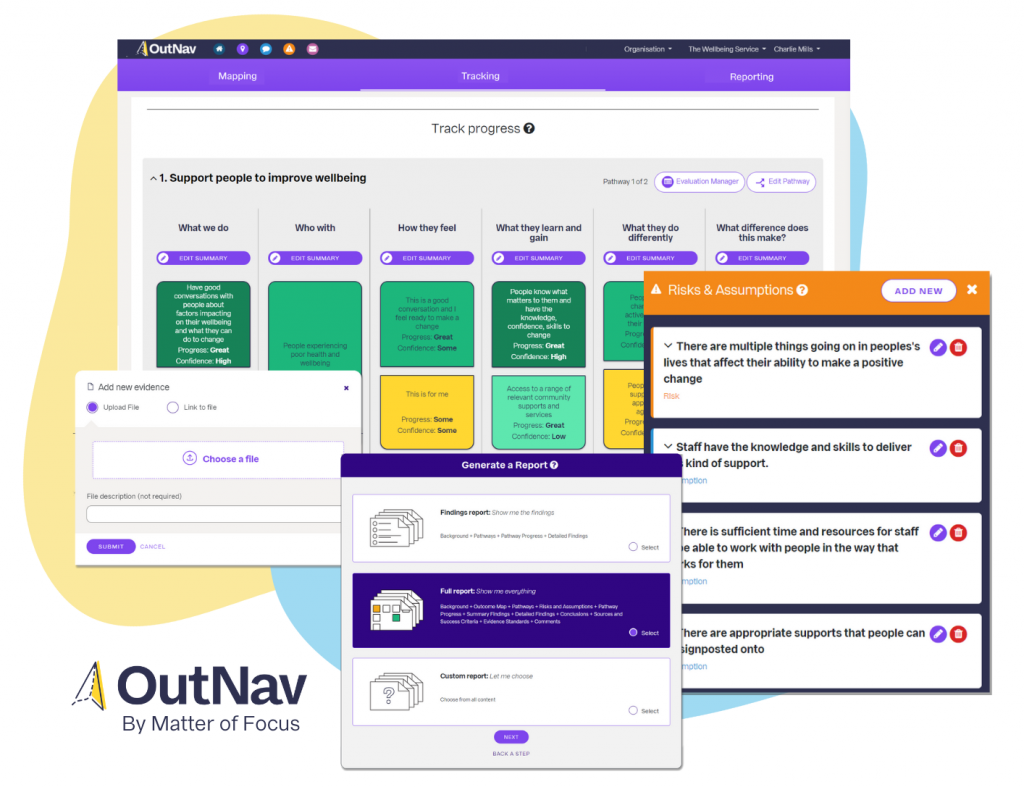 Why OutNav?
Like sat nav, but for outcomes!
OutNav is a cloud-based software we have developed to support our tried and tested evidence-informed approach to meaningful outcome evaluation – an approach that has been refined over many years working with diverse public service organisations.
We developed our approach to evaluation for complex, people-based change programmes, where simple numbers are not enough to understand impacts. We decided to build OutNav to underpin our approach because there was no single tool out there that could hold it and we wanted a practical and accessible system to hold everything together in one place.
In 2017 we started Beta-testing OutNav with a small group of early-adopting organisations that were already pioneering in their outcome-focused approach to seeking people-based change, listening closely to their needs. Now, we have more than 480 people using the tool from 60 organisations and initiatives across Scotland, the UK and internationally.
We think the way OutNav focuses on qualitative analysis of both quantitative and qualitative data is pretty unusual and possibly unique.
OutNav takes teams through a process of ongoing, meaningful outcome evaluation. The tool helps to embed evaluation into initiatives to help people understand how change happens and make better use of their own data and information to continuously learn and improve – all from one secure platform in the cloud.
---
Six key posts that will walk you through the main features of OutNav
What people are saying about OutNav
Using OutNav has helped us to clarify the role and remit of our organisation, its members and the impact and outcomes of our work.

Stephanie-Anne Harris, Edinburgh Community Health Forum
People love going through the process of rating progress and have told us that this activity really helps them identify potential problems with their projects and act early. Lots of teams like to do this collectively, which ensures everyone is involved in evaluation processes.
When we come together to collectively rate our progress, we find that we're less hard on ourselves and we can see that we're making good progress. Being able to visualise progress in OutNav validates the work we do and helps us to plan ahead and improve our work.

Melvina Robbin, Future Pathways
Our clients tell us that funders, staff and other stakeholders, including communities they care about, love the outcome maps as a simple way to understand the intended outcomes of a project as well as progress.
OutNav gives us a streamlined way of pulling together data and reporting on our projects. It's a great basis for sharing our approach with stakeholders and funders.

Rhona Matheson, Starcatchers
And we're delighted when we hear that organisations have been commended for the quality of their evaluations carried out using OutNav, most recently at the Scottish National Health Service conference.
Explore OutNav with us