OutNav is our innovative cloud-based software that supports organisations with a vision for social change to embed outcome focused evaluation in their projects and programmes.
The system is designed specifically to underpin complex, people-based change programmes, where simple numbers are not enough to understand impacts.
We think the way OutNav focuses on qualitative analysis of both quantitative and qualitative data is pretty unusual and possibly unique.
The core of OutNav: the outcome map
OutNav is built round an 'outcome map' which is an accessible way of summarising the theory of change for the programme being delivered (We have a post about outcome mapping if you would like to learn more).
Users build an evaluation framework around this outcome map. They can then upload all their data, photos, videos as well as data visualisations into the system.
Within OutNav users qualitatively analyse their qualitative and quantitative data in relation to each 'stepping stone' in the outcome map. This analysis is summarised in a narrative supported by relevant graphics, photos and quotes.
Summarising project progress and confidence
Summarising qualitative data meaningfully is notoriously difficult. It would not be methodologically consistent to generate graphs or pie charts from the data. Instead, OutNav enables users to produce a high-level summary of project progress through answering two questions for each 'stepping stone' in their outcome map.
Does our summary of the evidence represent good progress with our project?
How confident can we be in our evidence?
Visualizing project progress and confidence
Users rate progress and confidence on two separate three-point scales for each stepping stone.
These ratings are shown as a single colour coding for the stepping stone.
The progress rating influences the colour of the stepping stone and uses a simple traffic light system, with green reflecting good progress and red little or no progress.
The confidence rating is captured in the depth of colour.
So, for example, a stepping stone where you are very confident in the evidence of good progress the colour would be dark green. If you had tentative evidence of good progress it would be light green.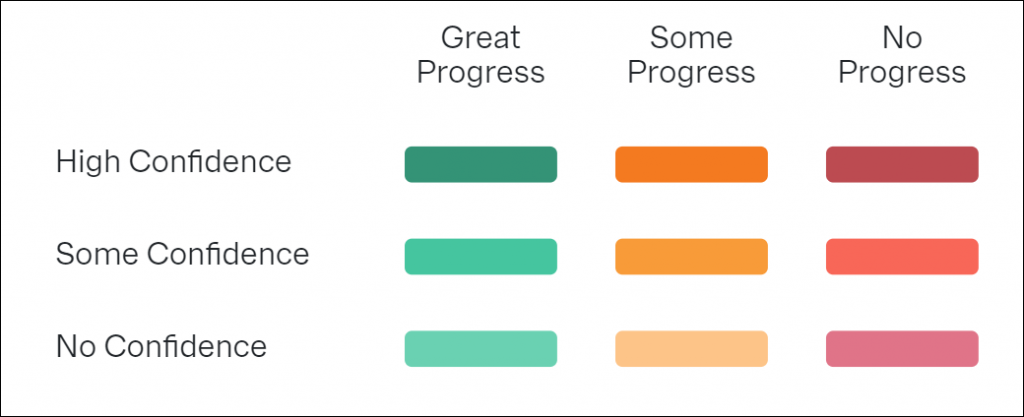 We use OutNav for our own work at Matter of Focus. A screenshot of one of our outcome maps – Supporting users with the OutNav approach – is shown below. However, it can be viewed more clearly with more detailed analysis in a live report, which OutNav generates for us – take a look (unless you're on a phone. Live reports are designed for viewing from a desktop):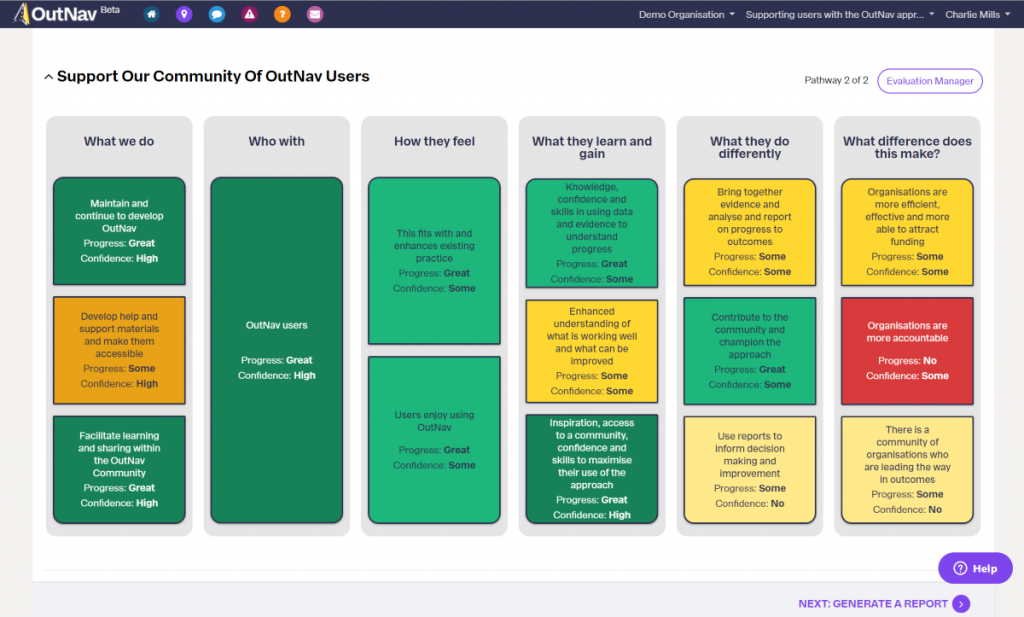 Client success
We have nearly 480 users from across 40 different organisations using the software – all members of our supportive OutNav Community. And we have received very positive feedback:
Using OutNav has helped us to clarify the role and remit of our organisation, its members and the impact and outcomes of our work.

Stephanie-Anne Harris, Edinburgh Community Health Forum
People love going through the process of rating progress and have told us that this activity really helps them identify potential problems with their projects and act early. Lots of teams like to do this collectively, which ensures everyone is involved in evaluation processes.
When we come together to collectively rate our progress, we find that we're less hard on ourselves and we can see that we're making good progress. Being able to visualise progress in OutNav validates the work we do and helps us to plan ahead and improve our work.

Melvina Robbin, Future Pathways
Our clients tell us that funders, staff and other stakeholders, including communities they care about, love the outcome maps as a simple way to understand the intended outcomes of a project as well as progress.
OutNav gives us a streamlined way of pulling together data and reporting on our projects. It's a great basis for sharing our approach with stakeholders and funders.

Rhona Matheson, Starcatchers
And we're delighted when we hear that organisations have been commended for the quality of their evaluations carried out using OutNav, most recently at the Scottish National Health Service conference.
To receive a regular round-up of our insights and news please sign up to our mailing list.
Sign up now
If you are interested in exploring further how OutNav can support you in evaluating your project or programme, please contact us to arrange a chat and a live demo of the software.
How you can get in touch