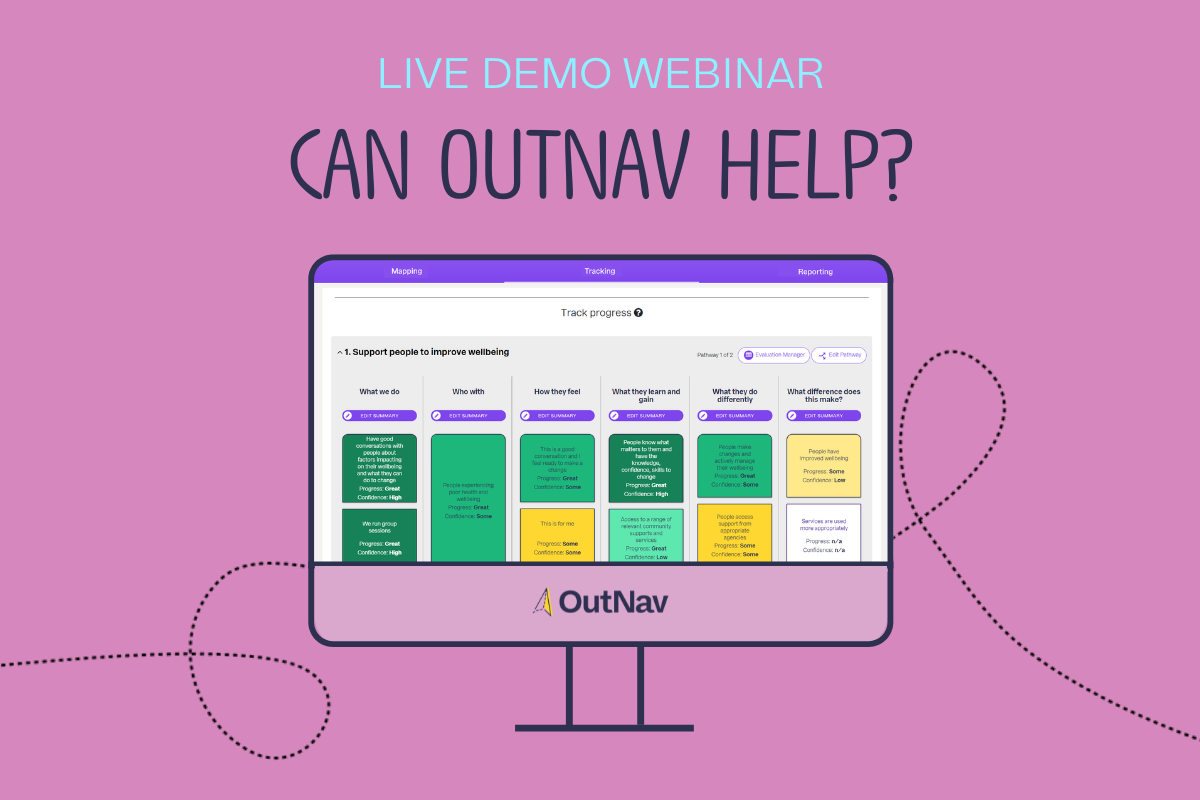 Join one of our monthly live demo webinars to explore whether
OutNav
is right for your organisation or initiative.
OutNav is designed specifically to underpin complex, people-based change initiatives, where simple numbers are not enough to understand impacts.
It is a tool to support you with a meaningful approach to outcome-focused evaluation, not a quick-fix 'software solution', which is why we encourage you to come along to one of our live demo webinars to explore whether OutNav can help your initiative.
If you want to read more about OutNav before attending a live demo, start with our post What is OutNav?
When is the next live session?
We hold our demo sessions on the last Thursday of the month,
from 4.00 – 4.45 pm (BST)
If you are located in a time zone that makes attending one of these sessions tricky, or if you are already quite familiar with OutNav through the work of an OutNav Community member and are ready for a more in depth conversation about using it for your own initiative, we are happy to arrange an individual session. Please get in touch.
About the demo sessions
Currently, each of our live demo sessions is hosted by one of our co-directors, Sarah Morton or Ailsa Cook.
What we cover:
The approach behind OutNav
How OutNav is used at different levels, from simple project outcome monitoring and evaluation, programme evaluation, understanding organisational impact, to multi-partnership strategic implementation.
The main features of OutNav:

Outcome and impact mapping: reach a shared understanding of your theory of change
Tracking: assess your data and evidence and quickly visualise your progress
Reporting: easily share reports with key stakeholders, collaborators and funders.
These sessions are held as a Zoom meeting, with an opportunity to ask questions via chat or face-to-face. Let us know about your work when you register and we will be ready to give you our honest thoughts about whether OutNav is right for your initiative.