Matter of Focus Co-Directors Sarah Morton and Ailsa Cook have written a handbook that pulls together the Matter of Focus approach; drawing on everything they have learned over the last five years since establishing Matter of Focus and sharing some stories of our pioneering clients.
Due to be published by Policy Press in November 2022, this practical handbook is available to pre-order now.
About the book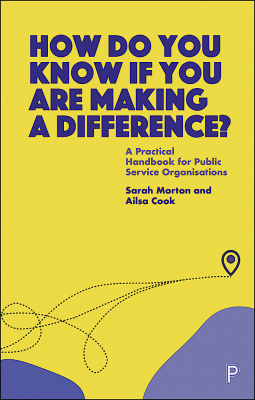 Why is it hard to know if you are making a difference in public services? What can you do about it?
Public services throughout the world face the challenge of tackling complex issues where multiple factors influence change. This book sets out practical and theoretically robust, tried and tested approaches to understanding and tracking change that any organisation can use to ensure it makes a difference to the people it cares about.
With case studies from health, community, research, international development and social care, this book shows that with the right tools and techniques, public services can track their contribution to social change and become more efficient and effective.
Contents
Why is it so hard to know if you are making a difference?
Why complexity thinking can help understand public services
What data and evidence do you need to see what difference you are making?
Owning your initiative's outcomes and impacts
Embrace the complex context
Clarify the change you want to see
Get going on your data, evidence and feedback improvement journey
Tracking progress towards outcomes and impacts
Telling the story of the difference your work makes
Using this approach in different contexts and sectors Becoming an outcome and impact-focused organisation
Pre-order the book from Policy Press
How Do You Know If You Are Making a Difference? A Practical Handbook for Public Service Organisations retails for £16.99. Sign up to the Policy Press mailing list to receive a 25% discount on this and all their books.
To receive a regular round-up of our insights and news please sign up to our mailing list.
Sign up now