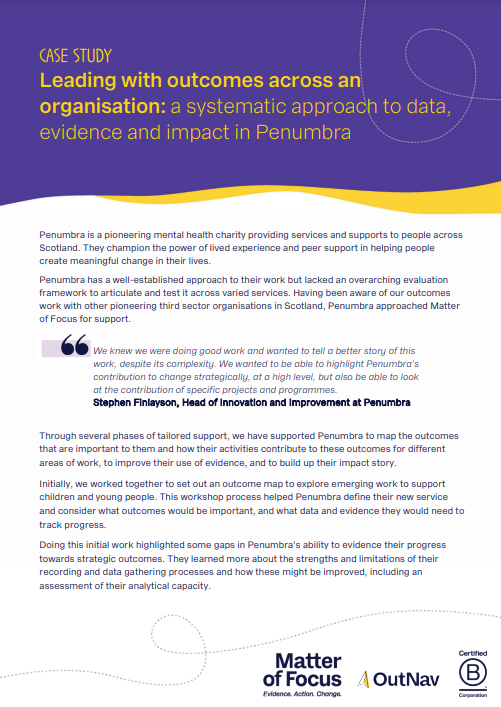 View and download this case study in pdf form or scroll down to continue reading on the page.
DOWNLOAD PDF
About this work
Penumbra is a pioneering mental health charity providing services and supports to people across Scotland. They champion the power of lived experience and peer support in helping people create meaningful change in their lives.
Penumbra has a well-established approach to their work but lacked an overarching evaluation framework to articulate and test it across varied services. Having been aware of our outcomes work with other pioneering third sector organisations in Scotland, Penumbra approached Matter of Focus for support.
We knew we were doing good work and wanted to tell a better story of this
work, despite its complexity. We wanted to be able to highlight Penumbra's
contribution to change strategically, at a high level, but also be able to look
at the contribution of specific projects and programmes.

Stephen Finlayson, Head of Innovation and Improvement at Penumbra
Through several phases of tailored support, we have supported Penumbra to map the outcomes that are important to them and how their activities contribute to these outcomes for different areas of work, to improve their use of evidence, and to build up their impact story.
Initially, we worked together to set out an outcome map to explore emerging work to support children and young people. This workshop process helped Penumbra define their new service and consider what outcomes would be important, and what data and evidence they would need to track progress.
Doing this initial work highlighted some gaps in Penumbra's ability to evidence their progress towards strategic outcomes. They learned more about the strengths and limitations of their recording and data gathering processes and how these might be improved, including an assessment of their analytical capacity.
What is outcome mapping?
Outcome mapping is our participatory approach to setting out a theory of change based on a framework we express using our headings:


We believe that this plain language approach helps to refine thinking about the initiative in question. Through our engaging online or in-person workshops we bring together staff and stakeholders, to separate out outcomes into different levels that help them understand the change mechanism that underpins their work – linking activities to the outcomes that matter. We think about outcomes at the level of reactions, knowledge, skills and capacities, changes in behaviour, policy or practice, and at the level of longer-term social change.
After a necessary pause due to the pandemic, we returned to working together to think more about Penumbra's strategic outcomes – how their different streams of local and national work contribute to them and how to streamline recording practices to generate better evidence of this. This phase of work included meetings, online and in-person workshops, training in our software OutNav, and continues to include ongoing mentoring and support for Penumbra's dedicated impact and evaluation leads.
Getting the timing right
For Penumbra the development of new and innovative services at a national level provided an opportunity to reinvigorate outcome mapping work. It provided a new drive for evaluation and allowed for the creation of dedicated impact and evaluation lead roles linked to national programmes. With this added capacity and a renewed strategic vigour, it was possible to build on earlier experience to collaboratively develop a theory of change, in the form of an outcome map. This articulated how change happens for people in receipt of Penumbra services, and the role that the organisation and its staff play in that process.
Creating an overarching theory of change for Penumbra
We worked across several workshops to better understand the context and build our understanding of the Penumbra approach and its underpinning principles. From this we were able to work with a range of stakeholders including staff and service users to build our overarching theory of how change happens for people through the support provided by Penumbra. In other words, how do the actions and practices of Penumbra and its staff create the conditions in which supported people are able to achieve their desired outcomes. This process was helped by drawing on existing evidence, in the form of recovery stories.
The resulting map provides a template, which is now starting to be applied in different priority areas. Ultimately this has the potential to allow Penumbra to look across its service offering and better understand what is working where (and why) and to amend the overarching theory of change as new evidence emerges.
---

A read-only copy of Penumbra's template outcome map can be viewed in an OutNav report here. Please note that the report will not open on handheld devices with small screens.
---
Implementation and flexibility
The overarching template outcome map has been used primarily in three areas: two new national programmes, Redress and Self-Harm Network Scotland; and to test the framework in more mainstream Penumbra service areas.
The map provided a starting point for rolling out the approach. Held in OutNav, the template map can be cloned, adapted, and have different pathways through it created.
Some of the ways the map has been used include:
Testing it with different groups of practitioners to see how well it fitted with their projects or programmes.
Allowing adaptation, e.g. for different contexts or to add details specific to certain areas of work.
Creating new pathways through the map for specific service areas that need to be evaluated separately:

The Self-Harm Network – a new approach to support for self-harm in Scotland, delivered through three locality-based services and an online portal.

Redress Support Service – providing emotional and practical support directly and through delivery partners to people applying to Scotland's Redress scheme for survivors of in care abuse.
Taking this approach provides consistent information and evaluative practices across Penumbra while allowing the flexibility needed to represent the diversity of their projects and programmes across the country.
The experience to date
This is an ambitious change programme, and it is still relatively early days in the story of its implementation but there are grounds for optimism.
The Matter of Focus approach and OutNav resonates with staff, and the organisational theory of change is positively reviewed across staff groups. People appreciate the plain language of the approach, especially our six outcome mapping headings: setting out a theory of change this way feels intuitive and easy to understand and allows Penumbra to tell a story in a very coherent way, from what they do to the difference they are ultimately making.
Their outcome maps and pathways provide a framework for staff to know exactly what questions they are asking of their data, evidence and feedback, and clearly communicate an organisational theory of change:
Every organisation has a theory of change, but it is not always written down.

Stephen Finlayson, Head of Innovation and Improvement at Penumbra
Penumbra is a relatively data-rich organisation but, like many organisations, it had proved challenging to make sense of this data as a whole. OutNav has provided a single system in which to bring together their data and evidence alongside their outcomes. As a secure, cloud-based software it is an easily accessible place where everyone can collaborate to create an impact narrative.
Penumbra has prioritised defining and evidencing their impact, and recognised that while people delivering services gather rich and varied information about their work, they don't always have the capacity to evaluate its meaning. With dedicated impact and evaluation leads, they have made quicker progress in demonstrating the utility of the approach, building much needed buy in. They have also developed new methods to make sense of their disparate data which has brought new learning locally and organisationally.
Leading by example
Penumbra is in a strong position to contribute their learning to the conversation around the development of National policies and approaches, which also prioritise the meaningful outcomes.
Part of where I see OutNav working for us is being able to influence things there, being able to say really robustly that actually we have got evidence of what works – on the commissioning and contracting side of things – and also of what doesn't work.

Stephen Finlayson, Head of Innovation and Improvement at Penumbra
Investing in their capacity for evaluation and working in OutNav means that everyone at Penumbra can be confident about the outcomes they work towards with people and can see the power of what they do and why.
We need to move away from activities to an outcome approach. Budgets will run away from us if we keep focusing on what we deliver rather than outcomes for people. OutNav is helping us do that.

Mike Burns, Chief Executive, Penumbra
---
---
We offer comprehensive packages of support to get your team up and running with our approach and working well with OutNav.
The scale of our support grows with the scope of what you are looking to achieve in OutNav.
If you would like to find out more about our approach and OutNav, please join us for a live demo session.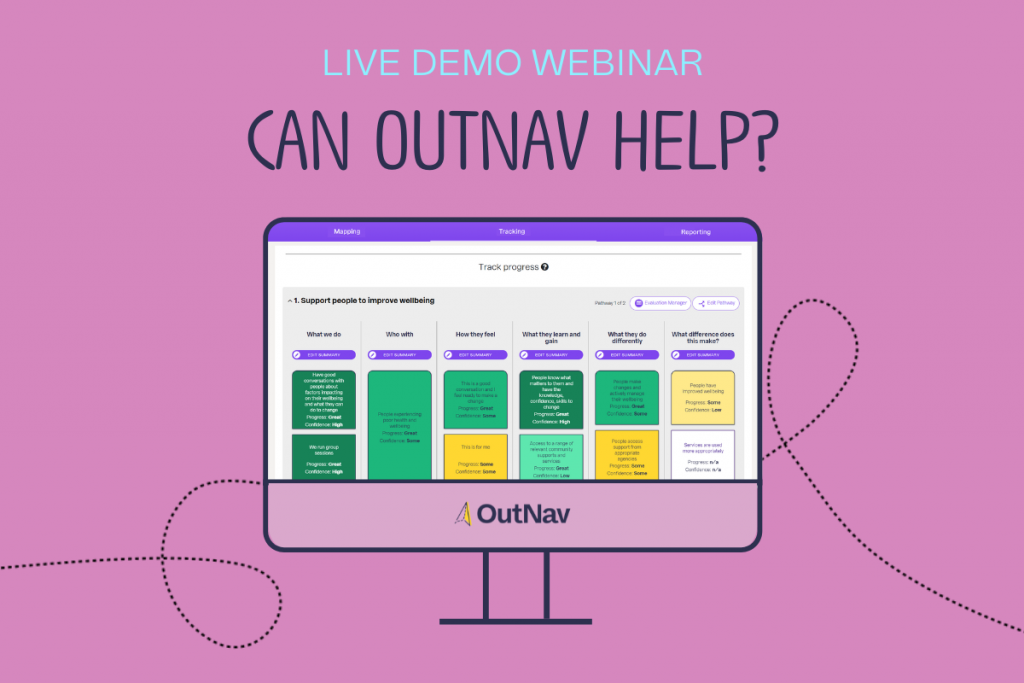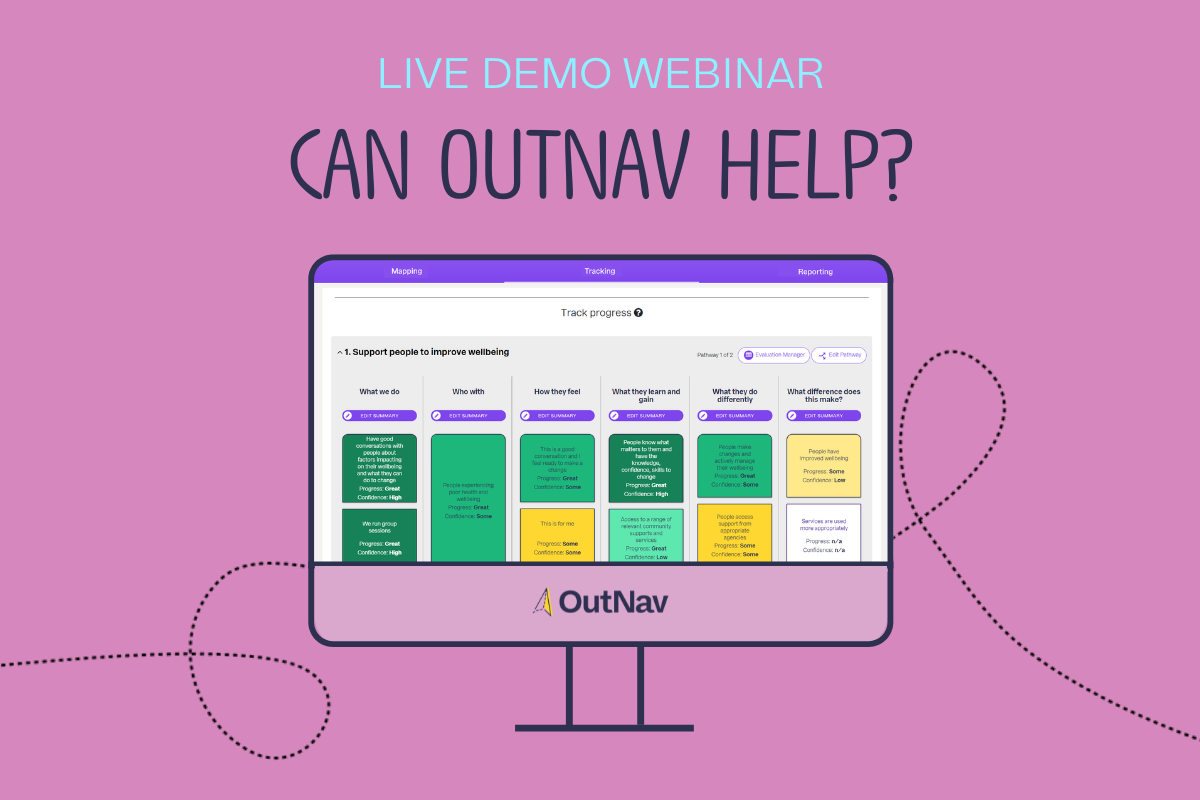 ---