The
Edinburgh Community Health Forum
(ECHF) provides support to more than 60 community organisations that are working to address health inequalities in Edinburgh. The forum brings together leaders of local community health organisations to connect, learn together and to share best practice and resources.
We have been working with the ECHF since 2018, supporting them to use OutNav to tell the story of the difference they make. You can find out more about this earlier work by viewing a live report from OutNav, which the ECHF team has allowed us to share publicly (best viewed from a desk top):
OutNav report: Supporting Forum Members.
More recently, we have been providing collective support to ECHF members.
Over the past six months we have taken 10 ECHF member organisations on a journey through:
mapping their collective contribution to improving outcomes for people experiencing health inequalities,
getting up and running on OutNav,
bringing together relevant data and evidence, and
using OutNav to analyse this data to tell the story of how their work contributes to improving outcomes.
We have been fortunate to meet at the lovely LGBT Health offices in the centre of Edinburgh. These meetings combined some collective activities, outcome mapping, thinking about data collection strategies, as well as opportunities for people to have protected time to progress their work in OutNav.
Mapping ECHF members' collective contribution to improving outcomes
The process of coming together to map the collective contribution that forum members make to improving outcomes results in a collective outcome map. This is copied into each member organisations's OutNav account where they can adapt it to fit their own work.
The examples below set out the two main ways that forum members contribute to outcomes, as held within OutNav:
Deliver health inequality projects and programmes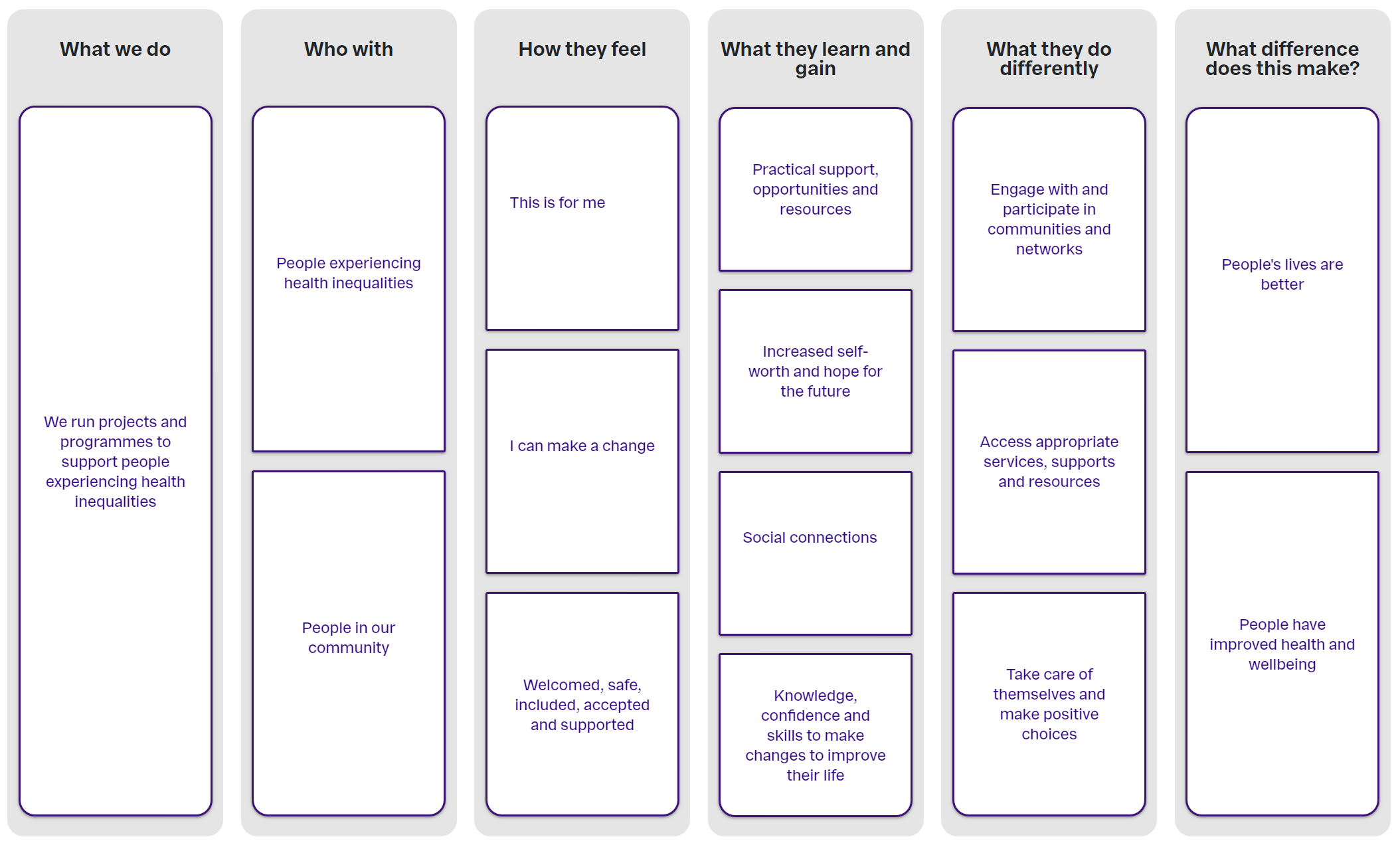 Work in partnership
Having developed these shared outcome maps, the forum members have been working separately and together, using OutNav, to tell their unique stories.
ECHF members have embraced this opportunity enthusiastically and many of them have made fantastic progress. To showcase their progress using OutNav and the impacts the approach has had on their organisations, the forum organised an event at the City Chambers in Edinburgh.
A collaborative approach
At the heart of our approach is an emphasis on collaboration and co-production. With this in mind, the event was as much about enabling community health organisations to showcase their work/progress as it was to foster the sharing of new ideas, perspectives and learning.

We were delighted to be joined by 50 participants from across the spectrum of funding organisations, stakeholders and service providers.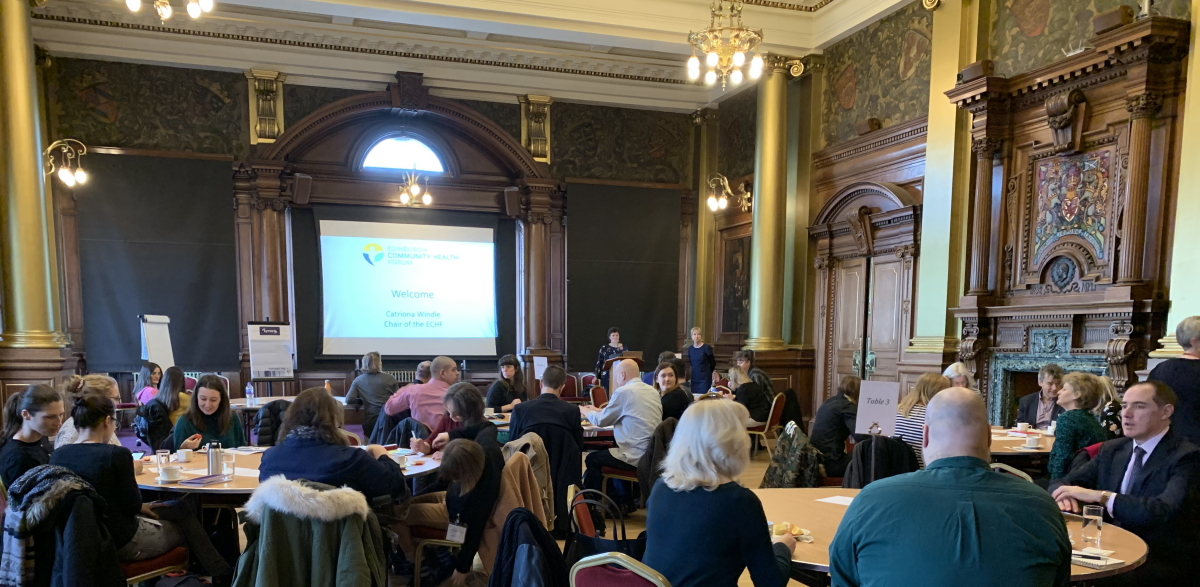 Our Co-Director Ailsa Cook opened the event, providing context on the Scottish National Performance Framework and the importance of taking an outcome-based approach to evaluation. This was followed by a presentation by Marion Findlay from Volunteer Edinburgh, whose stories and experiences reminded us of the human impact that working in this sector has, as well as identifying the impetus for adopting this kind of approach – to better understand interventions in order to improve our contribution to addressing health inequalities.
Member organisations' evaluation stories
The event then shifted to a series of more informal roundtable discussions and presentations led by OutNav users from five of the ECHF member organisations we have been working with; the Pilton Community Health Project, WHALE Arts, The Junction, Health All Round and Volunteer Edinburgh.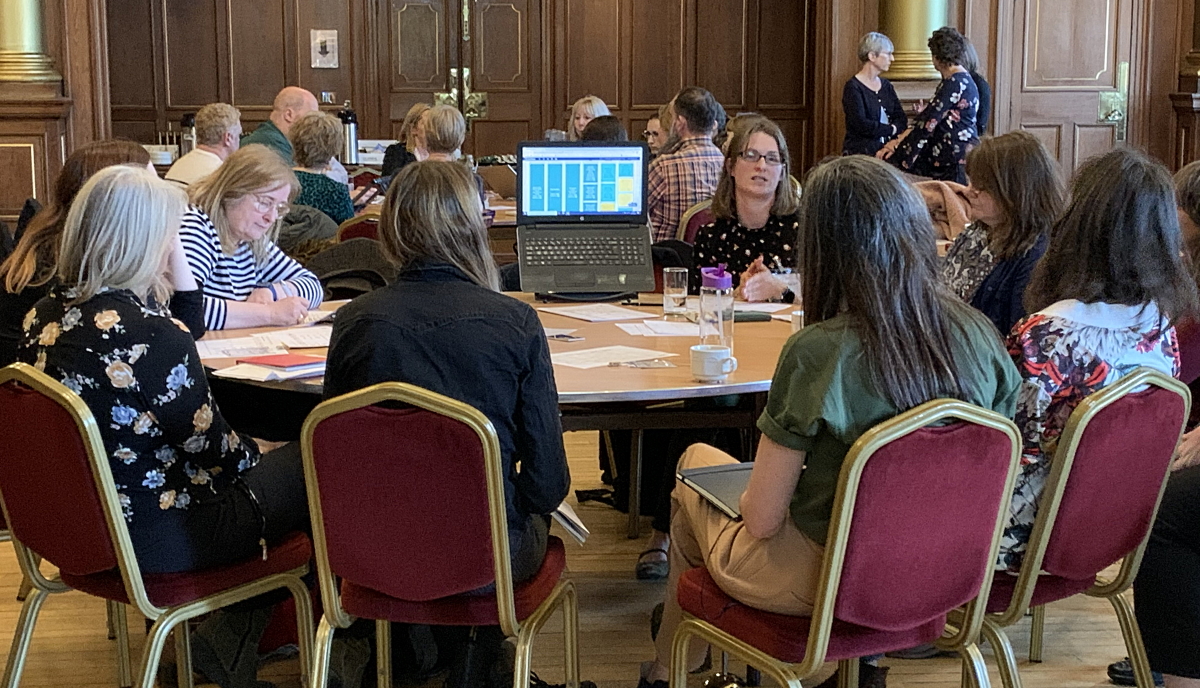 These insightful and impassioned discussions inspired attendees from across multiple contexts of service provision to consider how an outcomes-based approach, held within OutNav, could benefit their organisations: helping them to make better use of their data and information to tell a robust story of the contribution they make to improving the lives of people experiencing health inequalities.
The showcase left me with a clearer understanding of the benefits of this style of outcome tracking and reporting, and how it allows the human element to come through rather than an obsessive focus on numbers.

Event participant
Next steps
To close the meeting, ECHF Strategic Development Manager Stephanie-Anne Harris made a commitment to continue the conversation about the contribution of tools like OutNav to supporting more meaningful reporting on the contribution of forum members to addressing inequalities.
The next step is to roll the approach out to a further group of forum members and to work to build a collective story of the contribution they make to reducing health inequalities and improving long-term health outcomes for people across Edinburgh.
---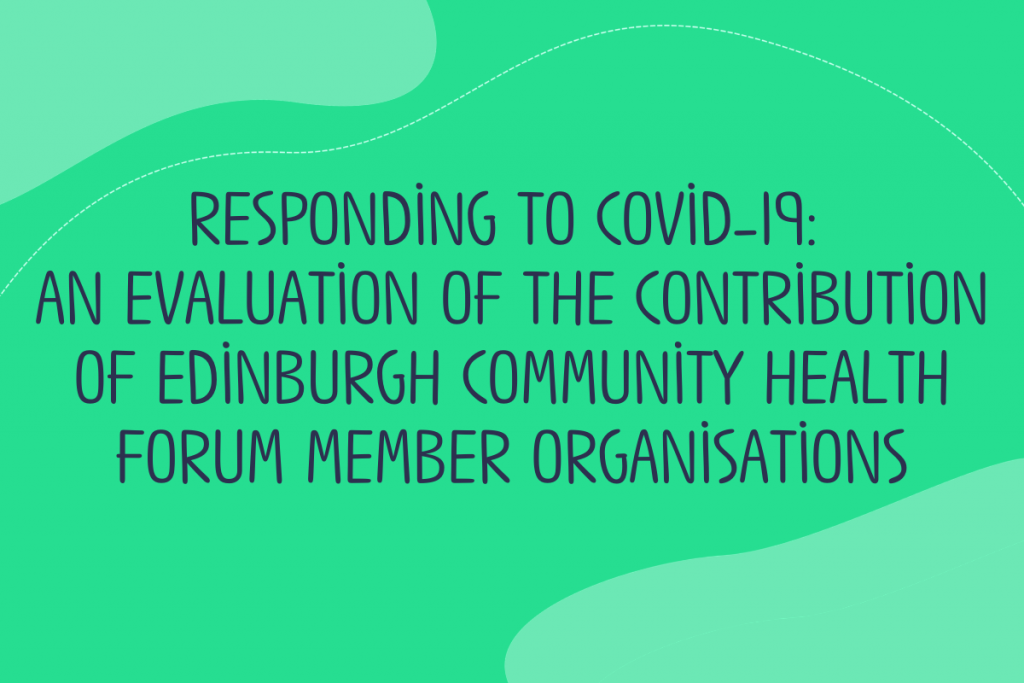 ---
For more on the work of organisations that have been embedding a meaningful focus on outcomes into their day-to-day work using OutNav, you may like to read about another showcase event we held at the end of 2019, Focusing on what matters: Scotland's outcome approach in action.
Read post