Case studies are a core feature of how we understand and communicate the impact of our work. They bring our reports to life and add crucial narrative, making them more engaging for the reader.
This post draws together some of our key messages on writing good case studies, and ideas about how OutNav can help you to plan for, write, and use them.
Case studies are a great tool for digging deeper into our impact story. By putting the focus on an individual or group of people, a place, a project or intervention, case studies allow us to go into more detail about how the change happened, which sits alongside the bigger picture of our impact.

When sharing case studies we often want to focus on our best examples of where things went well, the 'jewels', or 'magic moments' (as one OutNav Community member described them to us) of how change happens for people who engage with our work.
What makes a good case study
A good case study tells a compelling story about our work. It's helpful to be clear about the key message we want to get across to the reader; is it a focus on a particular intervention, something you have learned about how you deliver your work, or what needs to happen next?
Good case studies also present a conclusion that goes beyond the detail of what happened, explaining how change occurred and why this is important.
Structuring a case study with a clear beginning, middle and end helps keep the focus on that key message. One way to create structure is by following our outcome map headings that we use in OutNav to create a template for writing the story.


Creating a strong voice
Case studies don't just have to be stories we write about the people we support (case studies 'of' people) written in a 'top down' way to collect evidence of change. We can involve the people who use our services in the development of case studies. This could be light touch, asking people to read what we have written and offer comments and a chance to give direct quotes and images. This brings case studies to life, making them even more engaging and helping the reader to connect with the story.
For a much deeper level of involvement, you might consider co-producing case studies together with the people involved.
At DEEP we seek to work collaboratively and co-productively. We want to do case studies with people not of people.

Dr Gill Toms, Developing Evidence Enriched Practice (DEEP)
At a recent OutNav Community meeting, Gill Toms from DEEP shared their approach to co-producing case studies with communities, where those involved will have the opportunity of being a co-researcher, accessing training and development alongside their involvement and being recognised as co-authors of the work.
Using case studies as a source of evidence
OutNav enables us to get a clear picture of the strength of and gaps in our evidence, highlights areas of our work where we have limited evidence and shows us where we want to improve.
Case studies can be part of our data collection plan, used as evidence collection tools to address gaps in our evidence. We can then target evidence collection using case studies in areas where other methods aren't giving us the information we need. This can be particularly helpful as we move across our outcome maps to a higher level of outcomes.
Case studies we have already been developing can act as important evidence sources in our outcome maps, particularly where they address multiple stepping stones.

Do you have case studies that you're not incorporating as evidence of your impact? Consider where you can use case studies as evidence of your impact. Where do they fit in relation to the bigger picture of the work you do?

Do you need to think in a more targeted way when developing case studies? Where is OutNav showing gaps in your evidence? Often this will be in relation to parts of your work where you know it's more challenging to collect evidence. When developing case studies, what questions might you ask to help you address those gaps?
Using OutNav to build case studies
Our outcome map headings create a useful structure for the narrative of a case study. In OutNav, by creating a new pathway through your initiative's outcome map to draw out the story of an individual, project, or intervention you can build a story that speaks directly to your overall picture of how change happens.
Use the step-summary headings in OutNav to shape your story and run a report on it which you can save as evidence, and share as part of a more in-depth report or as a standalone story.
We have created an example of what this can look like with Jim's Story for our demo project The Wellbeing Service.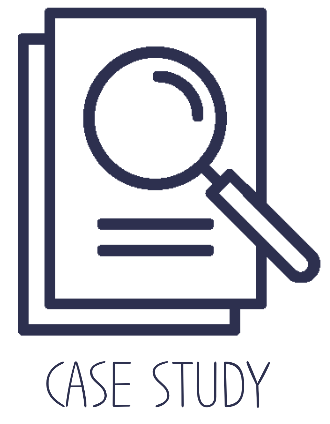 Telling an honest story
Transparency is key in sharing stories! It's natural to want to focus on the good news stories when sharing case studies about our work. But this also creates concern that we're not reflecting the full picture of what happened and could be perceived as being biased, that we are 'cherrypicking' the best stories to create an unrealistic view of our impact.
When sharing stories in reports or communicating them in other ways, it's important to place case studies in context, alongside other forms of qualitative and quantitative evidence. This can address any possible concerns of bias or of 'seeking positive exemplars rather than representativeness'.
Acknowledging any challenges or failures of the project by mentioning them within your analysis or highlighting them as risks and assumptions can help show the bigger picture and demonstrate that case studies do not – and cannot give a complete picture of how the process works in all cases, only how it has worked in specific cases and how it CAN work.
More posts you may like to read
To receive a regular round-up of our insights and news please sign up to our mailing list.
Sign up now