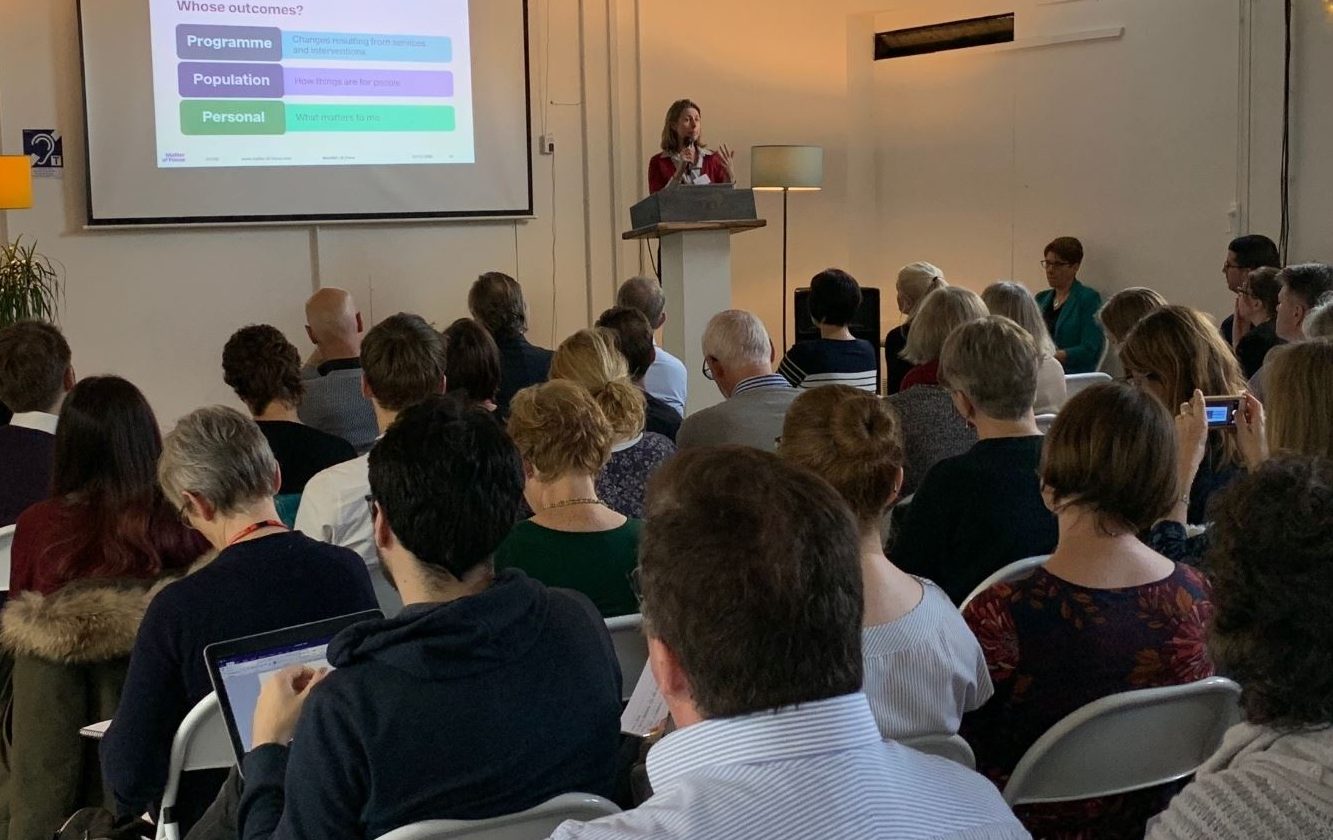 On 1
st
 November 2018 we held our first public seminar at Codebase in Edinburgh - Meaningful outcome evaluation a practical approach - in which Matter of Focus directors Sarah Morton and Ailsa Cook shared insights from their years of work with public service organisations. 
We were delighted to be joined by a full house of 70 people from a wide range of organisations from the Scottish Government, to smaller community organisations. It was great to have participation from elected members as well as clinicians, evidence and evaluation specialists, planners, commissioners, policy makers and people managing and delivering services.
It was clear from the turnout and the volume of conversation in the room that outcome evaluation is something that touches and engages people right across public services.
Ailsa and Sarah shared the conceptual and practical approaches we take to supporting organisations in their meaningful outcome evaluation.
Key messages:
We need new tools and frameworks to help us deliver and improve the collaborative, personalised and co-produced public services of the future.
Many of our current outcome evaluation approaches are based on work from the 1960s and are not fit for purpose. We know that using them inappropriately can undermine good outcome focused working.
We see meaningful outcome evaluation as a social practice, that needs to be underpinned by appropriate meanings, knowledge, competencies and skills as well as the right materials and tools.
Many of the organisations we work with are caught between paradigms, wanting to work in relational ways to learn and improve, whilst still being required to account for their performance.
When working in complex systems, it doesn't make sense to try to attribute changes in outcomes to any given intervention.
Public services can only ever make a contribution towards improving outcomes alongside other factors. Theory based approaches to evaluation, such as ours, enable organisations to plan for and track how their programmes make this contribution.
There are a number of strategies that you can use to ensure your outcome evaluation approach is inclusive and generates insights that help your organisation to learn and improve.
Strategies we use include: starting with a clear understanding of the context in which you are working, using plan language, taking a collaborative and inclusive approach to mapping contribution to outcomes, being clear about the mechanisms for change and involving everyone in data gathering and analysis.
We believe that meaningful outcome evaluation is a central to improving and reforming public services.
Making the shift to more meaningful work with outcomes involves letting go of some bad habits, as well as embedding new practices. Funders, commissioners, government and scrutiny bodies are key to enabling everyone to make the shift to more meaningful outcome evaluation.
Questions from the audience
The seminar finished with some brilliant questions and discussions from the audience covering issues such as outcome-based commissioning, gaming and performance management, embedded vs external evaluation and outcome measurement. Participants then joined us for a glass of fizz to celebrate the launch of our new brand.
If you attended this seminar and would like to discuss any of the issues we explored further, do get in touch.
We re-ran this event online as a webinar, a recording of which is available to watch online.
Watch seminar