The Matter of Focus approach always starts with working through the outcomes and impacts that matter. We help you define what's meaningful to your team, your organisation, your funder, and - most importantly - the people and communities that are the focus of your work.
If your initiative is inspiring, educating, empowering, supporting leading or connecting with people, then the Matter of Focus approach is here for you. We have developed a specific way of demonstrating impact which is tailored for teams and organisations with a vision for social change. We always start with outcomes and impacts that matter to your project, programme and the people you serve.
---
This is the second of six key pillar posts that will take you through our approach. We recommend reading each of these posts and following the links we've made to other useful tips and tricks. If you're working on evaluation and outcome-monitoring, you might like to come back to these posts as and when you need support. We're here to help! So please do get in touch if we can help you embed an outcome-focused approach to your work.
Understand the outcomes and impacts that matter (you are here)
---
Why start with outcomes?
---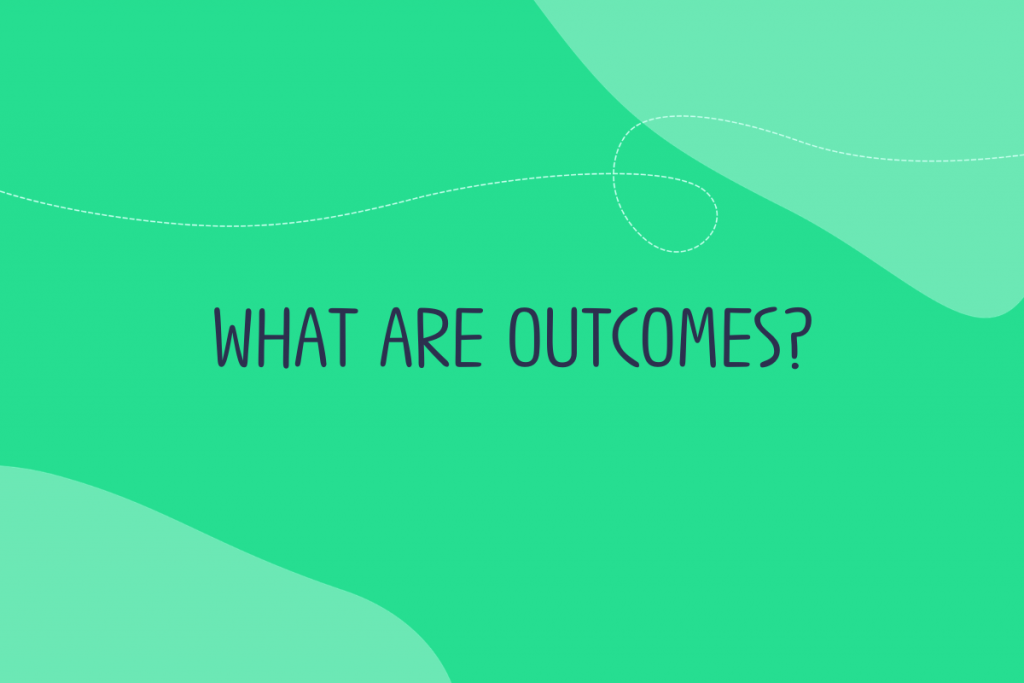 ---
We know that starting with impacts and outcomes in mind can be a practical and positive way to stay focused on what matters to people and communities. A focus on outcomes can help you to:
create and share a vision of where you want to get to
agree a plan of how people and organisations can work together towards outcomes
check on your progress and adapt
reflect, share and act on your learning.
Outcomes or impacts?
People use the terms outcomes and impacts in different ways in different sectors. We use them interchangeably and find that it doesn't really matter which one you use as long as everyone within your team and organisation is clear about what they are trying to achieve.
We find that projects, programmes and organisations are often working to the expectations of different funders, alongside what matters to them, their organisation and the people and communities they work with. Different kinds of outcomes and impacts will matter to different stakeholders. It's a lot to bring together: we do this in our approach.
How do we work with outcomes and impacts?
Our approach helps you to show the difference you are making, as well as the steps along the way. We support teams and organisations to describe the work that they do and the people they reach, and map the way this work contributes to a range of outcomes.
Working with us to define the outcomes and impacts that matter can help you:
map different levels of outcomes [read more about outcome mapping]
link your engagement and reach with learning outcomes, behaviour change outcomes and final outcomes
harmonise organisational aims, funder outcomes and what matters to people, in a single outcome or impact map
work in a participatory way that reflects the different perspectives on what success looks like (e.g. from leaders, people benefiting from the initiative, managers, staff and funders)
determine the data and evidence you need to tell the story of the difference you make
report on your progress as often as you need and produce reports that are tailored to your audience.
A practical approach to help you learn and take action
Outcome maps support you to show the difference you make to the people and communities you care about. With support from our software OutNav, the outcome map provides a framework against which data can be gathered and that divides data analysis into manageable chunks.
Creating an outcome map:
sets out how your initiative seeks to make change, using six simple steps
brings focus to key activities and how they are linked to change
streamlines the data and evidence you need to understand your work and tell your story
brings people together to build a common understanding of what a project, organisation or partnership is trying to achieve
is a way of working together to understand what matters and, using data and evidence, to tell that story in a meaningful way
helps you to show the difference you make to the people and communities that are the focus of your work.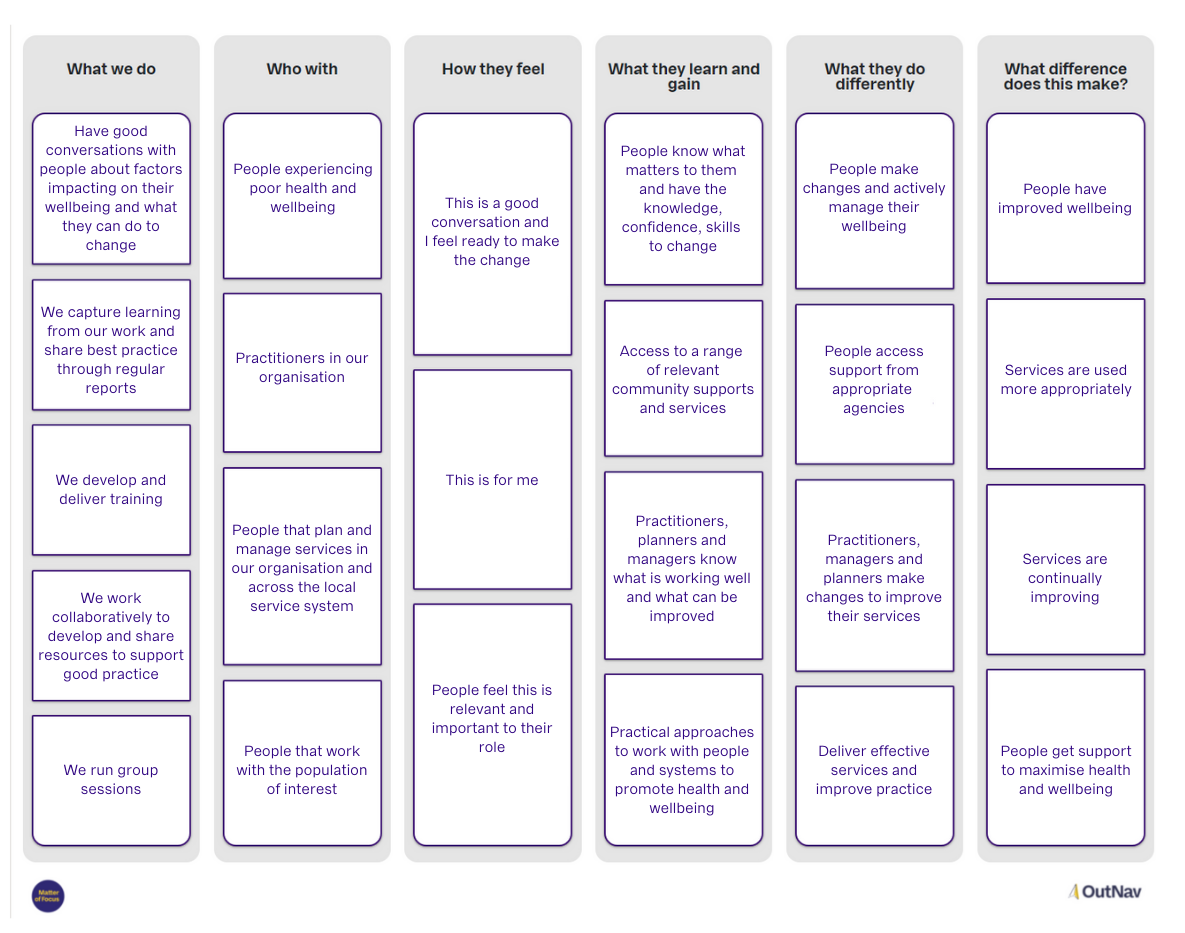 An outcome map can be a simple statement of how a project contributes to the outcomes or impacts that matter. It can also be used in a much more complex way; it can help to set out different streams of work within an organisation, including strategic work.
The beauty of an outcome map is that is can be used at project, programme and organisational level.
We've also used outcome maps to support multi-agency partnerships and policy development.
Real examples of the benefit of outcome mapping
Working together to create an outcome map is a really helpful step in understanding what difference you make, and what evidence you need. We've worked with teams and organisations across health, social services, research impact and international development, and know that whether you're a large initiative or a small project, this way of working can help you define what matters and show the difference you make.
"Feeling empowered to demonstrate the difference we make after @matter_of_focus' workshop"

Light Up Learning
Using OutNav has helped us to clarify the role and remit of our organisation, its members and the impact and outcomes of our work

Stephanie-Anne Harris, Edinburgh Community Health Forum
---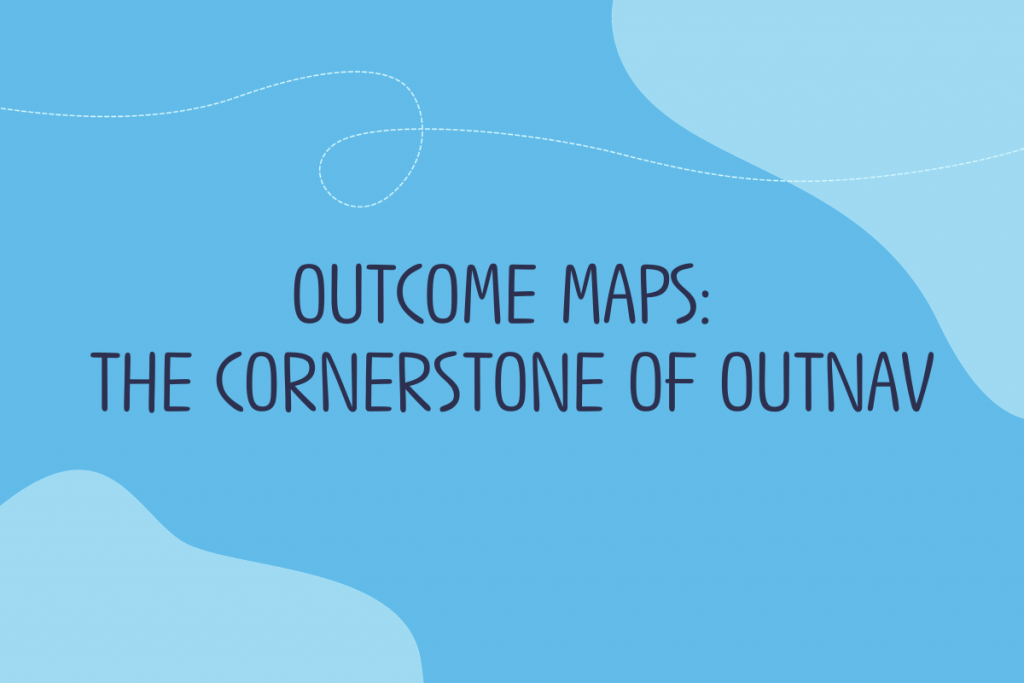 Outcome maps form an evaluation framework which is held in our software OutNav.
Read more about this
---
We usually work with organisations to help them set out their outcome map, identify evidence, and track progress. We offer OutNav and consultancy support to help with this process.
You can try outcome mapping for yourself using our headings. For a set of our headings and guidance on how to use them see our post: A simple framework to help you understand change.
Read now