If you're working towards a vision for social change, you will know that numbers and spreadsheets can't tell the full story of the difference your initiative makes. But how do you produce a well-evidenced and meaningful story of your impact? And what data and evidence do you need?
For many years, we have been working alongside teams and organisations to help them understand and track their work towards outcomes.
We have developed a practical and robust approach to help you tell the story of the difference you make and learn from your own evidence and data. In this way, we can help you to improve outcomes for the people and communities you care about.
---
This post provides an overview of our approach and why we think it's right for teams and organisations with a vision for social change.
It is the first of six key pillar posts that will take you through our approach. We recommend reading each of these posts and following the links we've made to other useful tips and tricks. If you're working on evaluation and outcome-monitoring, you might like to come back to these posts as and when you need support. We're here to help! So please do get in touch if we can help you embed an outcome-focused approach to your work.
An overview of the Matter of Focus approach (you are here)
---
The Matter of Focus approach, supported by our software OutNav, takes you through the following processes to understand, define, track and report on the difference you make.
Understand and work with your unique challenges
When working with a vision for social change there are things that you can control and things that you can't that will impact your success. We believe that it is important to take time to work with the challenges of context rather than pretend they don't exist.
We use a context mapping framework called ISM to set out these challenges and consider their implications for delivery of any project or programme. Your organisation can use this framework along with assessment of your risks and assumptions to help steer a clear course towards the changes you seek within complex environments.
---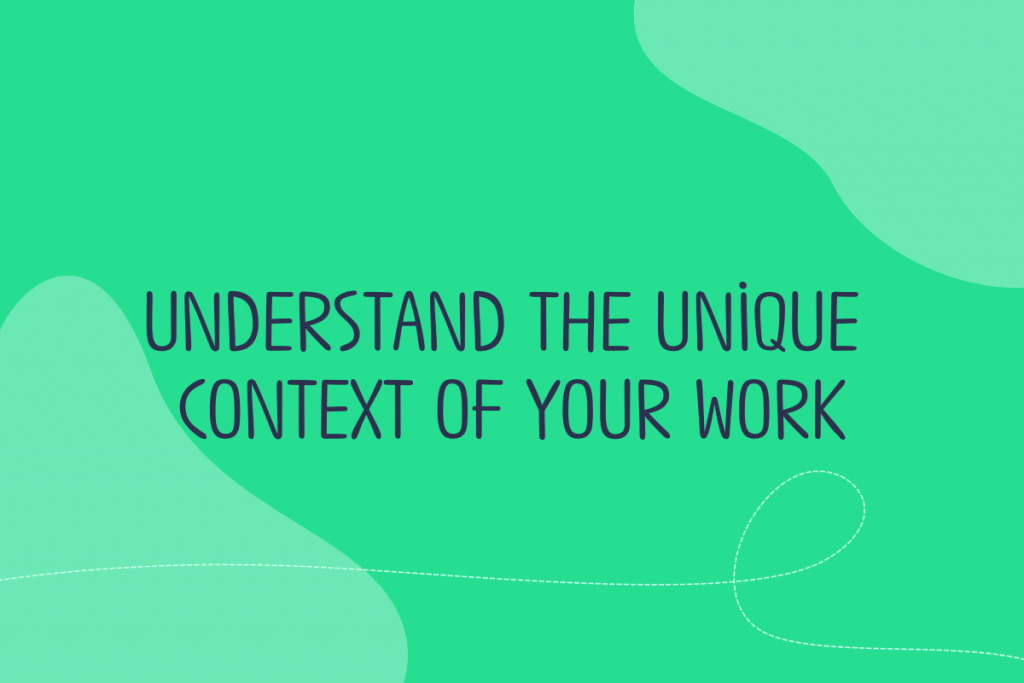 ---
Mapping: understand the outcomes and impacts that matter
The key outcomes and impacts for your projects, programmes, and organisation are often defined by outside influences. Indeed, often organisations need to work with multiple outcomes from different funders and sources, such as sustainable development goals and national performance frameworks.
Whatever outcomes and impacts are important to your work, it can be challenging to link them together and to understand how the activities of projects, programmes and organisations link to these outcomes.
The Matter of Focus approach is based on contribution analysis, a theory of change approach that works well for complex systems change. That is because it acknowledges that people-based change is not driven by direct cause and effect.
The Matter of Focus approach acknowledges that people-based change is not driven by direct cause and effect.
We know that when work focuses on influencing, educating, inspiring, supporting people, then a project or programme makes a contribution to change. Change will happen, but only if the assumptions of the project are sound and the risks and wider contextual factors don't cut across it.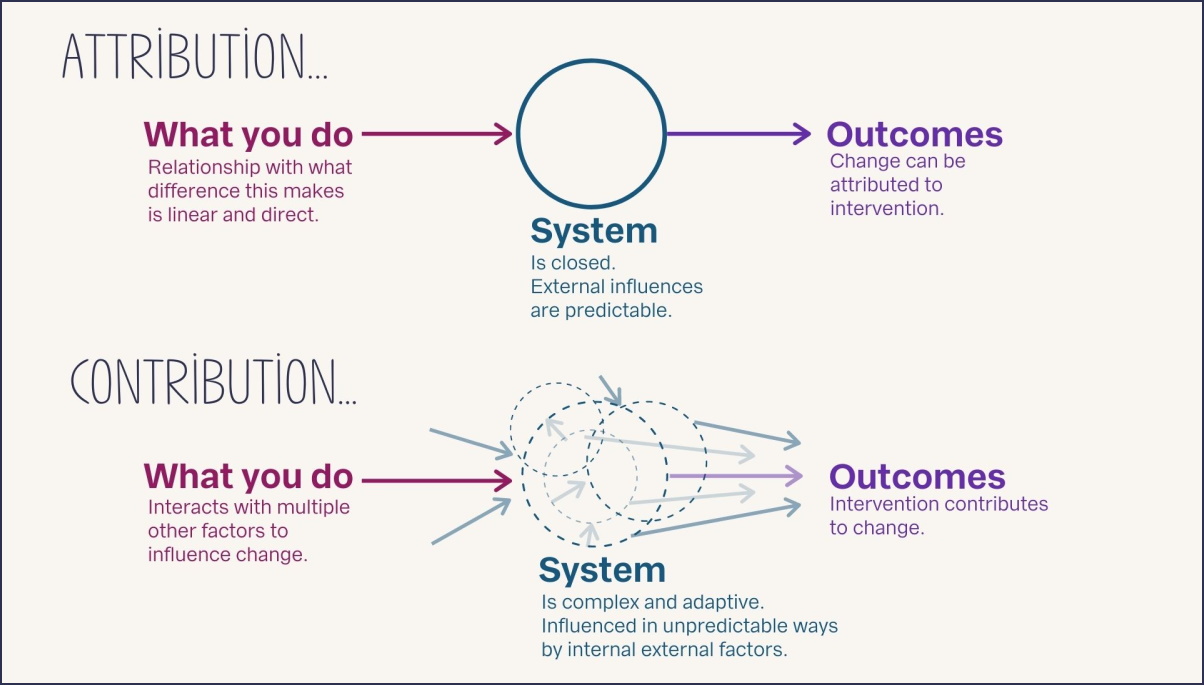 The Matter of Focus approach pragmatically supports teams and organisations to show how activities can contribute to high level outcomes or impacts.
---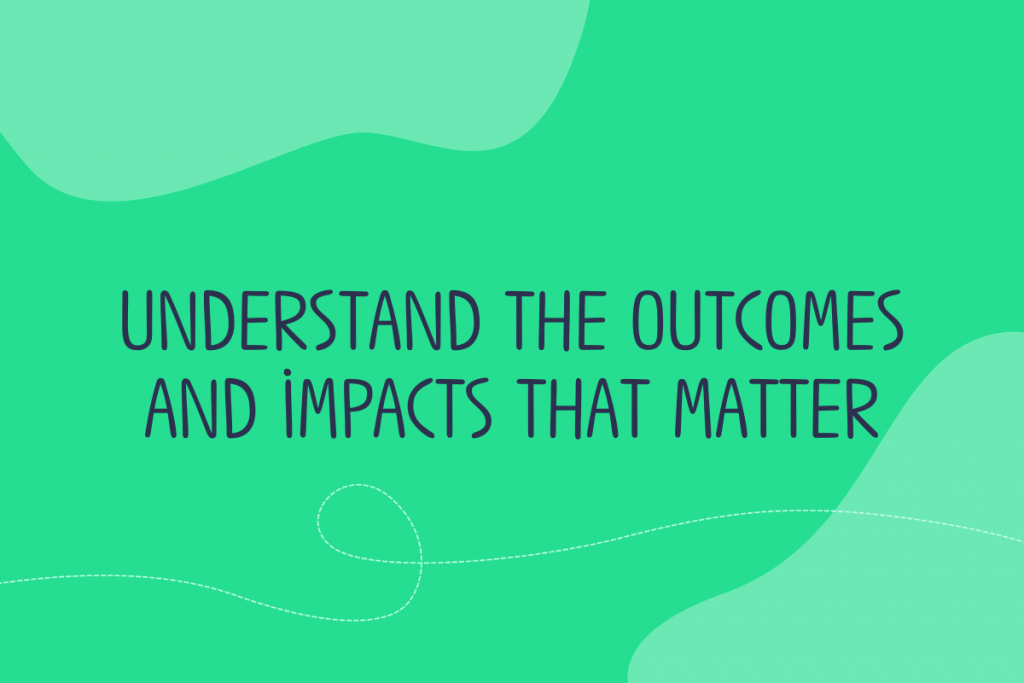 ---
Dig into your data, feedback and evidence
An outcome or impact map becomes the framework for tracking and understanding change. The first part of this is to develop and decide what data and evidence you need.
We support organisations through a data audit process and help them build a data and evidence plan in OutNav. Our approach is to combine appropriate qualitative and quantitative data that is suited to your organisation, project or programme and capacity of your staff.
We always start with the data you have, identify gaps and develop a plan to fill them. This includes reflecting on the effectiveness of current information, streamlining, improving and helping with new data collection tools and approaches where needed. Realising the need for a single system to hold this data for meaningful use across teams and organisations, we have developed OutNav.
With this approach, you can meaningfully understand how your work is progressing, whether you need different kinds of data, and the steps it will take for your project, programme or organisation to achieve its outcomes. OutNav means you can combine and reflect on data in one place, sharing insights across your team and beyond.
The outcome map provides a framework for all data collection for your initiative – giving a clear sense of what is important to understand from any data sources. This might include administrative data about people and interactions by the initiative, wider data from social media, feedback from recipients, interviews, reflections, standardised measurement and other data suited to the specific circumstances of your project or initiative.
---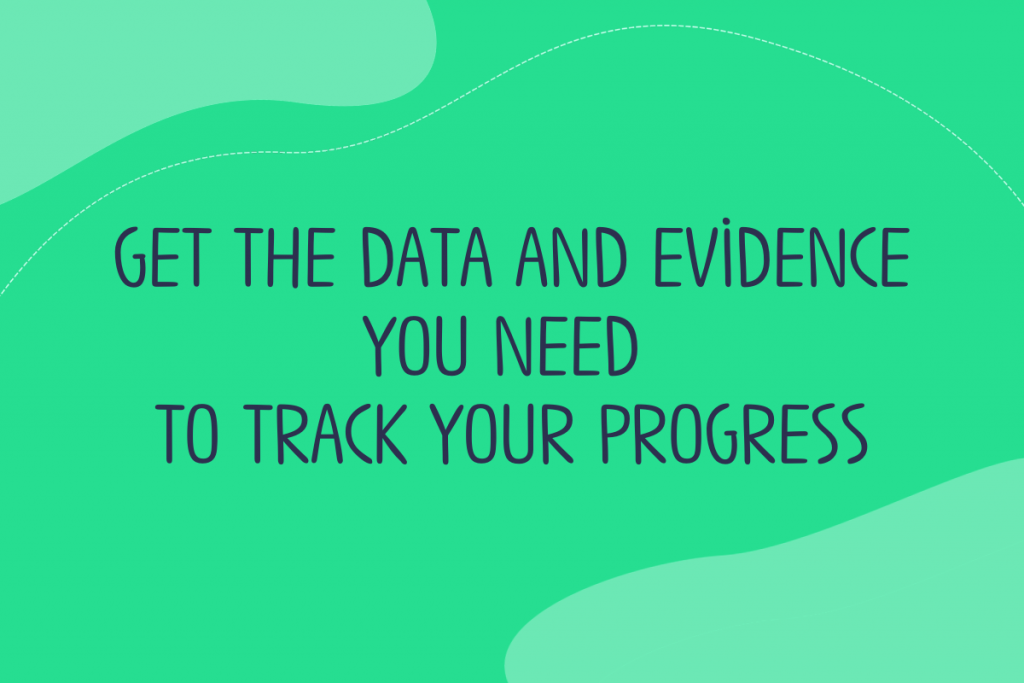 ---
Tracking: evidence, learn, reflect, and improve your work
Using an outcome map alongside data and evidence to visualise your progress towards the difference you want to make is the next step in the process. We know that working in this way offers specific benefits:
Track your progress through different levels of outcomes. This means you can see how your initiative is working and understand the contribution you are making.
Learn about what is working well and less well and adapt to ensure you work towards the outcomes that are most important.
Reflect on progress and share insights across your team about how you are doing things and how well it is going.
Improve your work by identifying issues early and working to resolve them.
In OutNav, progress towards outcomes and confidence in data are brought to life through our unique outcome map colour-coding system. We provide a template for evidence standards which can be adapted for each organisation, to ensure agreement about rating progress and confidence in your evidence.
---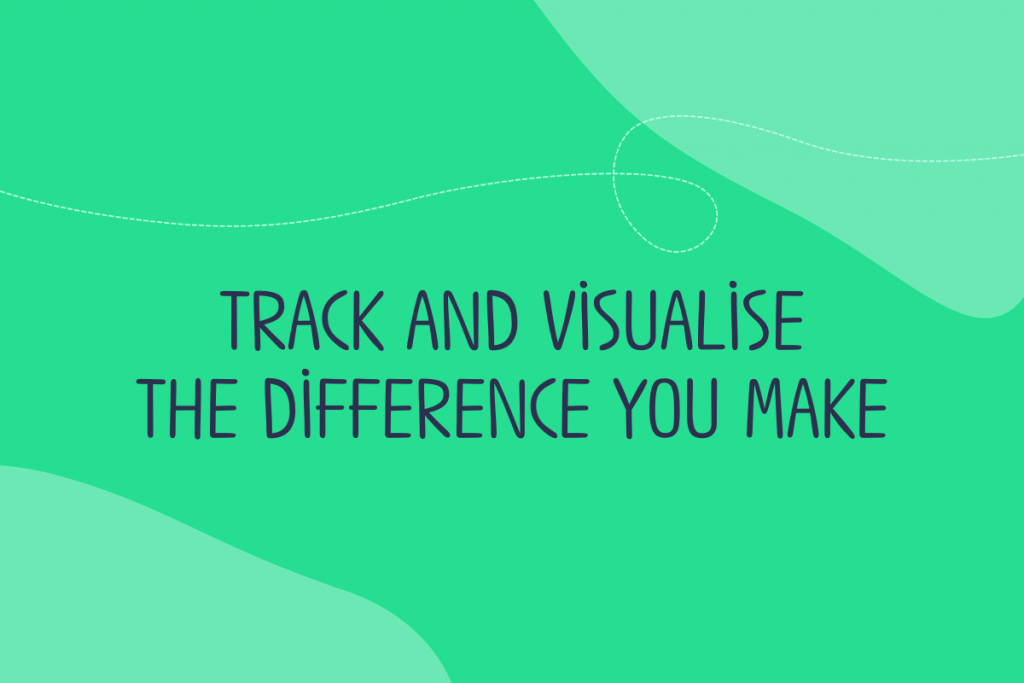 ---
Reporting: tell your contribution story
Working in this way means that you can show where your project, programme or organisation's key contribution lies. This approach helps you explain not just what your initiative has achieved, but how it has made that difference to people and communities.
We know the importance of reporting regularly so that learning can inform delivery. We know that you have to make the most of precious resources to ensure that you make the greatest contribution possible with what you have.
With this in mind, we have designed OutNav to enable you to easily produce reports as and when you need them. This kind of reporting will help your team and organisation make the most of the data you have and improve your projects and programmes in real-time.
---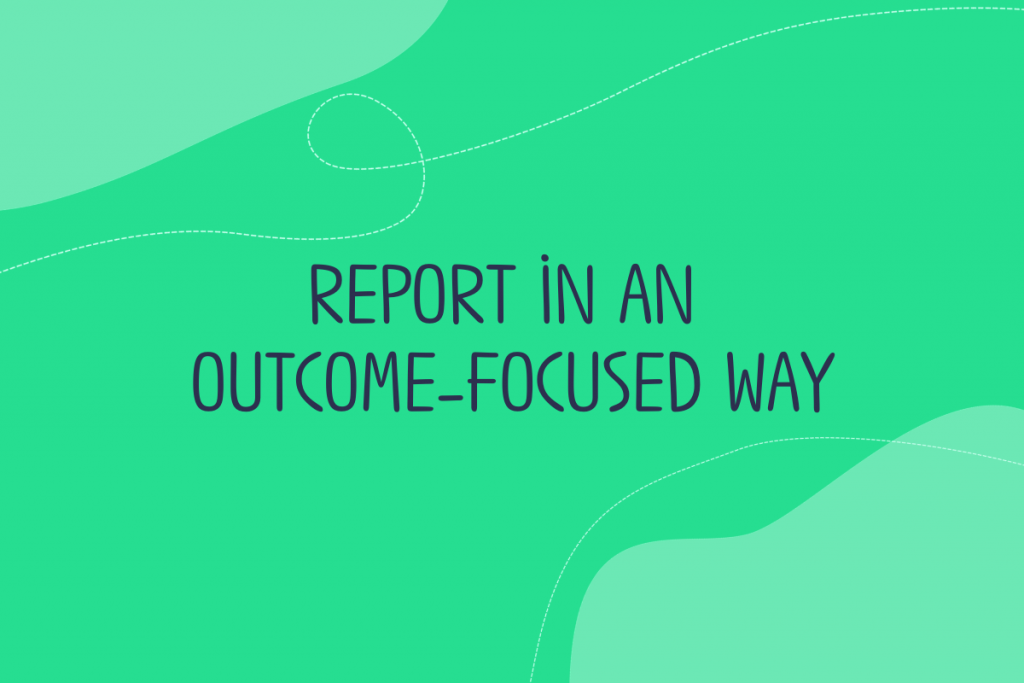 ---
Make it work for your team or organisation
At Matter of Focus we believe it is everyone's job to use data, evidence and feedback to understand the changes you seek; learn and reflect; and make progress towards outcomes. The knowledge gained through this process is too important to hand over to external experts. Our process puts you in the driving seat of the process, giving you the tools and techniques to help you drive evidence-based change.
In order for this to work, we know that measuring your progress and evaluating your impact should be done in a proportionate way. We know that you want to get on with the work of creating change for people and communities, not creating an industry of data collection.
Our approach works for different kind of initiatives: more light touch for the tried and tested projects and programmes, and more intensive where the stakes are high or work is new and innovative.
Meaningful outcome evaluation is a journey. We have a growing community of OutNav users that continue to learn and share with each other though our regular events. We invite you to join us.
If you want help to work in this way then we offer tailored support and software OutNav. Our approach works with where you're at – from new project or programme, to established organisation, to multi-organisation collaborative. We'd love to have a conversation to explore how we can help you.
Ways to get in touch