We support teams and organisations to understand the change they seek to create in the world, and to track their progress towards it. We use two innovations to help people focus on the key change mechanisms for any initiative: the first is our approach to outcome (or impact) mapping, and the second is pathways.
Understanding the steps it takes to create and enable change is fundamental to high impact projects and programmes. Our approach helps teams and organisations be explicit about the change they seek, and show the steps it takes to create it.
---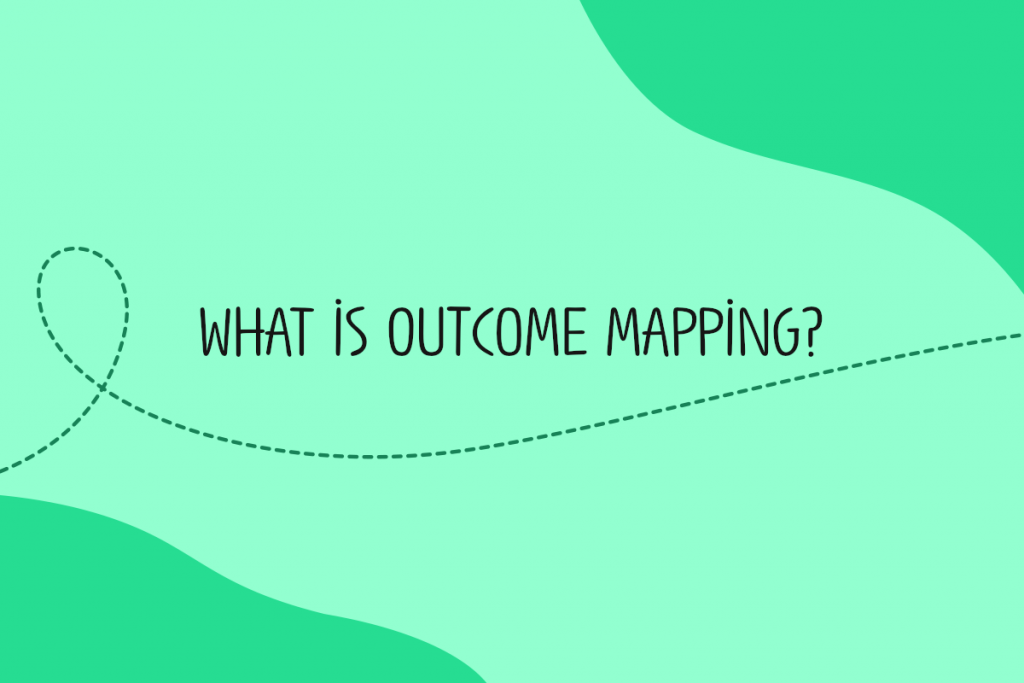 ---
From map to pathway
Once you have created and refined an outcome map with broad agreement that it represents your work, the next job is to think about the key change mechanisms that enable outcomes and impact to occur.
In our approach, we break down the outcome map by focusing on specific sets of activities and levels of outcome that link together to help you reach the outcomes you seek. We call these the pathways.
Image 1 shows a complete outcome map held within our software OutNav. Image 2 shows how that map has been split into two pathways, each focusing on a different area of activities: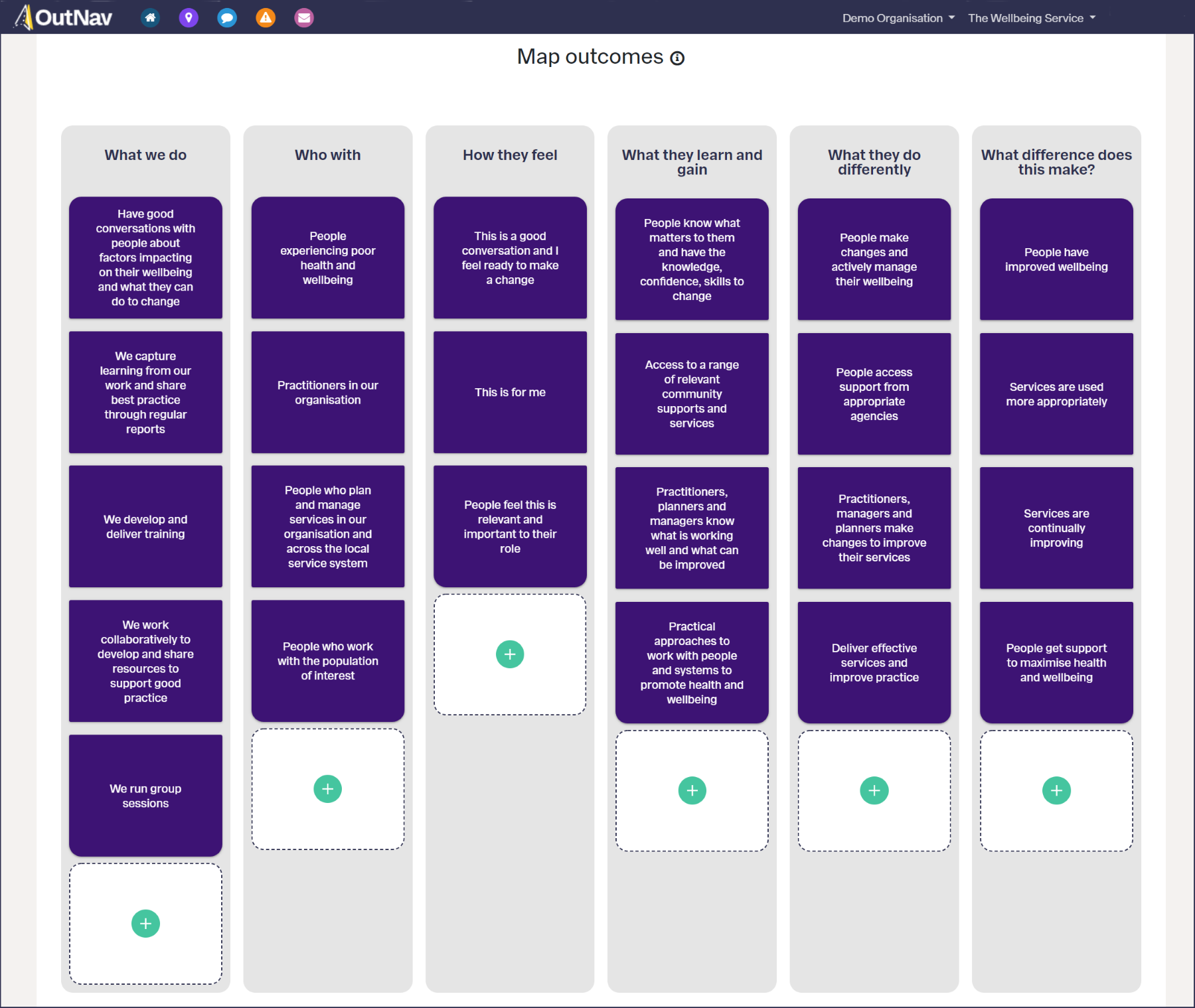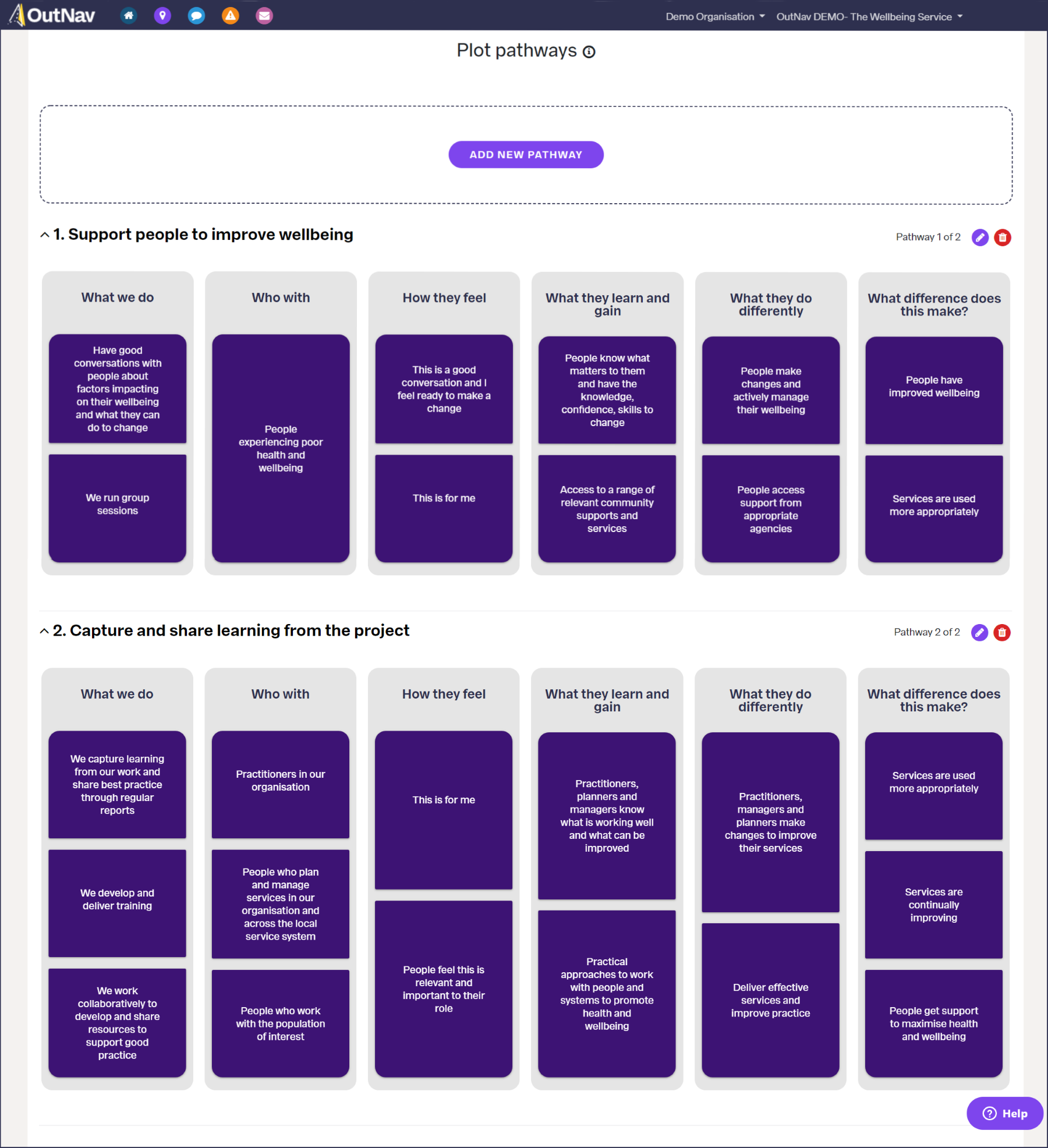 In OutNav, pathways turn your map from a 2D static representation of your work to a 3D dynamic and interactive tool for plotting the steps that it takes to make change.
The pathways show the different change mechanisms that your project programme or organisation is using. These pathways might be grouped by different stakeholders (e.g. people benefitting from a service, and wider professionals). Or they might be grouped by types of activity (e.g. relating to the work of different teams or programmes). Or they can even be grouped by outcome (e.g. strategic outcomes for your organisation or policy area).
Maps are meant to be used. And all maps have roads and pathways through them which get you from A to B. That's why all assessment and use of evidence takes place at this pathway level. Adding evidence at each step in the pathway helps your team and your organisation understand the progress you've made. You can also show how confident you are about the data you have and indicate where you need to collect more evidence to show the change you're making.
That's why we think of pathways as the 3D – they don't just show a black and white pathway to change, they quite literally show how robust – how much you can trust – each step of your pathway. In our software OutNav we use a colour coding system to help you show your confidence in the evidence you have as well as where they may be gaps you need to fill. This is what turns your map from a description of the change you seek, to a tool you can use to create it, share it and improve your impact.
---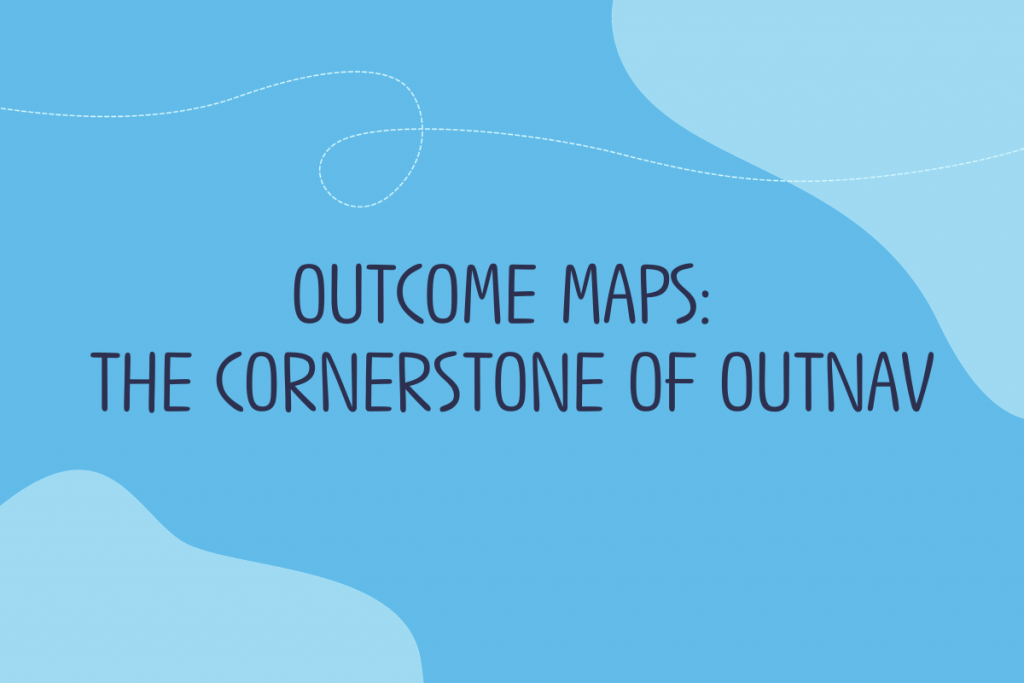 ---
Why are pathways helpful?
Pathways focus on the key change mechanisms at the heart of your work.
They allow you to think in more detail about specific people, activities and outcomes that are important to your team and the people you work with.
Pathways help focus on the evidence you need to demonstrate change.
They are also useful for sharing what you did and how change happened.
Pathways make the evaluation process more manageable.
Most outcome or impact maps have two or three pathways, and each pathway represents an important story that needs to be told for others to understand the difference you've made. By focusing on pathways, we want you to be able to tell the right stories to the right people in a way that feels meaningful and true to the work you've done.
Tips for making the best of pathways
Balance: We advise balancing what is important to demonstrate about the work with the effort required to generate evidence and monitor progress. The more pathways the bigger the evaluation job. It is a bit of an art to get this right, but there is plenty of room for experimentation and flexing.

Foc

us on what's distinctive: It's helpful to identify which activities are distinctive, such as one-to-one support and wider community engagement. These activities are both important – but they are often very different from one another.
Highlight your innovations: Create a separate pathway to show cutting edge practice or innovative approaches to care and support.
Teams and organisations commonly focus pathways on these three areas:
Who? By focusing on who is accessing your service or support, you can pay particular attention to the different ways you work with people. For example, by having distinct pathway for people accessing support and another for carers and families, you can show the different ways you support these particular groups.
How? By focusing on different aspects of your activity, like influencing policy and practice, wider communications work, and building staff capacity, you can put the spotlight on the different approaches you're taking to create change and the way this work leads to outcomes and impact.
So what? By focusing your pathway around strategic outcomes, you can show how all the activity you do, and the reach you have with people, leads to your organisation or policy area's top-level outcomes.
There is no one right or wrong way to decide on which pathways will work in any setting – it usually becomes obvious in the mapping process.
Building outcome maps and pathways is a satisfying process for most people – it brings clarity, focus and direction. That's what good maps and pathways do for us – they helps us on our journey. In this case, we help you to understand and share the difference you make.
We are experienced in bringing together often large and varied groups of stakeholders to reach a shared understanding of what matters. Our participatory process of understanding and linking activities to the outcomes that matter to your initiative ensures everyone agrees and can communicate what you do and why it matters.
Find out more