What's a B Corporation?
B Corporations (or B Corps) are a growing group of companies who are reinventing business by balancing purpose with profit.
As a Certified B Corp, we meet rigorous social and environmental standards, which represents our commitment to goals beyond profit.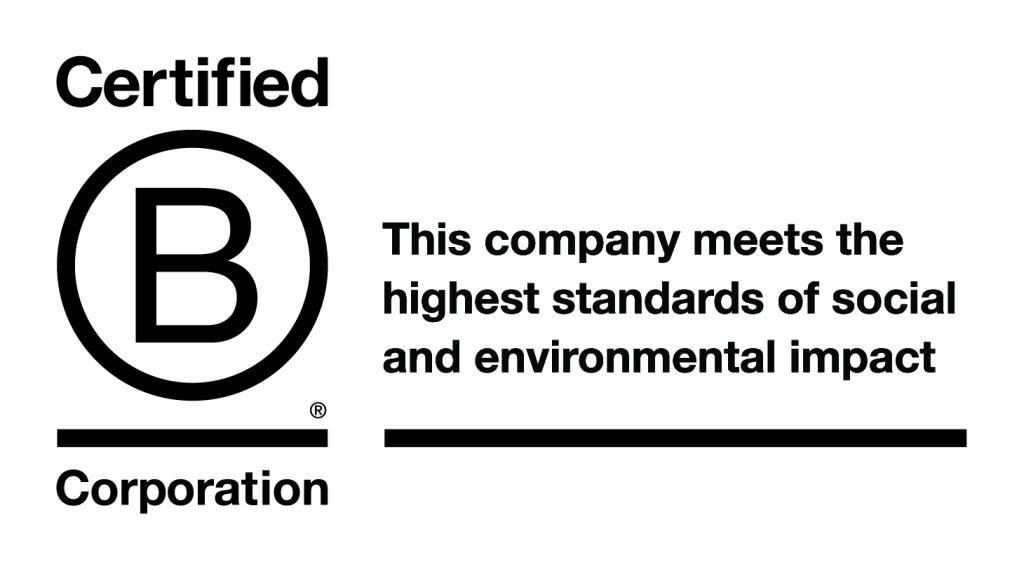 This is important to us
Having heard about the B Corp assessment through Scotland Can B back in our first year of trading, it seemed like an obvious process for us to go through. After all, we are a mission-led company, with a vision for social change and our values are already embedded into everything we do. We were already active members of the global Zebras Unite movement, calling for a more ethical and inclusive start-up culture.
We achieved B Corp certification in 2019. Three years on it was our time to go through reassessment, as each B Corp must do to demonstrate their commitment.
A rigorous assessment process
We were assessed and recertified by B Lab UK as having met high standards across five impact areas: governance, workers, community, environment, and customers.
It is a rigorous assessment process; requiring us to provide robust evidence of our continuing socially and environmentally responsible practices – including energy supplies, waste and water use, worker compensation and well-being, diversity and corporate transparency.
Although the assessment process is intensive and challenging, we were confident we could retain certification. Because our business is about impact, we already use our own method which gives us the tools to track how we make sure we achieve our mission.
We are delighted that we were able to demonstrate improvement, particularly in the categories of governance and workers, increasing our overall score by 5 points.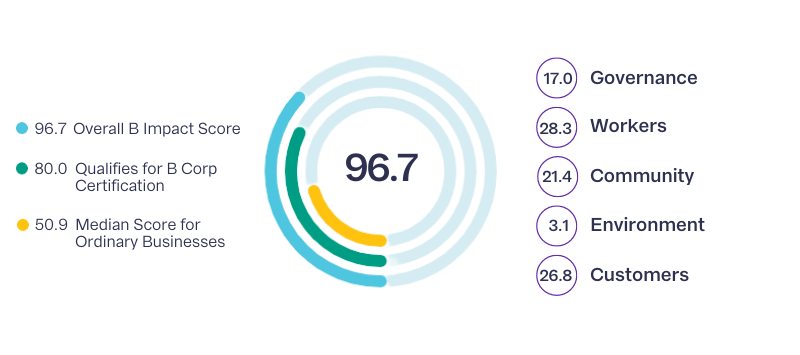 Part of a growing community
The B Corp Community now comprises more than 6000+ businesses globally, 1,100+ of which are in the UK where the community is reflective of the UK economy with businesses from a cross section of industries and sizes. These include well-known brands like innocent, Patagonia, Pukka Herbs, Abel & Cole, Divine, and JoJo Maman Bebe.
"We are delighted to be part of a growing community of like-minded business leaders who care about making a difference in the world. At Matter of Focus we support organisations in the public and voluntary sectors and we know that budgets are tight. It does not chime with our personal or business values to be maximising profits in this environment. We need to be a sustainable business but making money and making a difference go hand in hand for us."

Sarah Morton Co-Founding Director of Matter of Focus
It's heartening that the community has grown considerably since our original certification.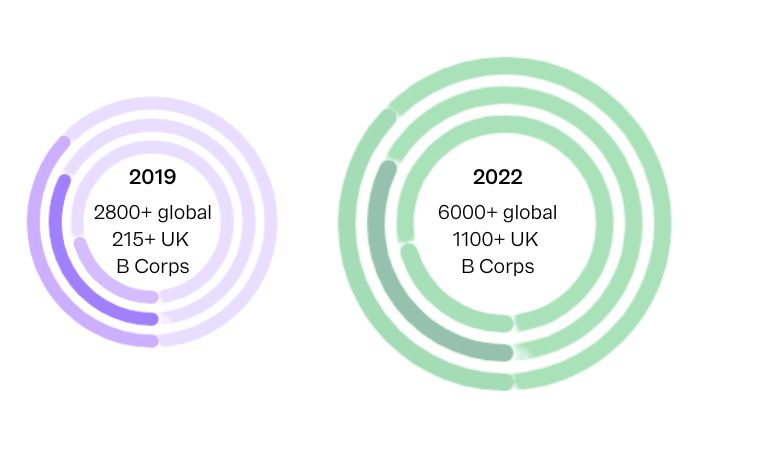 Thinking about certifying as a B Corp?
If you're curious about becoming a B Corp and would like to have a chat with people who have been through the process – twice! – please do get in touch.
---
---
The Dementia Training team was established in 2019, funded by the Life Changes Trust and the Robertson Trust, to build on Age Scotland's previous projects relating to dementia. They focused on building understanding about dementia and its impacts, and how services can improve their practice to better serve the needs of people affected by dementia.
Matter of Focus initially worked with the Dementia Training team to create an outcome map for this project in 2019. The Dementia Training team have been using OutNav ever since to track and assess their progress towards outcomes. Building in evaluation from the start of the project has been particularly important as the team have had to adapt their work several times in response to pressures from COVID. Using OutNav has enabled them to evidence the impact of these decisions and tell the story of the evolution of this training.
This new report, produced by Matter of Focus alongside Age Scotland and the Dementia Training team, details how the project has developed in its third year, drawing on evidence collected by the team throughout their work. The report shows that the training has achieved incredible reach and has been highly evaluated by participants. There are many examples of people and organisations putting the learning into practice to improve the lives of people with dementia and their unpaid carers.
Visit the Age Scotland website to learn more about their Dementia Training programme.
Download the report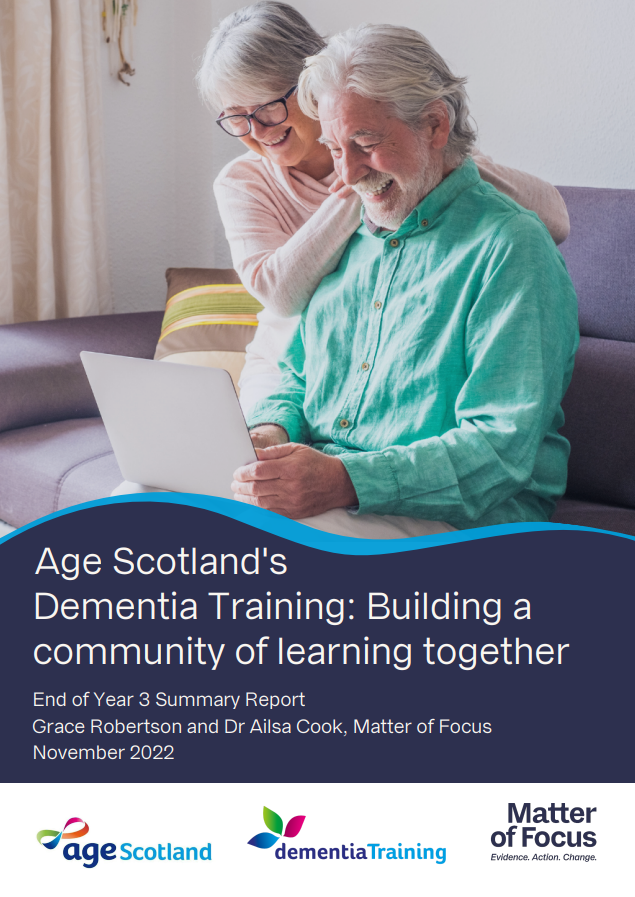 Age Scotland's Dementia Training: Building a community of learning together
End of Year 3 Summary Report; produced by Grace Robertson and Dr Ailsa Cook, Matter of Focus; November 2022
Download the PDF
When public service organisations focus on relationships — work that educates, empowers, inspires, supports, encourages or influences people — then simple measures to understand change just don't work. They often hide the complexity of what's going on, and sometimes undermine the ability of these vital approaches to make the case for their work.
This challenge is at the heart of the work we do at Matter of Focus.
We have worked with over 150 organisations and know many more face the same challenges, which is why Matter of Focus Directors Sarah Morton and Ailsa Cook brought together learning from this experience alongside a guide to our approach in a new practical handbook 'How Do You Know If You Are Making a Difference?'
To mark the publication of the book, we brought people from across public services together for an afternoon of discussion and reflection on the importance and challenges of knowing that you are making a difference, which we summarise in this post.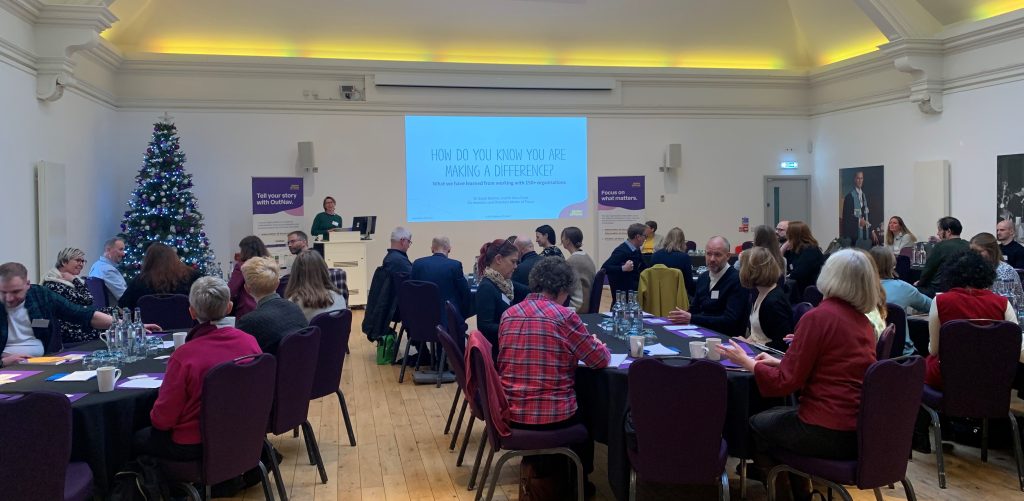 Why is it important to know you are making a difference?
Mental health support is all about relationship building. That's why Penumbra, a pioneering mental health charity, have been working with our approach.
Stephen Finlayson, Penumbra's Head of Innovation and Improvement, and Michael Burns, their Chief Executive, opened the event by telling the story of their journey to focusing on outcomes.
The Matter of Focus approach is based on setting out a theory of change in an 'outcome map'. As Stephen pointed out, every organisation has a theory of change — that is, they hold beliefs and assumptions about how and why the work they do makes a difference to people — it's just that these are not always made explicit. As Penumbra found, setting out an outcome map means everyone can be clear about what is important.
Using our six simple headings helped Penumbra set out their theory of change.

Focusing on outcomes in this way is essential if we are to meet the demands for services in the current environment, Michael argued. If outputs are constantly scrutinised rather than outcomes, we just keep needing to deliver more and more:
"We need to move away from activities to an outcome approach. Budgets will run away from us if we keep focusing on what we deliver rather than outcomes for people."

Michael Burns, Chief Executive, Penumbra
A storm of pressure in the current crisis
People at the core of public services, designing and delivering work that makes a difference to people, are facing some acute challenges. They often see the difference their work makes but know that funders are looking for short term gains — and asset-based, person-centred, preventative work often can't demonstrate this. The time invested in developing and nurturing effective relationships and partnerships is completely invisible to the system. Worries about cuts to budgets, the impact of the cost of living crisis, how staff are coping and what's happening to the climate are dominating lots of people's thinking.
This storm of pressure is in some ways predictable. The Christie Commission is more than ten years old, but set out the need for public services to innovate, focus on what matters to people and develop partnership and relational responses to complex problems. The current crisis has only accelerated this need. Knowing that you are making a difference is even more important and performance management approaches are failing even faster.
A shift in thinking is needed for this new environment.
An alternative approach to understanding change
"It is possible to show you are making a difference."

Stephen Finlayson, Head of Innovation and Improvement, Penumbra
Acknowledging that multiple factors influence change and moving away from reductionist approaches is essential to understanding this work. Sarah Morton set out the ways that this can be done using complex system approaches, valuing relationships and using contribution analysis.
Sarah and Ailsa explained how we support people through a process of analysing the context for their work, mapping outcomes, bringing together data and evidence against the outcome map, and collective analysis.
All of these processes are part of sensemaking — people having the time and space to work together to reach common understanding of whether and how they are making a difference, what their data is telling them, where they can learn and improve and what they might do differently.
Bringing together learning for improvement alongside tracking impact for external reasons and outcome focused reporting helps organisations build a learning culture, deliver better, and tell a powerful story of the difference they make.
---
Our approach in action
Six examples of our approach in action were shared during the event:
Outcome mapping in action: Making Children's Rights Real
The Observatory of Children's Human Rights Scotland and Public Health Scotland needed to understand how adopting and implementing the United Nations Convention on the Rights of the Child (UNCRC) would make a difference to children in Scotland. We took a participatory approach to map this out, involving policy makers, practitioners, children and young people and third sector organisations. We drew on formal evidence along with evidence from experience.
We set out four pathways for change, seen below. This was a systems change project, so it was important to consider the supporting measures beyond the direct implementation of the system of information, advocacy and legal redress.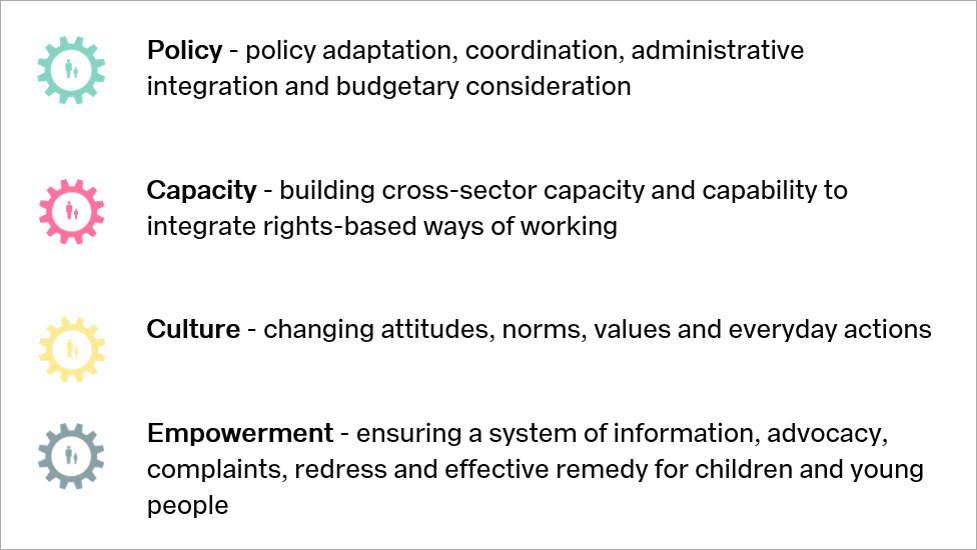 ---
Tracking progress in action: Health Technology Wales
Health Technology Wales was an early adopter of our approach. They set out outcome maps for their main areas of work, and we supported them to improve their data with some simple approaches, including a pop-up on their website, capturing informal feedback more systematically, and implementing a simple annual stakeholder survey.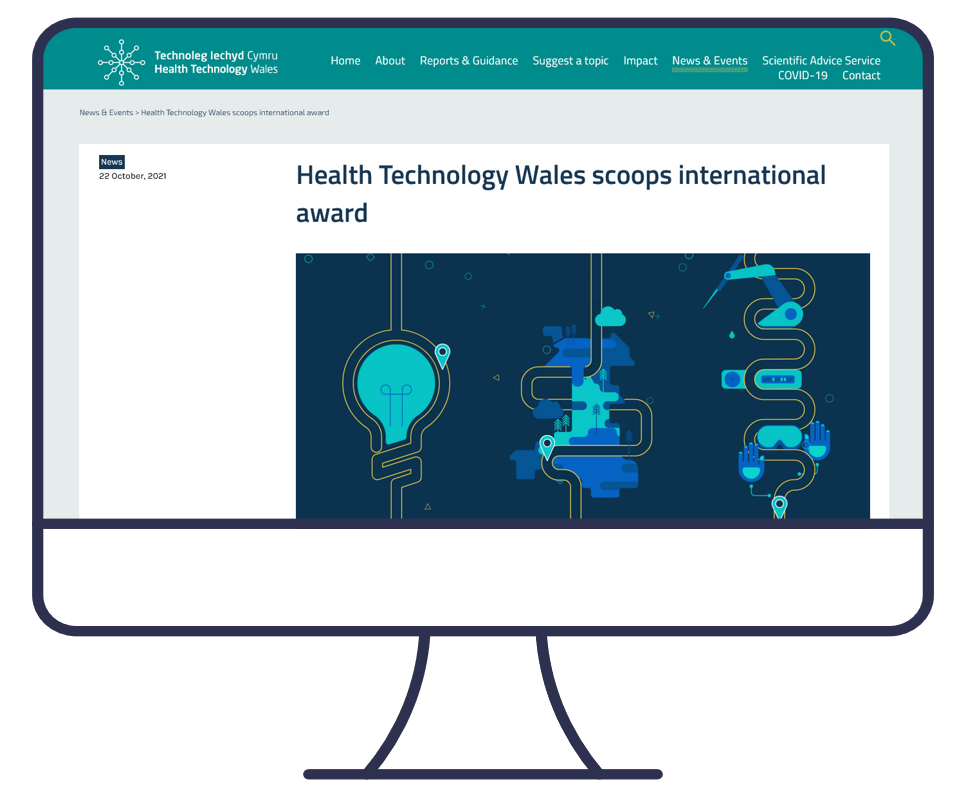 ---
Reporting in action: East Renfrewshire Health and Social Care Partnership
Reporting on outcomes in a meaningful way is the cherry on the cake from working in this way.
When East Renfrewshire Health and Social Care Partnership launched a new peer support service, they knew it was the right thing to do, but in the context of tight resources they needed solid evidence to justify the commitment of resources to the project. They went with us on a journey of mapping outcomes, tracking data and with our help produced an outcome focused report that showed how this service was contributing to improved outcomes for people.
The report highlighted that relationships between peers and the people they supported were key, and showed evidence of real improvement in outcomes for people. This led to the partnership committing to funding the service for another three years.
---
Tracking change across multiple initiatives: Transforming Local Systems
The Technology Enabled Change (TEC) Pathfinders project supports local areas to address a health challenge that is important to them: encouraging local innovation, cross-sector problem solving, and a focus on what matters to people locally. This created a challenge for the Scottish Government, as shared by Transforming Local Systems Lead Margot White, in understanding the contribution to the overall change.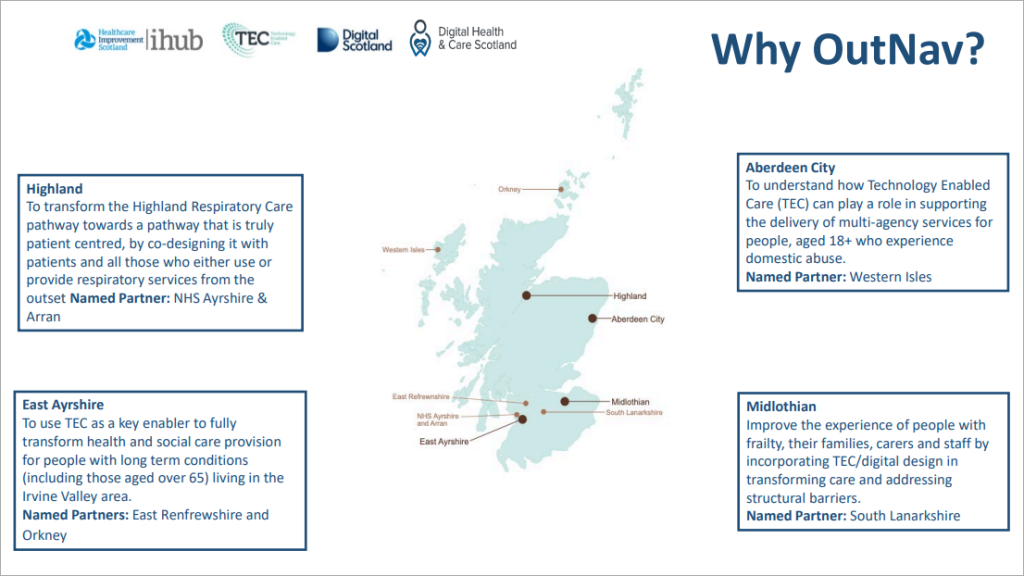 Working with OutNav (the software we have developed to hold our approach) enabled each place in the programme to set out and track the difference they made, focusing on what mattered locally, while also creating congruence across the projects.
"Focusing on what mattered to people enabled us to change the programme – we could see what people wanted and make changes to meet that."

Margot White, Transforming Local Systems Lead
Bringing the project teams together for virtual meetings to work on data analysis collectively was also great for team building despite the geographical spread, and for building collective understanding of the approach and what was happening in each place.
---
Owning your organisation's outcomes: WHALE Arts
Like many third sector organisations with multiple funders, leaders at community arts organisation WHALE Arts felt that there was outcome drift as they flexed to meet these requirements.
Working with OutNav over a few years, initially as part of our collective support for Edinburgh Community Health Forum, WHALE Arts has gone through several iterations of their outcome maps in order to realign their outcomes to what matters to the people they support.
"OutNav has helped us become experts in our own outcomes, to approach funders with robust evidence of what we do, and to secure funding for the things that matter to us."

Kirsty Frankland, Arts and Wellbeing Manager, WHALE Arts
Kirsty explained some of challenges to embedding the approach, through a process of choosing outcomes, defining them, learning and refining. Bringing together multiple forms of evidence into OutNav has been important for WHALE to highlight how they make a difference to people. Some challenges remain, and their strategy is to refine with a clear focus on what matters to people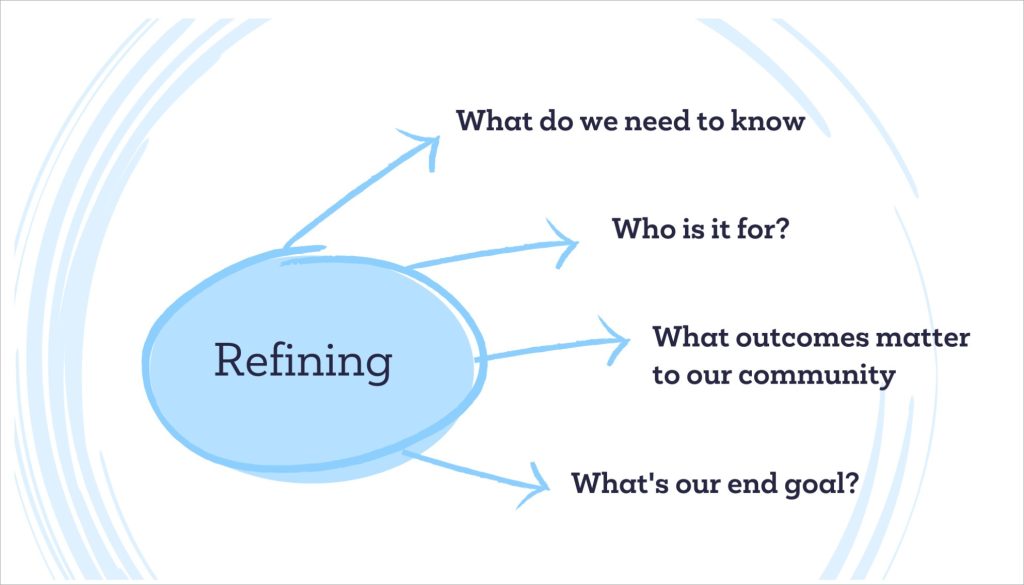 ---
Making the case for a new way of working: Future Pathways
Future Pathways was a new person-centred approach to supporting survivors of in-care abuse in Scotland. Putting people at the centre of support seemed important but had not been tried in this way before. This led to a lot of scrutiny not only from the funders, but also from survivors themselves who were understandably mistrustful of services, and cared deeply about how any government money was being spent.
"Outcome mapping allowed us to test assumptions early on, and take an iterative approach to delivery," said Flora Henderson, Alliance Manager for Future Pathways. The fact that the Matter of Focus approach focuses on relationships was a great fit. Using evidence helped Future Pathways evolve and change their offer, and demonstrate impact.
Embedding the approach created space for managers and staff to look at data together, so that learning and improvement was embedded in the work. They were able to successfully make the case for more funding.
"Bringing quality improvement and a focus on impact together from the start has helped to build a quality offer with clear benefits to people."

Flora Henderson, Alliance Manager for Future Pathways
---
Key themes from the discussions
It was great to launch the book and share these discussions with more than 60 people who brought massive expertise, experience and commitment to knowing that they are making a difference. Some strong themes emerged during group discussions, including:
The importance of sensemaking.
Many people described how taking the time to really think through change processes and learn from emerging evidence had been transformative. There were lots of great examples in the room of organisations creating spaces for reflective practice. People recognised that these kinds of sensemaking spaces can be the first things to go when initiatives are under pressure.
The importance of understanding the data culture you are working in.
Participants reflected on the diversity of data cultures that they worked with and how rarely assumptions around data were surfaced through day to day work. This could be very problematic, and participants described times when unreasonable expectations around data and measurement had got in the way of efforts to make change. Several people said they would approach working across data cultures differently in the future.
The importance of making time and space to learn how to know you are making a difference.
Each presenter reflected that their approach to knowing they were making a difference had evolved over time. In every case the process had taken more time than they anticipated, but had yielded more learning than they thought along the way.
This really resonated with participants' experiences of transforming their organisations in different ways.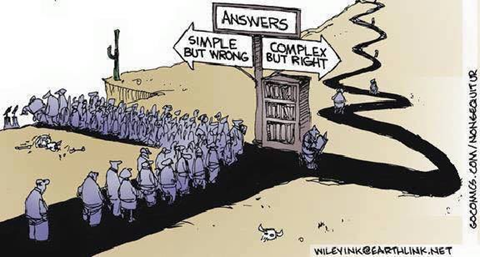 We are really grateful to our presenters and everybody that joined us for such an inspiring and interesting afternoon of discussion. It certainly cemented our belief that taking the time to come together really does make sense.
---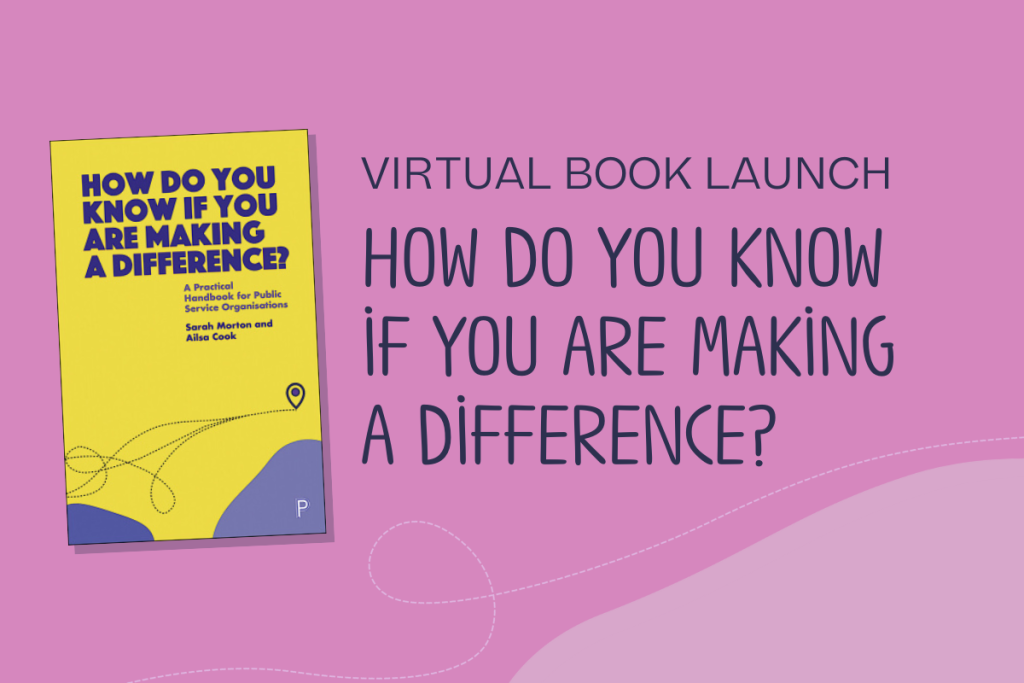 ---
Over the past five years we have refined an approach to evaluating the development, delivery and impact and sustainability of digital interventions. Our approach is especially suited to relational digital services and projects where simple measures of engagement or task success are not enough by themselves to understand the impact of the work.
We have put this learning into practice in a range of key digital developments:
Digital Health and Social Care Innovation Centre, University of Strathclyde
We are working with DHI as they take an embedded, outcome focused approach to evaluate three aspects of their work:
Moray Rural Centre of Excellence for Digital Health and Care
Digital Mental Health Innovation Cluster
Decision Support Project
Transforming Local Systems Pathfinder Programme, Scottish Government
This project is being delivered with four local pathfinders:
NHS Highland
Midlothian HSCP
East Ayrshire HSCP
Aberdeen HSCP
We have worked alongside this programme as a learning partner since March 2020. The project teams have been working in OutNav over the past two and a half years capturing learning and assessing their progress with the work. We are working with the team to build on this evidence to carry out a final evaluation of the programme, which will be published in Spring 2023. Out of this work came a simple but robust framework to evaluate the effectiveness, sustainability and impact of digital health interventions.
Health Technology Wales
We are working with Health Technology Wales to help them map and track their strategic, national approach to the identification, appraisal and adoption of new health technologies into health and care settings across NHS Wales.
In October 2021, Health Technology Wales won the David Hailey Award for Best Impact Story for its approach to evaluating the impact of research into a treatment for MS.
Innovative Healthcare Delivery Programme
The Innovative Healthcare Delivery Programme (IHDP) seeks to fundamentally change the way data and analytics are used to drive improvement in health outcomes, by fostering new relationships between the NHS, industry, academia, and the third sector. They are using OutNav to set out and track progress of their key programmes.
---
On 30 November 2022, we attended Digital Health and Care Fest in Glasgow with a stand and a poster, to share our work developing an evaluation framework for digital interventions.
If you would like to learn more about our work in this area, you can view our ePoster showcase on the Digital Health and Care Fest 2022 website.
Published by Policy Press in November 2022, this practical handbook is available now.
---
Quick links
About the book
Contents
Watch our launch webinar
Authors Sarah Morton and Ailsa Cook on the Transforming Society podcast
Practitioner briefing
Where to buy (and how to get a discount!)
---
About the book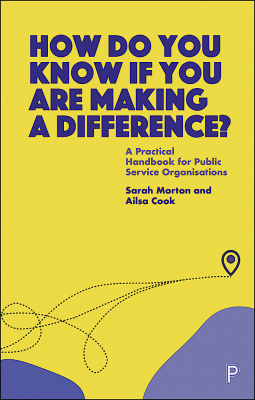 Why is it hard to know if you are making a difference in public services? What can you do about it?
Public services throughout the world face the challenge of tackling complex issues where multiple factors influence change. This book sets out practical and theoretically robust, tried and tested approaches to understanding and tracking change that any organisation can use to ensure it makes a difference to the people it cares about.
With case studies from health, community, research, international development and social care, this book shows that with the right tools and techniques, public services can track their contribution to social change and become more efficient and effective.
Engaging, enlightening and practical – this is a must-read for public service workers wanting to know and demonstrate that they are making a difference.

Sandra Nutley, University of St Andrews
Contents
Why is it so hard to know if you are making a difference?

This chapter explores why it is so hard to know if projects, programmes, partnerships and organisations are making a difference, and what is needed to go on the journey to be able to make evidenced claims that really demonstrate impact. It introduces why we have written this book, and what will be covered in the rest of the chapters, including an overview of our approach.
Why complexity thinking can help understand public services

Public services sit in complex webs of programmes, policies and practices and are not in the control of any one organisation. Change happens through a web of interlinked and overlapping approaches and services, which makes it difficult to understand. Engaging with this complexity is essential for knowing whether any initiative is making a difference but can be challenging. This chapter explores what needs to be taken into account to work within complex systems when seeking to understand and track outcomes and impact.
What data and evidence do you need to see what difference you are making?

This chapter explores what data, evidence and feedback practices are helpful or unhelpful for knowing whether initiatives are having their intended impact. It considers some of the cultures and practices that can get in the way of having the required feedback for understanding change.

It sets out the kinds of data and evidence that are best suited to understanding complex change. Drawing on experience of working in different settings this chapter explores the concept of 'data cultures' and how these data cultures can help or hinder initiatives get the data they need. Examples highlight ways of applying this thinking to any specific work, especially making the case for using mixed data that includes qualitative data. The concept of a data improvement journey is introduced, along with practical ways of thinking about the data and evidence needs in any specific setting.
Owning your initiative's outcomes and impacts

Being clear about the difference an initiative wants to make and the outcomes or the impacts of the work is the first step in knowing whether it is making a difference. Many organisations need to report to or align with multiple outcome frameworks and indicators. This can result in organisations feeling caught in a tangle of outcomes. Being able to navigate around this complex outcomes and impacts landscape essential for anyone leading public services where they are expected to work towards, report on or be evaluated against outcomes or impacts. This is what we call 'owning your outcomes or impacts'.

This chapter offers accessible ways to understand and operationalise outcomes and impacts and unpack some of the contradictions surrounding the use of outcomes and impacts within wider policy and funding systems.
Embrace the complex context

Whether supporting people to move on in their lives, implementing new policy initiatives, providing training or spreading good practice, the evidence shows that the most effective approaches are those that are tailored to the specific context. Rather than ignoring it, trying to work well with the challenges and opportunities of any initiative's context can help improve delivery and really make a difference to people and communities. It's also essential for shaping how the initiative will make a difference, and for tracking that difference. This chapter discusses why context matters and sets out some practical ways of working effectively with the complex context in which anyone seeking to make a difference finds themselves.
Clarify the change you want to see

A meaningful connection between activities and outcomes is often vague or unexplored – but this magic 'how' change happens is essential for driving programmes and for understanding their impact. Outcome or impact maps are the core of the approach in this book, as the building block for setting out, understanding, learning about and evidencing change. This is one type of 'theory of change' approach which is common for understanding change in complex systems. We believe that process-driven theories of change are most effective for public services, and in this chapter we set out our version of this – outcome or impact mapping – and illustrate how they can be used at different levels.
Get going on your data, evidence and feedback improvement journey

Picking up on the issues from chapter 3 about getting the data, evidence and feedback needed to understand complex change, this chapter presents some practical ways to improve and use data. It includes how to undertake a data audit, filling gaps in data, and practical data collection techniques. It provides some examples of how these have been applied in different public services settings. It aims to help organisations get all of the data and information they need to evaluate their progress towards outcomes and demonstrate their impact.
Tracking progress towards outcomes and impacts

The journey to improving outcomes or maximising impacts is never over. Effective organisations that own their outcomes are always seeking to improve, reflect and learn, to align resources and develop systems and processes to make the best contribution possible. Taking time to systematically analyse and assess progress is a linchpin of this approach. This chapter outlines what is required to analyse, assess and track progress towards outcomes or impacts ahead of reporting, and shares some simple and accessible ways of thinking that can help even people with no experience of analysis get going.
Telling the story of the difference your work makes

Building a strong contribution story that explains and can evidence the difference your work makes to people, policy, practice or communities is not an easy task. This chapter brings together learning from working with many organisations and clients, as well as the authors' work in outcome and impact reporting, using the approach set out in this book built on contribution analysis. The chapter considers reporting in an outcome or impact-focused way, for different audiences and purposes, with practical tips of how to do this well. This is the final part of the process described in chapters 5-8. It considers reporting for learning and improvement as well as making impact claims.
Using this approach in different contexts and sectors

The approach to outcome and impact evaluation in this book works for the complex problems and issues that public services face. It has been used in settings such as health, social work and care, policy, international development, research, and children and adult services. There is more in common across these contrasting sectors and contexts than divides them in relation to outcome and impact evaluation. Whatever the setting, the key challenges remain: how to work well with complex contexts; how to understand and work well with outcomes and impacts; how to get the relevant data, evidence and feedback; and how to embed this in day-to-day work.  This chapter explore those challenges and gives practical tips for overcoming them. It includes case studies of the approach in different organisations and settings.
Becoming an outcome and impact-focused organisation

This chapter shares insights from some of the organisations who have experience of embedding this approach in their work. It has a resources section setting out some useful information for working in this way. It includes a description of the software OutNav developed by the authors and used for embedding this approach.
This book guides and encourages those of us working in public services. It does not gloss over the complexities and the commitment required but reassures us that it is worth it. People deserve to see their experiences captured.

Mairi Simpson, Health Service Manager
---
Virtual book launch
Catch up with our webinar celebrating the launch of the book.
Authors Sarah Morton and Ailsa Cook highlight key themes from the book and, together with one of our clients, Susan Myles of Health Technology Wales, share their experiences overcoming the challenges of tracking the outcomes and impact of complex change processes.
Podcast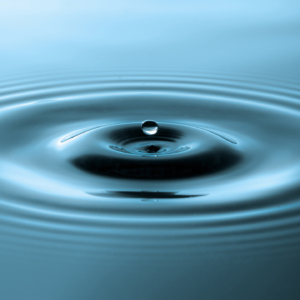 How Do You Know If You Are Making a Difference?
Authors Sarah Morton and Ailsa Cook speak to Transforming Society podcast host Jess Miles about the challenges of tackling complex issues and trying to achieve change in the public services.
Listen here.
Practitioner briefing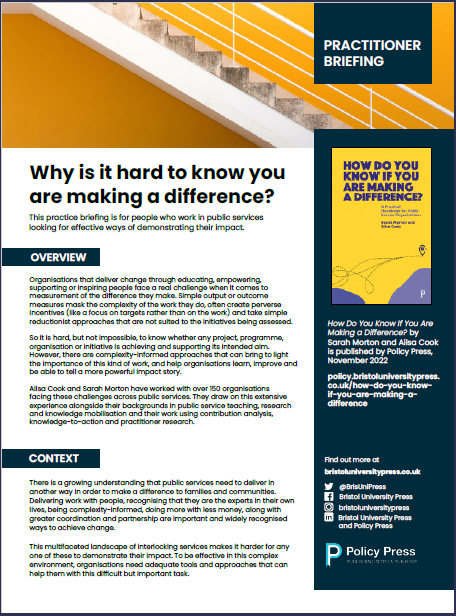 Why is it hard to know you are making a difference?
---
Where to buy the book
How Do You Know If You Are Making a Difference? A Practical Handbook for Public Service Organisations retails for £16.99.
Order the book from Policy Press
Sign up to the Policy Press mailing list to receive a 25% discount on this and all their books.
Support local and order from fellow B Corp
As a certified B Corp ourselves we support the decision to order from an online bookshop with a mission to financially support local, independent bookshops.
---
Reader feedback
We are delighted that people are enjoying the book and taking the time to let us know on social media!
In this webinar we focus on the work of the Welsh DEEP (Developing Evidence Enriched Practice) programme, which has been using OutNav for the past three years to evaluate the impact of its work.
How can you ensure your programme is delivered according to its principles? How can you know if your work is making a difference to policy and practice?
These are questions that the DEEP team has explored over the past three years. We are delighted to have the team's Research Development Officer Dr Gill Toms joining us to share their insights.
About DEEP
The pioneering DEEP programme is a collaboration between the Universities of Swansea and Bangor. It is funded by Welsh Government through Health and Care Research Wales.
The aim of DEEP is to ensure that social care research and practice is informed through multiple forms of evidence to improve the lives of social care staff, people accessing social care and their families. DEEP has a strong focus on relational ways of learning and working together using stories and caring, reflective dialogue. The programme includes five key elements:
Creating an enriched environment of care and learning
Valuing and using a range of evidence
Gathering and presenting evidence in meaningful formats
Effectively talking and thinking together
Recognising and addressing structural obstacles
About this webinar
The webinar is hosted by Matter of Focus Director Ailsa Cook with Gill Toms from the University of Bangor.
In this Evaluation Stories webinar you will learn how the DEEP programme embedded an outcome focused approach to evaluation into their work, generating valuable insights into how such evidence to action projects can make a difference.
Please watch if you are interested in:
Health and social care improvement
Making good use of evidence from experience
Evaluation approaches
Evidence to action
Watch the recording
In June 2022 we published several reports detailing our work to develop a theory of change for the implementation of the United Nations Convention on the Rights of the Child (UNCRC) in Scotland.
This follows the decision made by the Scottish Parliament to bring the UNCRC into Scots law. With input from over 60 organisations, these reports present a vision of what these changes might look like when implemented across policy and culture.
These reports are hosted by the Observatory of Children's Human Rights Scotland on the University of Edinburgh website. We encourage anyone interested to visit this page for further context, but for convenience we have also provided direct links to the reports below.
Theory of Change – Full Report (June 2022)
Theory of Change – Summary (June 2022)
View the Interactive Summary in OutNav
ECHF supports member organisations by:
creating opportunities for members to connect and learn from each other.
advocating for a community-led approach to addressing health inequalities and improving the health and wellbeing of people and communities across the city.
being the voice of the organisations in discussions with wider stakeholders and funders.
ECHF and members faced the following challenges and approached Matter of Focus for support to tackle them:
How to report to multiple funders in a way that is more streamlined and less labour intensive.
How to track and collect data in order to report and evaluate in a meaningful way.
How to consolidate and embed learning from evaluations to improve their services.
How to better tell their stories and show the difference that they make.
We have been working with ECHF since 2018, supporting them to use OutNav to tell the story of the difference they make. This case study gives an overview of our work together.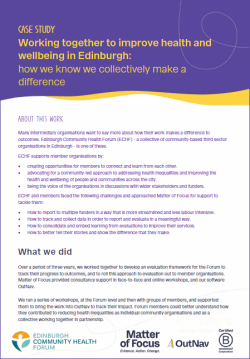 Working together to improve health and wellbeing in Edinburgh:
How we know we collectively make a difference (pdf)
Download case study
---
We offer comprehensive packages of support to get your team up and running with our approach and working well with OutNav.
The scale of our support grows with the scope of what you are looking to achieve in OutNav.
Find out more about the support we offer.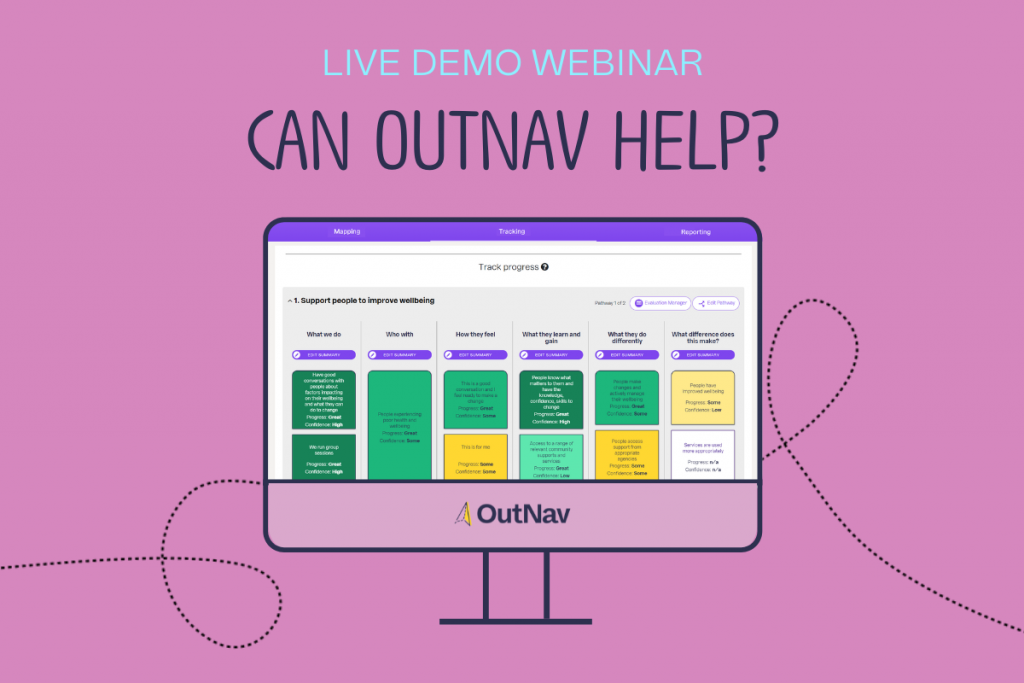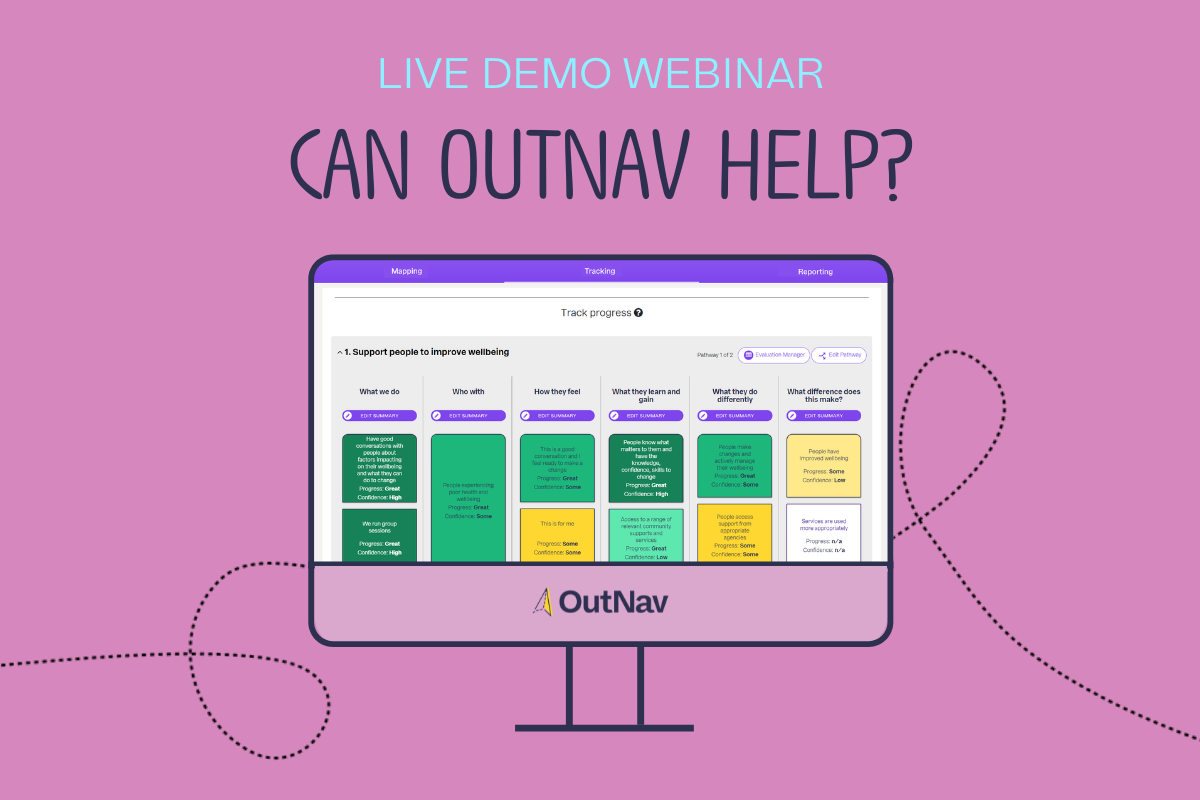 If you would like to find out more about our approach and OutNav, please join us for a live demo session. We hold these online twice a month.
Find out more and register.
---
Of course, at Matter of Focus we really care about impact! Not just the impact of our clients' work, but also our own impact as a purpose-led business.
We became a certified B Corp in 2018 – the 234th UK company to meet the rigorous standard of assessment to demonstrate that we care about people and planet, and not just profit. There are now over 700 B Corps in the UK- a steady acceleration of interest in purpose-led ways of doing business, that we hope will become exponential.
Reporting on our impact
As part of our B Corp certification we report annually on our impact on clients, workers, community, the environment, and on how we govern ourselves in an ethical and sustainable way. We use our own software OutNav to report quarterly to ourselves about our progress towards the outcomes that matter to us. We use the B-Impact Assessment tool to demonstrate the way we look after our clients, workers and take our environmental responsibilities seriously. Using OutNav means we have evidence at the ready for our B Corps assessment.
We are really pleased to be sharing this impact report for 2021-22. We are particularly proud of the work our clients do, and of creating a supportive and enriching environment for our staff team so they can keep making a real difference in helping our clients describe and demonstrate their own impacts."

Sarah Morton, Co-Director – Matter of Focus
Matter of Focus Annual Impact Report 2021-22
Looking forwards

We are currently undergoing reassessment for our B Corp certification – this happens every three years – and we think we can demonstrate an improvement in our impact on people and the planet.
We are ambitious about our growth in supporting more organisations to describe and demonstrate progress towards the outcomes and impact that matter to them. In particular following the introduction of our programme of collective support for smaller third sector organisations.