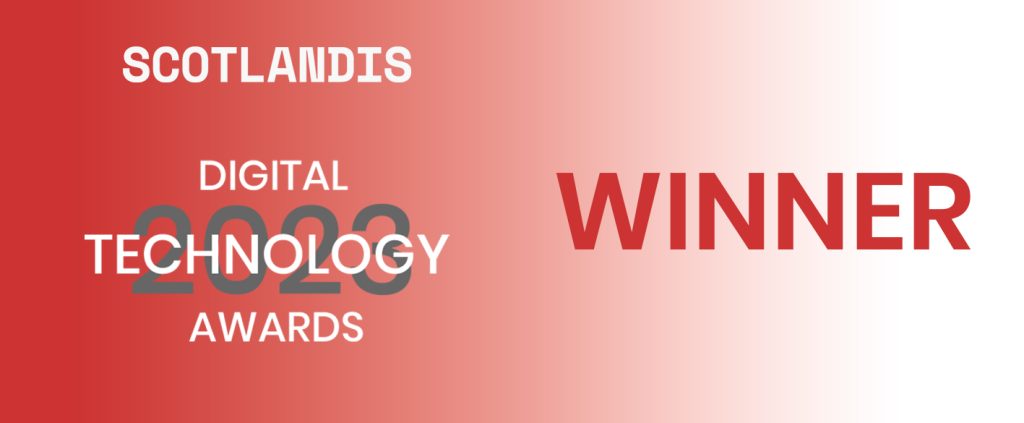 The award recognises our collaboration and co-production work with public service organisations in developing our software OutNav.
The ScotlandIs Digital Technology Awards showcase excellence within the industry rewarding the innovation, expertise and ambition of businesses large and small – and the people who drive them.
Matter of Focus was among nine winners announced at a ceremony in Glasgow on 18 May, winning the Public Sector Innovation Award, which recognises a company that has worked in partnership with suppliers to create an outcome for public good.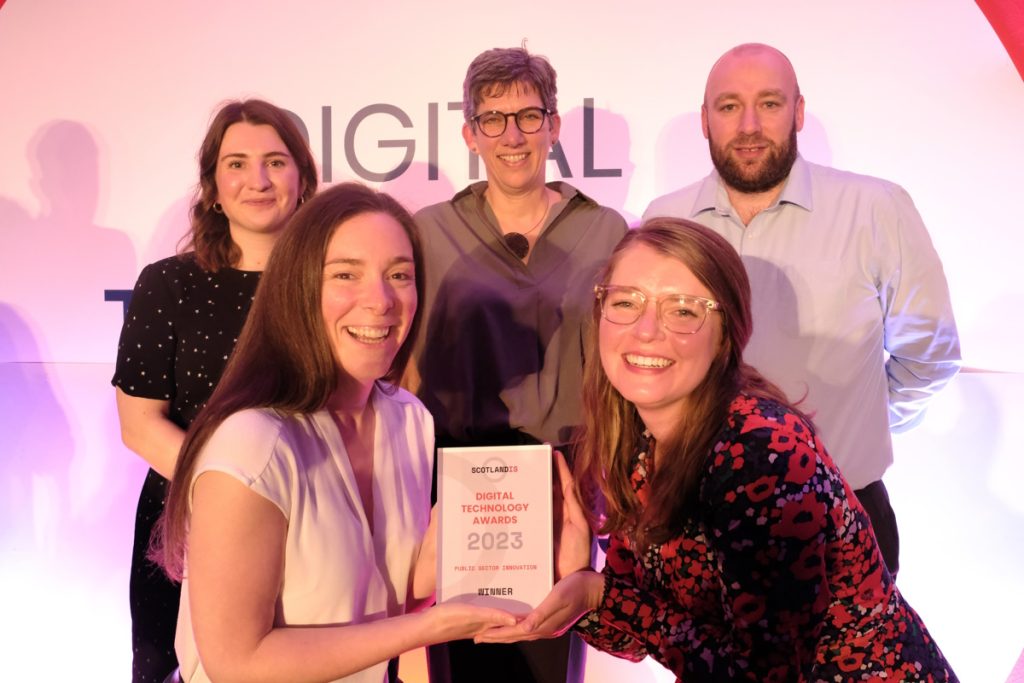 (Pictured: Members of the Matter of Focus team collect the award! Back L-R Evaluation Consultant Miriam Scott-Pearce, Director Sarah Morton, Head of Finance & Business Allan Middlemass, Front L-R Senior Evaluation Consultant Grace Robertson, Evaluation Consultant Audrey Buelo. Photo by Communications Assistant Alex Perry.)
Working in partnership
We have worked in partnership with public sector partners to develop and implement our software OutNav – a tool that supports public service initiatives to develop, communicate and track how they make a difference to the people and communities they serve.
OutNav is the only software on the market allowing organisations working with complex people-based change to track their impact using a theory of change approach – specifically aimed at assessing initiatives that are hard to measure with numbers alone.
When co-founders Sarah Morton and Ailsa Cook established Matter of Focus in 2017, they were already well-networked with organisations in the public sector having been working with them to understand and communicate outcomes, and to use their data and information to understand change.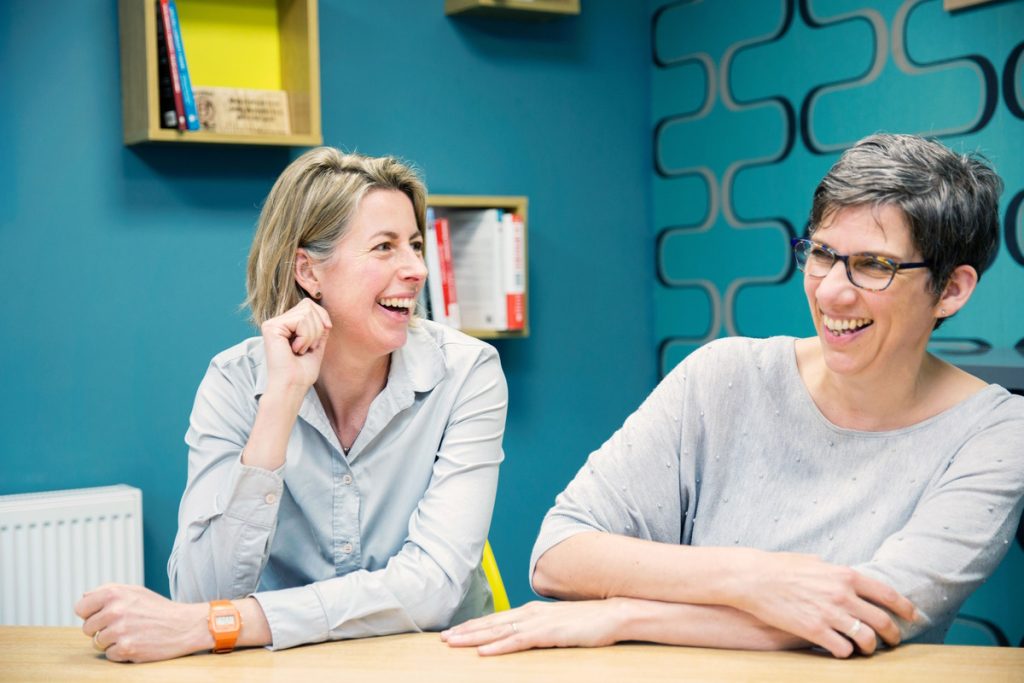 Building our own digital solution
Sarah and Ailsa set up the company because they realised the need for a digital solution to help organisations work with and embed their approach into day-to-day practice.
Following a period of 18 months of working closely with public service partners to test, refine and improve OutNav we launched it in 2019. Now, more than 150 organisations and initiatives in the public and third sectors are using OutNav to review and refine their outcomes, audit their data and evidence, improve how they understand change, and be able to tell a much stronger story of the difference they make.
We are passionate about helping public sector organisations understand, track and report on their impact, and focus on the outcomes that are important to them. Ailsa and I were frustrated at the lack of software to help us operationalise our approach, so we took a leap of faith and enbarked on building it ourselves. We are delighted that our work and software OutNav has been recognised with the Public Sector Innovation Award at this year's Digital Technology Awards. In particular, that we have been recognised for worked closely with organisations to bring outcome and impact tracking to life.

Matter of Focus co-founding Director Sarah Morton
This article was originally posted about our nomination for this award on 10 March 2023, and has been updated to reflect our win 🏆
With OutNav, we are helping more than 160 pioneering, people-based change organisations and initiatives understand and track the difference they make.
OutNav is designed specifically to underpin our approach to understanding and tracking complex, people-based change – where simple numbers are not enough to understand impacts.
The tool supports you with our meaningful approach to outcome and impact focused evaluation and helps to embed it into your organisation for ongoing learning and improvement. It is not a quick-fix 'software solution', which is why we invite you to come along to one of our live demo sessions to explore whether OutNav can help your initiative.
Who are these sessions for?
If you are curious about whether OutNav can help your initiative understand and track the outcomes and impacts that matter, our live demo sessions are for you.
If you are a new client or part of a team soon to start work with us and you are looking for an overview of our approach, please contact us.
If you have accepted an invitation to join OutNav and are looking for help with the tool or our approach, please join one of our twice weekly drop in online help sessions where a member of our team will gladly give you an orientation session or help with any challenges.
What to expect
These sessions are hosted by one of our evaluation consultants. The format is a Zoom meeting, which means that everyone in the 'room' is visible to each other. You are welcome to have your camera on or off – there's no expectation. For privacy and so that you can feel free to talk about your work, we do not record these sessions.
What we cover
The approach behind OutNav
How OutNav is used at different levels, from simple project outcome monitoring and evaluation, programme evaluation, understanding organisational impact, to multi-partnership strategic implementation.
The main features of OutNav:
Outcome and impact mapping: reach a shared understanding of your theory of change
Tracking: assess your data and evidence and quickly visualise your progress
Reporting: easily share reports with key stakeholders, collaborators and funders.
There is an opportunity to ask questions or have an informal chat. There is no hard sell: we're interested to hear about your work and would only recommend our approach and OutNav where there is a clear benefit to you.
When is the next live demo?
Thursday 29 June, 4pm (BST)
Time converter at worldtimebuddy.com
Prefer a one to one conversation?
If you would like to have a more in-depth conversation about how OutNav can help your initiative, we are happy to arrange a call with one of our evaluation consultants, please request your one-to-one demo here.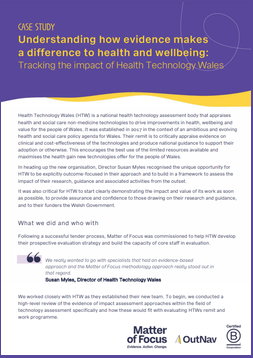 View and download this case study in pdf form or scroll down to continue reading on the page.
Download pdf
About Health Technology Wales
Health Technology Wales (HTW) is a national health technology assessment body that appraises health and social care non-medicine technologies to drive improvements in health, wellbeing and value for the people of Wales.
Established in 2017 in the context of an ambitious and evolving health and social care policy agenda for Wales, their remit is to critically appraise evidence on clinical and cost-effectiveness of the technologies and produce national guidance to support their adoption or otherwise.
This encourages the best use of the limited resources available and maximises the health gain new technologies offer for the people of Wales.
A vision to demonstrate impact and value from the outset
In heading up the new organisation, Director Susan Myles recognised the unique opportunity for HTW to be explicitly outcome-focused in their approach and to build in a framework to assess the impact of their research, guidance and associated activities from the outset.
It was also critical for HTW to start clearly demonstrating the impact and value of its work as soon as possible, to provide assurance and confidence to those drawing on their research and guidance, and to their funders the Welsh Government.
What we did and who with
Following a successful tender process, Matter of Focus was commissioned to help HTW develop their prospective evaluation strategy and build the capacity of core staff in evaluation.
We really wanted to go with specialists that had an evidence-based approach and the Matter of Focus methodology approach really stood out in that regard.

Susan Myles, Director of Health Technology Wales
We worked closely with HTW as they established their new team. To begin, we conducted a high-level review of the evidence of impact assessment approaches within the field of technology assessment specifically and how these would fit with evaluating HTWs remit and work programme.
To develop an in-house impact assessment framework for HTW we held a series of outcome and impact mapping workshops with their new staff team to:
explore and agree key outcomes and impacts for each area of HTW's work,
identify and map how specific activities contribute to outcomes and impacts,
explore how they could evidence their activities, outcomes and impact and suggest an approach to evaluation.
---
What is outcome mapping?
Outcome – or impact – mapping is our participatory approach to setting out a theory of change based on a framework we express using our headings:

We believe that this plain language approach helps to refine thinking about the initiative in question.
Through engaging online or in-person workshops we bring together staff and stakeholders, to separate out outcomes and impacts into different levels, which helps people understand the change mechanism that underpins their work – linking their activities to the outcomes and impacts that matter.
We think about outcomes and impacts at the level of reactions; knowledge; skills and capacities; changes in behaviour, policy or practice; and at the level of longer-term social change.
Read more about outcome mapping
---
We supported the team with an audit of what data and feedback HTW was already collecting, which was mainly communications data and the number of downloads on the website. They also had feedback from in-person events.
Working in OutNav to assign existing data and evidence to their impact maps, we considered which parts of their impact story it could inform and where the gaps were. We suggested some practical steps to start filling the gaps, specifically to:
complete reflective impact logs at the end of each appraisal process to assess immediate and potential impact (this included identifying any information about potential cost savings or reduction of harm where it was quantified);
add a web feedback form when people download HTW evidence and guidance to capture information about them and what they hope to do with the information;
set up an annual stakeholder survey;
apply the evaluation framework to all other ways of getting feedback, e.g. event questionnaires, case studies.
We worked closely with two members of HTW staff to develop their competence and skills in mixed method data collection and analysis to support their routine assessment of the impact of HTWs work.
How HTW felt about this work
The advice and support provided by Matter of Focus has been indispensable in kick-starting our impact evaluation work. They are highly responsive to our needs, for example in making changes to the reports which can be generated in OutNav.

Sophie Hughes, Senior Health Economist, Health Technology Wales
Matter of Focus was incredibly easy to work with, the approach was intuitive and really easy to follow. It did require focused effort and I think that's important to say.

Susan Myles, Director of Health Technology Wales
What they learned and gained
An overall evaluation framework
HTW now has a coherent way to demonstrate impact by applying the Matter of Focus evaluation approach across different activities, including case studies, their annual reports, impact flash reports and a dedicated web page.
Initially HTW had four impact maps that directly mapped to the four key pillars of their work: Identification, Appraisal, Adoption and Engagement. In 2022 they rationalised this into one map with four pathways representing those strands of work to avoid duplication and streamline the evaluation process.
Read more about making use of pathways through outcome maps to understand change
Matter of Focus helped us to streamline our impact evaluation strategy, to ensure that implementation of the strategy was achievable.

Sophie Hughes, Senior Health Economist, Health Technology Wales
A software to support and embed evaluation
OutNav holds the Matter of Focus evaluation framework in one place. It's a secure, cloud-based software in which the team can bring together and assess all their data, information and feedback to evidence their impact map.
Matter of Focus's unique OutNav software was a really important addition for us in terms of giving us a structured tool to routinely collect and analyse our impact data and information.

Susan Myles, Director of Health Technology Wales
Improved data collection and analysis
Overall, the data improvements led to a rounded picture of the different ways that HTW contributes to learning, skills, knowledge, and actions that people take as a result of the advice, opportunities for discussion and guidance HTW gave.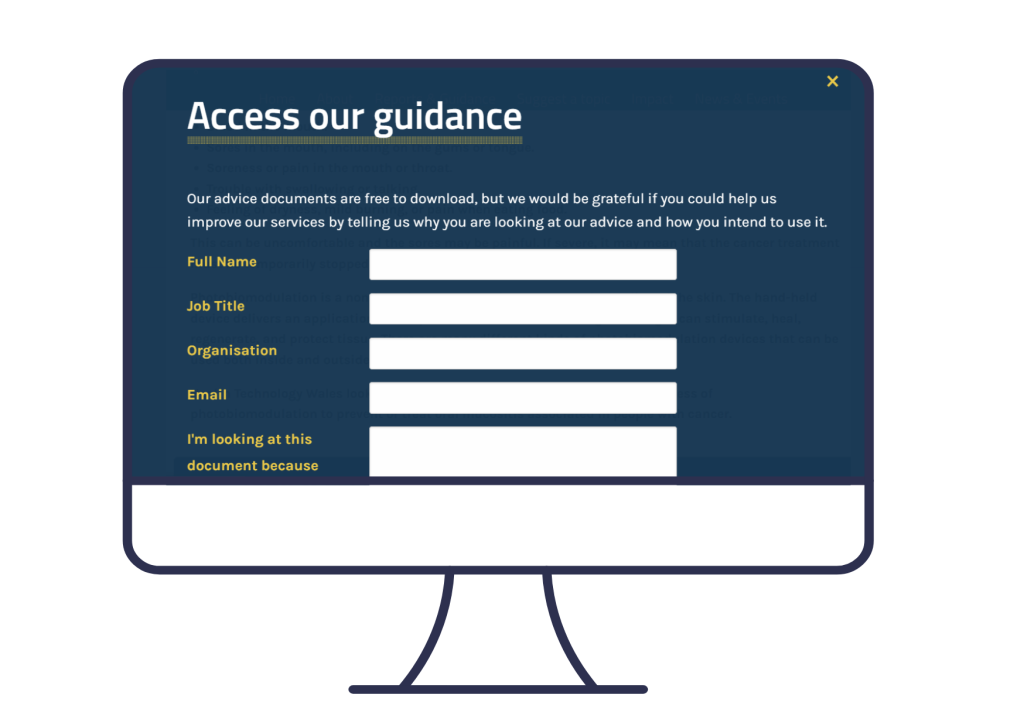 The website feedback form has been very successful despite initial uncertainty about how many people would be willing to give feedback via this method.
There is an option to skip the form to ensure it doesn't prevent anyone from getting the information they needed. However, many people are happy to provide information and give contact details so they can be followed up. This gives insight into who is downloading guidance, what their reasons were and what the impacts potentially could be.
The Matter of Focus Approach and OutNav has really helped us consider the difference our work has made. It gave us a way to collect and use continuous feedback, reflection and improvement and the opportunities that arise from that, particularly because we were a new organisation and that was really important to us.

Susan Myles, Director of Health Technology Wales
What they do differently
HTW was fortunate to embed this way of working early on in their development. In addition to the outcome-focused vision of their leadership, they had two members of staff that championed the approach, putting it into action and building it into the day-to-day work of the organisation.
HTW takes a proportionate approach to data collection and analysis
Matter of Focus helped us to understand the importance of pragmatism in our approaches. As a research organisation, we had a tendency to be overly ambitious in our data collection.

Sophie Hughes, Senior Health Economist, Health Technology Wales
Matter of Focus was really helpful in advising us on proportionate data collection and analysis tools. We are a relatively small organisation, so we needed something that was fit for purpose and that we could build into 'business as usual' and be proportionate in terms of our efforts in relation to other demands on our time.

It doesn't take armies of people: it is achievable and doable. Just set your own goals and stick to what you want to achieve from it. Just focus on the areas that will bring most value to you.

Susan Myles, Director of Health Technology Wales
HTW has aligned their reporting mechanisms, making their work and its impact come to life
One of the key decisions HTW made was to structure their annual report and quarterly government report mechanisms around the Matter of Focus evaluation framework, communicating highlights using the headings: what did we do, who with, what were their reactions, what they learn and gain, what difference does this make.
This is well received by stakeholders, who are often co-producing the case studies. Reports are accessible and interesting, making HTW's work and its impact come to life.
View HTW's 2021 Annual Report.
What difference does this make?
HTW is doing a great job of capturing how they are making a difference and how they can continuously improve on their work. Having a wider suite of feedback enables them to evidence their contribution to the outcomes they were commissioned on and show their role in supporting health and social care in Wales.
In 2021, HTW's work on demonstrating impact was recognised with the prestigious David Hailey Award for best impact story. Voted on by their international peer organisations, the award identifies the best example of the impact a health technology assessment has had and what lessons were learnt from the process. To receive this recognition was really motivating for the HTW team.
I think our success was heavily based on our decision and effort on taking onboard the Matter of Focus approach and methodologies. As a relatively small organisation, it was wonderful to be able to show to our peer organisations – many of which have hundreds of staff – that this was possible (because there's a lot of talk about it but few people do it) and that it can be done in a proportionate way.

Susan Myles, Director of Health Technology Wales.
Of critical importance is that HTW has provided their sponsor the Welsh Government with assurance and confidence to continue with and significantly increase their funding, and in doing so, allow them to grow their contribution to improve the quality of care in Wales.
---
---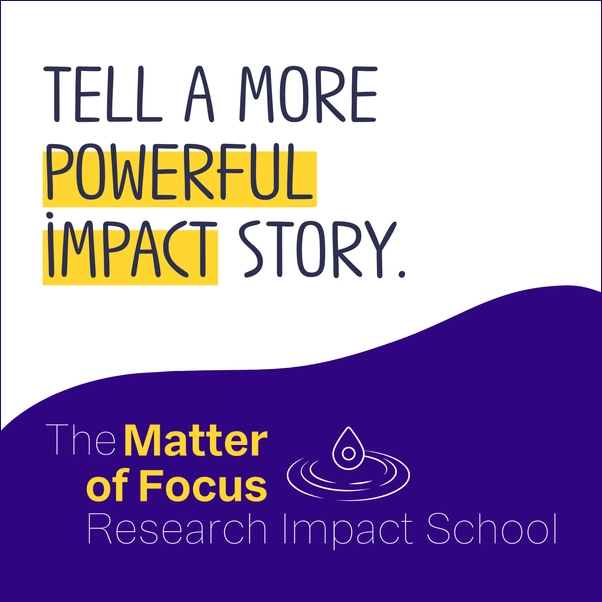 The Matter of Focus Research Impact School will equip you with the knowledege, skills and resources you need to unpick and start tracking the impact of your research.
The school combines four live, engaging workshops with a three month subscription to our impact tracking software, OutNav.
Booking now for May 2023.
Find out more.
Penumbra has a well-established approach to their work but lacked an overarching framework to articulate and test it across varied services. Having been aware of our outcomes work with other pioneering third sector organisations in Scotland, Penumbra approached Matter of Focus for support.
We knew we were doing good work and wanted to tell a better story of this
work, despite its complexity. We wanted to be able to highlight Penumbra's
contribution to change strategically, at a high level, but also be able to look
at the contribution of specific projects and programmes.

Stephen Finlayson, Head of Innovation and Improvement at Penumbra
Through several phases of tailored support, we have supported Penumbra to map the outcomes that are important to them and how their activities contribute to these outcomes for different areas of work, to improve their use of evidence, and to build up their impact story.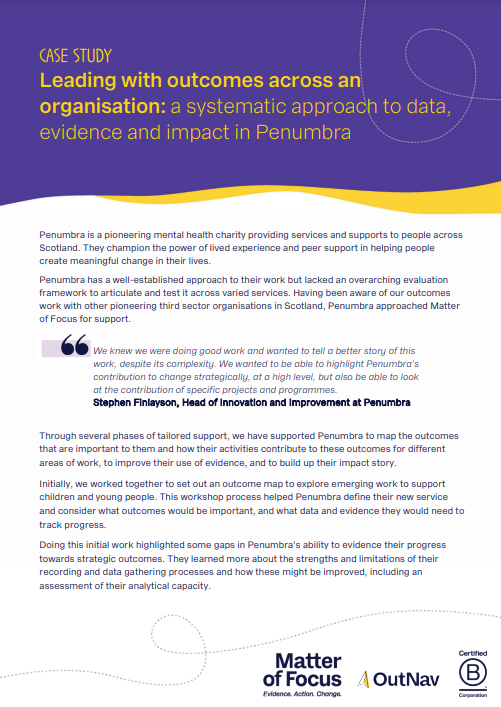 Download the case study
Leading with outcomes across an organisation: a systematic approach to data, evidence and impact in Penumbra
DOWNLOAD (PDF)
---
We offer comprehensive packages of support to get your team up and running with our approach and working well with OutNav.
The scale of our support grows with the scope of what you are looking to achieve in OutNav.
If you would like to find out more about our approach and OutNav, please join us for a live demo session.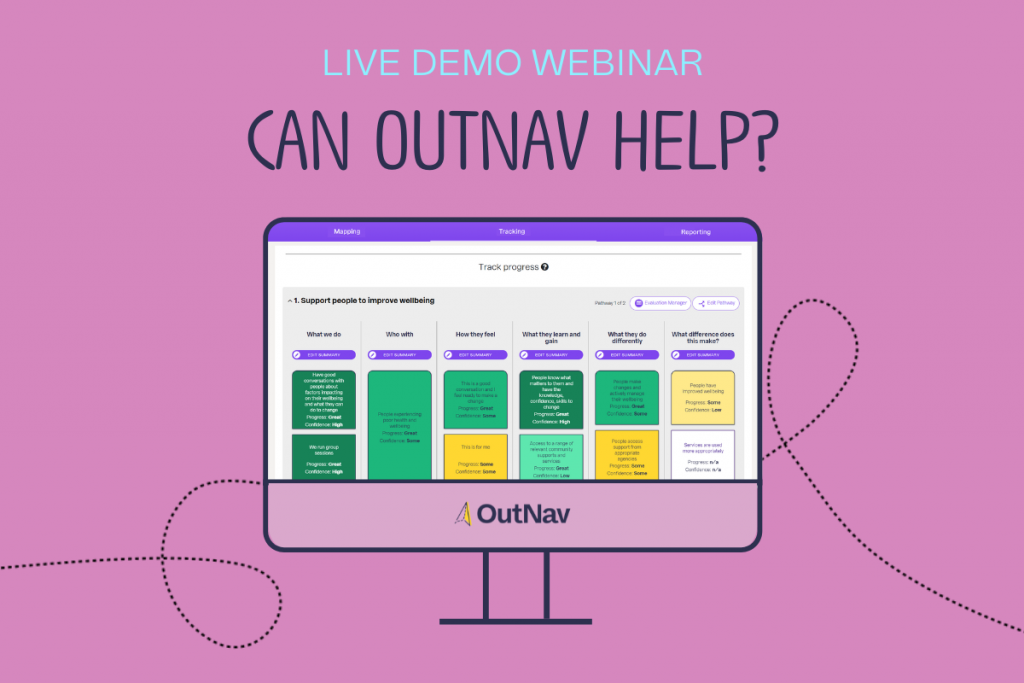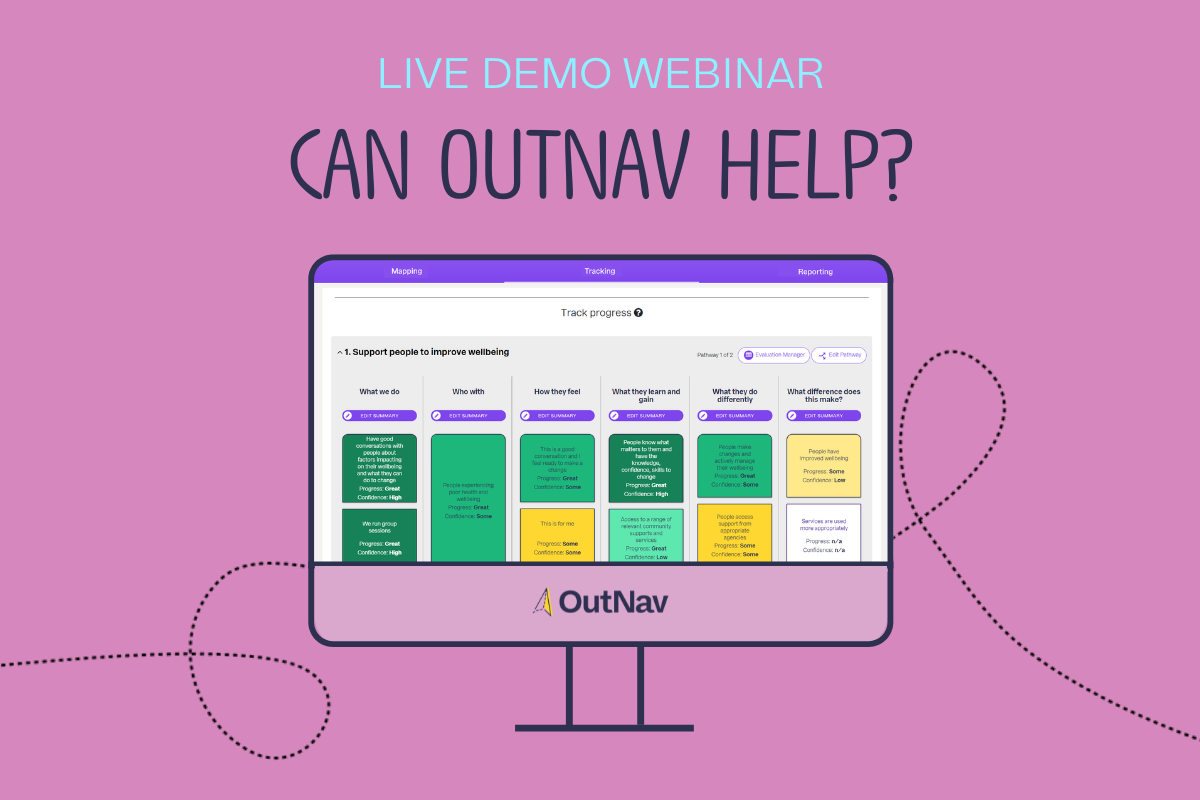 ---
Our work with relational services
At Matter of Focus we specialise in working with organisations addressing some of the most challenging and complex social problems where relationships are central to the effectiveness of the initiative. We believe that it is vital that evaluation approaches pay attention to these relationships and the contribution that they make to the overall outcomes and impacts of the work. Our framework provides an accessible and robust way to ensure that relational aspects of the change process are centred within evaluations.
In our work with the most pioneering relational services we often find that funders and commissioners underestimate, undervalue and under-resource the relationships that make the service work. Services may have been set up with problematic assumptions about how long it takes to build relationships with supported people and the resource required for this work.
Future Pathways
Some of our most detailed work in this space has been with Future Pathways. Future Pathways was established in 2016 as one of the first organisations in the world to provide specialist support to survivors of childhood abuse and neglect whilst in care. Relationships between Survivors and Support Co-ordinators are at the heart of this work.
Through their evaluations over the years, Future Pathways have been able to build a robust theory of change for the service that highlights the importance of relationships, and to evidence the difference that their approach makes to improving outcomes for Survivors.
Our new article
We were delighted to be invited to contribute a paper to a special issue of the international journal, Evaluation and Program Planning on this work. The special issue focuses on approaches to testing and surfacing assumptions in theories of change and is edited by Sanjeev Sridharan, Mel Mark and April Nakaima. The paper is co-authored by Flora Henderson, Alliance Manager at Future Pathways, and focuses specifically on assumptions around building trust within the service.
You can download a preprint version of the article here or view the final version on the ScienceDirect website using the link below. Please note: you may need a subscription to the Evaluation and Program Planning journal to view the full article in this way.
Are you wrestling with how to meaningfully evaluate the difference your work is making to the people you support?
In this webinar, Matter of Focus director Ailsa Cook draws on her extensive experience working in this area to take a deep look at the issue of evaluating personal outcomes and share our tried and tested, practical approach to doing this.
Recorded live on Thursday, 25 May 2023 – Watch the recording
Measuring what matters
Effective health and social care services are focused on what matters to the people they support.
In Scotland we have been leading the way, developing and implementing approaches such as the Talking Points: Personal Outcomes Approach that was co-developed by Dr Ailsa Cook with Dr Emma Miller from the Personal Outcomes Network.
Talking Points has been implemented by 1000s of organisations across Scotland and beyond. Having good conversations with people about what matters to them and how services and supports can help is core to Scottish social care policy and practice and becoming increasingly mainstream in health settings too.
However, less progress has been made with how to evaluate whether outcomes have improved for people and what, if anything, the contribution of services and supports has been to this. This poses a real challenge for people at every level of the health and social care system. Without this information:
Practitioners don't have all the information they need to support someone and can't be confident they are doing the best job they can.
Managers don't know how effective their service is, where the gaps are and what they are doing really well and could invest more in.
Strategic leads can't prioritise resources effectively or robustly demonstrate that they are making good use of public resources.
Scrutiny bodies don't have the information they need to assure the quality and impact of services.
The Government can't know whether services and supports are making the contribution to National Outcomes they hope and where more investment is required.
Another more immediate challenge we frequently observe is that without this information it is really hard for pioneering, relational, preventative services to effectively evidence their contribution to improving outcomes for people and make the case for continued investment.
About this webinar
Ailsa has spent the past 20 years exploring this issue with 100s of colleagues and organisations, most recently in our work at Matter of Focus. In this webinar she will share learning from this work, including:
what is and isn't possible in measuring and evaluating personal outcomes
a tried and tested approach to doing this in practice
case examples from organisations who are evaluating personal outcomes and critically using this information to ensure they make the best difference possible to the people and communities they support.
As a researcher or someone working in knowledge to action or public engagement, how do you know if your work is making an impact?
When research is used in influencing, inspiring and educating people, issues of cause and effect are more complex. How do you unpick the contribution your work is making to people's lives?
In this webinar, research impact expert Sarah Morton explores what you need to be able to understand and track the impact of your work.
About this webinar
Sarah is joined in conversation with Barbara Farrell and Fiona Cowdell, two researchers who are on journeys using OutNav to track their impact.
Together they highlight the resources, capabilities and skills that are needed to make an impact, and to be able to understand and demonstrate the difference research or knowledge makes to people and communities.
The session explores:
The importance of a vision for impact – at institution, unit and project levels
Strategies for making impact
The support needed to make and measure impact
Approaches to understanding and tracking impact
Systems for working well with impact
This session includes a mix of concepts and practical approaches to get you started on your own impact tracking journey, and to make the case for the resources you need to do this work well.
Who will find this webinar of interest?
Anyone carrying out research with the view to influencing, inspiring and educating people, and where issues of cause and effect are more complex.
Research leaders that want to be able to inspire others to work in impactful ways.
Leaders or administrators of research centres or evidence to action teams that want to meaningfully track their impact.
Researchers or teams concerned with getting evidence into action in the public and third sectors.
People running public engagement programmes.
About the hosts
Dr Sarah Morton
Sarah Morton's pioneering approach to understanding research impact, is based on contribution analysis. This has been applied in seven independent impact assessments, to help people with REF impact case studies, and is the basis for our approach and software OutNav here at Matter of Focus.
Dr Barbara Farrell
Barbara leads a team at the Bruyere Research Institute in Canada that has developed a series of evidence-based deprescribing guidelines, to help people decide when and how to safely reduce medications. The team has produced an array of information and tools for patients – hosted on the deprescribing website – and developed tools and strategies to promote uptake of the guidelines by engaging researchers, health care providers, members of the public, health care educators and policy makers.
Barbara has been using our approach and OutNav to understand more about the impact of her team's work; to understand how the strategies and tools they have implemented have made a difference to people's lives; and to track the impact of their knowledge mobilisation efforts.
Prof. Fiona Cowdell
Fiona joined Birmingham City University in October 2016 as a Professor of Nursing and Health Research. Fiona is a National Institute of Health Research Knowledge Mobilisation Research Fellow Alumna. As a registered nurse she worked for many years in the National Health Service at senior levels both operational and strategic whilst developing close links with academia including posts as a Lecturer Practitioner and later as a Practice Development Consultant.
Fiona has been using OutNav to track the impact of INNOVATEDIGNITY a trans-national network that aims to deliver a shared, world-leading research and training programme to educate the next generation of thought leaders with the necessary research experience and transferable skills to deliver innovations in dignified, sustainable care systems for older people. She has taken the learning from this into her department at Birmingham City, where the faculty are now using OutNav to track the impact of their projects with a view to REF 2028.
Watch the recording
---
Looking to learn more?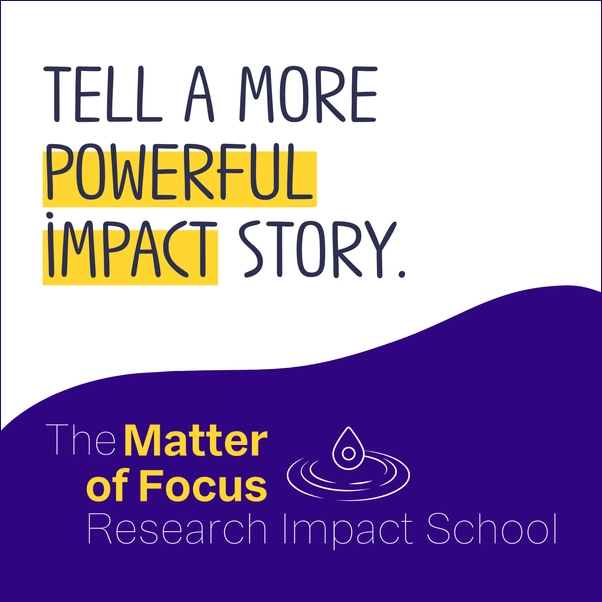 The Matter of Focus Research Impact School will equip you with the knowledege, skills and resources you need to unpick and start tracking the impact of your research.
The school combines four live, engaging workshops with a three month subscription to our impact tracking software, OutNav.
Booking now for May 2023.
Find out more.
---
What's a B Corporation?
B Corporations (or B Corps) are a growing group of companies who are reinventing business by balancing purpose with profit.
As a Certified B Corp, we meet rigorous social and environmental standards, which represents our commitment to goals beyond profit.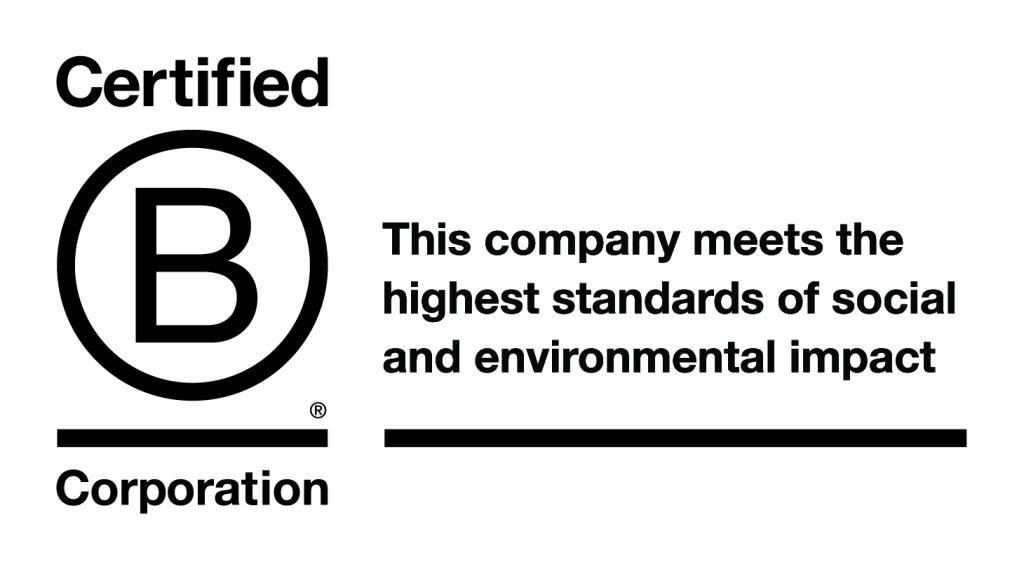 This is important to us
Having heard about the B Corp assessment through Scotland Can B back in our first year of trading, it seemed like an obvious process for us to go through. After all, we are a mission-led company, with a vision for social change and our values are already embedded into everything we do. We were already active members of the global Zebras Unite movement, calling for a more ethical and inclusive start-up culture.
We achieved B Corp certification in 2019. Three years on it was our time to go through reassessment, as each B Corp must do to demonstrate their commitment.
A rigorous assessment process
We were assessed and recertified by B Lab UK as having met high standards across five impact areas: governance, workers, community, environment, and customers.
It is a rigorous assessment process; requiring us to provide robust evidence of our continuing socially and environmentally responsible practices – including energy supplies, waste and water use, worker compensation and well-being, diversity and corporate transparency.
Although the assessment process is intensive and challenging, we were confident we could retain certification. Because our business is about impact, we already use our own method which gives us the tools to track how we make sure we achieve our mission.
We are delighted that we were able to demonstrate improvement, particularly in the categories of governance and workers, increasing our overall score by 5 points.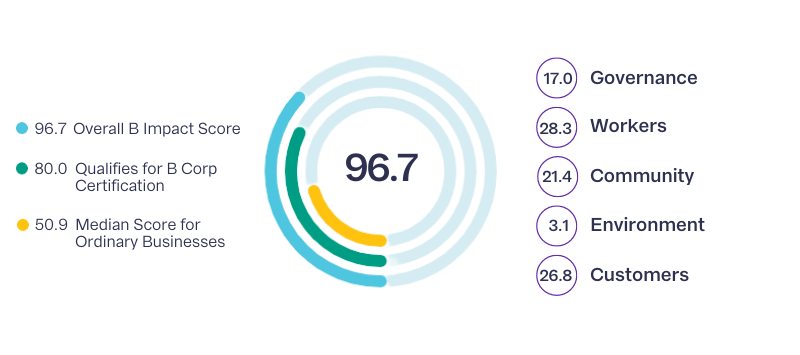 Part of a growing community
The B Corp Community now comprises more than 6000+ businesses globally, 1,100+ of which are in the UK where the community is reflective of the UK economy with businesses from a cross section of industries and sizes. These include well-known brands like innocent, Patagonia, Pukka Herbs, Abel & Cole, Divine, and JoJo Maman Bebe.
"We are delighted to be part of a growing community of like-minded business leaders who care about making a difference in the world. At Matter of Focus we support organisations in the public and voluntary sectors and we know that budgets are tight. It does not chime with our personal or business values to be maximising profits in this environment. We need to be a sustainable business but making money and making a difference go hand in hand for us."

Sarah Morton Co-Founding Director of Matter of Focus
It's heartening that the community has grown considerably since our original certification.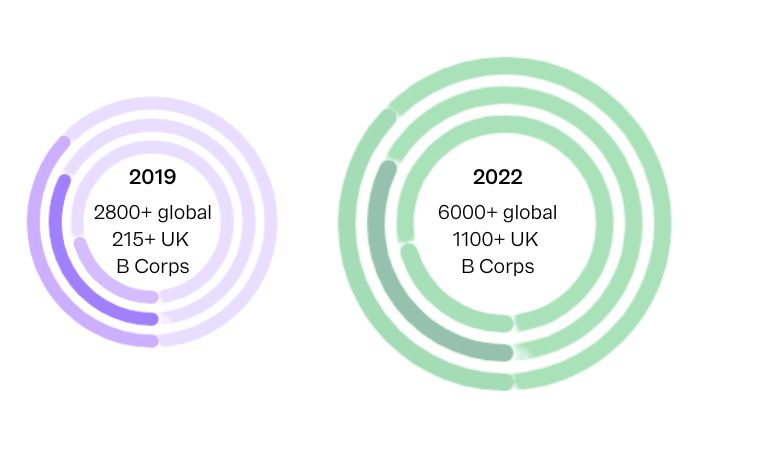 Thinking about certifying as a B Corp?
If you're curious about becoming a B Corp and would like to have a chat with people who have been through the process – twice! – please do get in touch.
---
---
The Dementia Training team was established in 2019, funded by the Life Changes Trust and the Robertson Trust, to build on Age Scotland's previous projects relating to dementia. They focused on building understanding about dementia and its impacts, and how services can improve their practice to better serve the needs of people affected by dementia.
Matter of Focus initially worked with the Dementia Training team to create an outcome map for this project in 2019. The Dementia Training team have been using OutNav ever since to track and assess their progress towards outcomes. Building in evaluation from the start of the project has been particularly important as the team have had to adapt their work several times in response to pressures from COVID. Using OutNav has enabled them to evidence the impact of these decisions and tell the story of the evolution of this training.
This new report, produced by Matter of Focus alongside Age Scotland and the Dementia Training team, details how the project has developed in its third year, drawing on evidence collected by the team throughout their work. The report shows that the training has achieved incredible reach and has been highly evaluated by participants. There are many examples of people and organisations putting the learning into practice to improve the lives of people with dementia and their unpaid carers.
Visit the Age Scotland website to learn more about their Dementia Training programme.
Download the report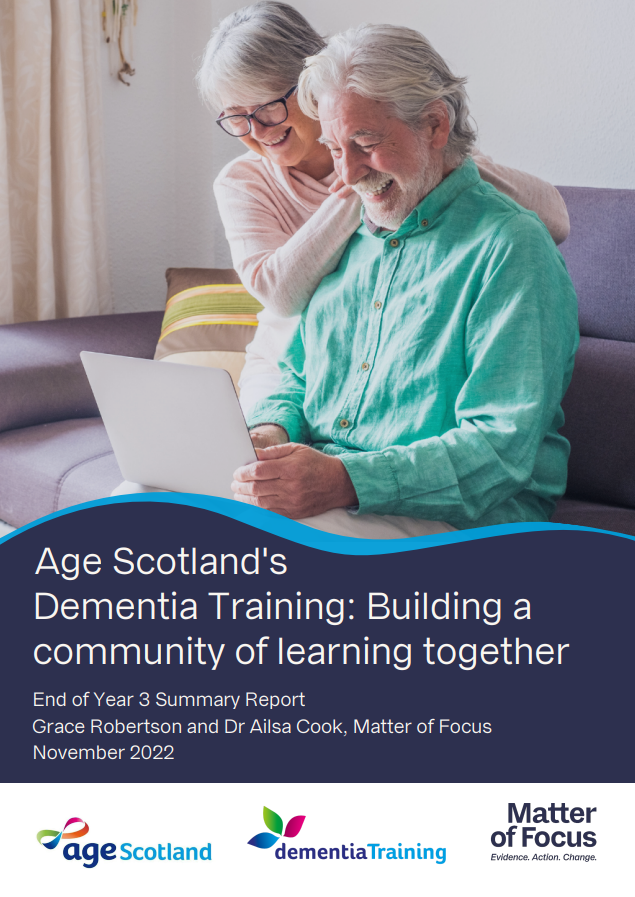 Age Scotland's Dementia Training: Building a community of learning together
End of Year 3 Summary Report; produced by Grace Robertson and Dr Ailsa Cook, Matter of Focus; November 2022
Download the PDF
When public service organisations focus on relationships — work that educates, empowers, inspires, supports, encourages or influences people — then simple measures to understand change just don't work. They often hide the complexity of what's going on, and sometimes undermine the ability of these vital approaches to make the case for their work.
This challenge is at the heart of the work we do at Matter of Focus.
We have worked with over 150 organisations and know many more face the same challenges, which is why Matter of Focus Directors Sarah Morton and Ailsa Cook brought together learning from this experience alongside a guide to our approach in a new practical handbook 'How Do You Know If You Are Making a Difference?'
To mark the publication of the book, we brought people from across public services together for an afternoon of discussion and reflection on the importance and challenges of knowing that you are making a difference, which we summarise in this post.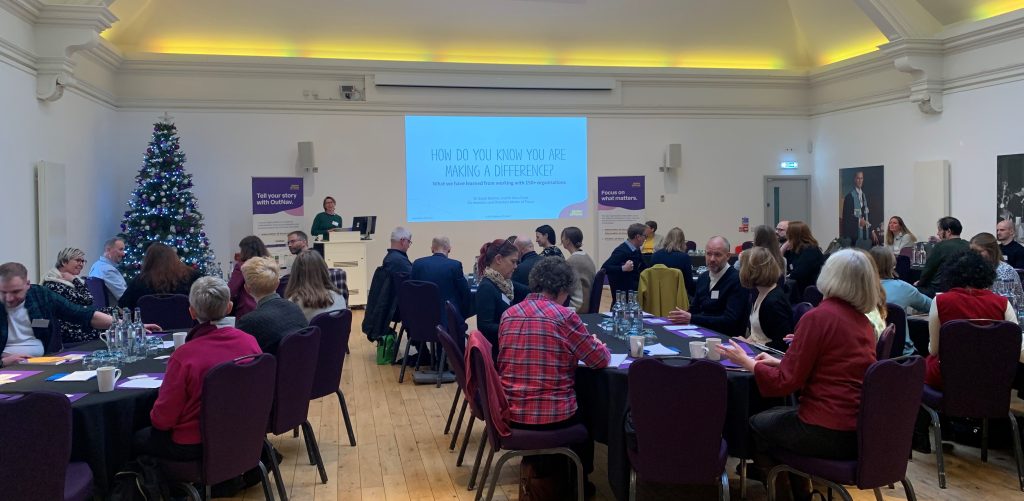 Why is it important to know you are making a difference?
Mental health support is all about relationship building. That's why Penumbra, a pioneering mental health charity, have been working with our approach.
Stephen Finlayson, Penumbra's Head of Innovation and Improvement, and Michael Burns, their Chief Executive, opened the event by telling the story of their journey to focusing on outcomes.
The Matter of Focus approach is based on setting out a theory of change in an 'outcome map'. As Stephen pointed out, every organisation has a theory of change — that is, they hold beliefs and assumptions about how and why the work they do makes a difference to people — it's just that these are not always made explicit. As Penumbra found, setting out an outcome map means everyone can be clear about what is important.
Using our six simple headings helped Penumbra set out their theory of change.

Focusing on outcomes in this way is essential if we are to meet the demands for services in the current environment, Michael argued. If outputs are constantly scrutinised rather than outcomes, we just keep needing to deliver more and more:
"We need to move away from activities to an outcome approach. Budgets will run away from us if we keep focusing on what we deliver rather than outcomes for people."

Michael Burns, Chief Executive, Penumbra
A storm of pressure in the current crisis
People at the core of public services, designing and delivering work that makes a difference to people, are facing some acute challenges. They often see the difference their work makes but know that funders are looking for short term gains — and asset-based, person-centred, preventative work often can't demonstrate this. The time invested in developing and nurturing effective relationships and partnerships is completely invisible to the system. Worries about cuts to budgets, the impact of the cost of living crisis, how staff are coping and what's happening to the climate are dominating lots of people's thinking.
This storm of pressure is in some ways predictable. The Christie Commission is more than ten years old, but set out the need for public services to innovate, focus on what matters to people and develop partnership and relational responses to complex problems. The current crisis has only accelerated this need. Knowing that you are making a difference is even more important and performance management approaches are failing even faster.
A shift in thinking is needed for this new environment.
An alternative approach to understanding change
"It is possible to show you are making a difference."

Stephen Finlayson, Head of Innovation and Improvement, Penumbra
Acknowledging that multiple factors influence change and moving away from reductionist approaches is essential to understanding this work. Sarah Morton set out the ways that this can be done using complex system approaches, valuing relationships and using contribution analysis.
Sarah and Ailsa explained how we support people through a process of analysing the context for their work, mapping outcomes, bringing together data and evidence against the outcome map, and collective analysis.
All of these processes are part of sensemaking — people having the time and space to work together to reach common understanding of whether and how they are making a difference, what their data is telling them, where they can learn and improve and what they might do differently.
Bringing together learning for improvement alongside tracking impact for external reasons and outcome focused reporting helps organisations build a learning culture, deliver better, and tell a powerful story of the difference they make.
---
Our approach in action
Six examples of our approach in action were shared during the event:
Outcome mapping in action: Making Children's Rights Real
The Observatory of Children's Human Rights Scotland and Public Health Scotland needed to understand how adopting and implementing the United Nations Convention on the Rights of the Child (UNCRC) would make a difference to children in Scotland. We took a participatory approach to map this out, involving policy makers, practitioners, children and young people and third sector organisations. We drew on formal evidence along with evidence from experience.
We set out four pathways for change, seen below. This was a systems change project, so it was important to consider the supporting measures beyond the direct implementation of the system of information, advocacy and legal redress.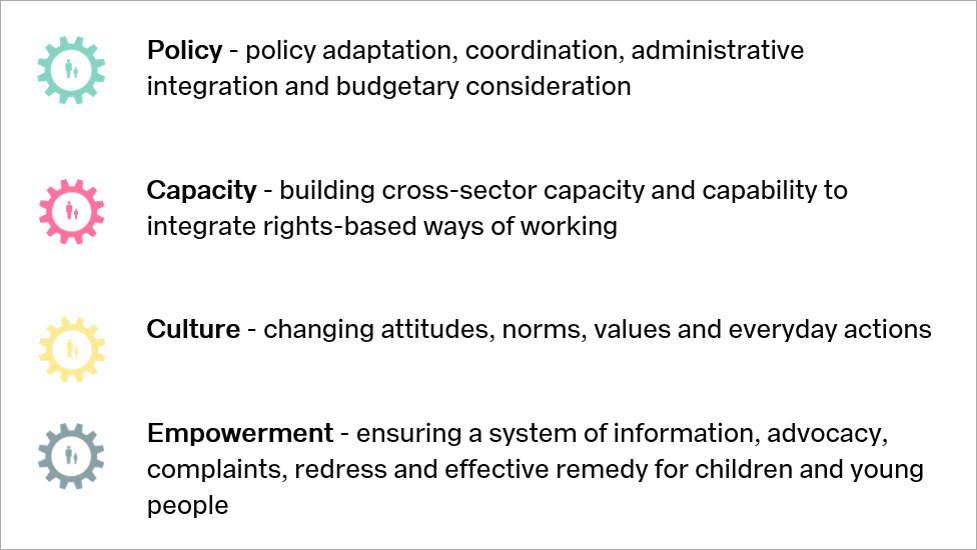 ---
Tracking progress in action: Health Technology Wales
Health Technology Wales was an early adopter of our approach. They set out outcome maps for their main areas of work, and we supported them to improve their data with some simple approaches, including a pop-up on their website, capturing informal feedback more systematically, and implementing a simple annual stakeholder survey.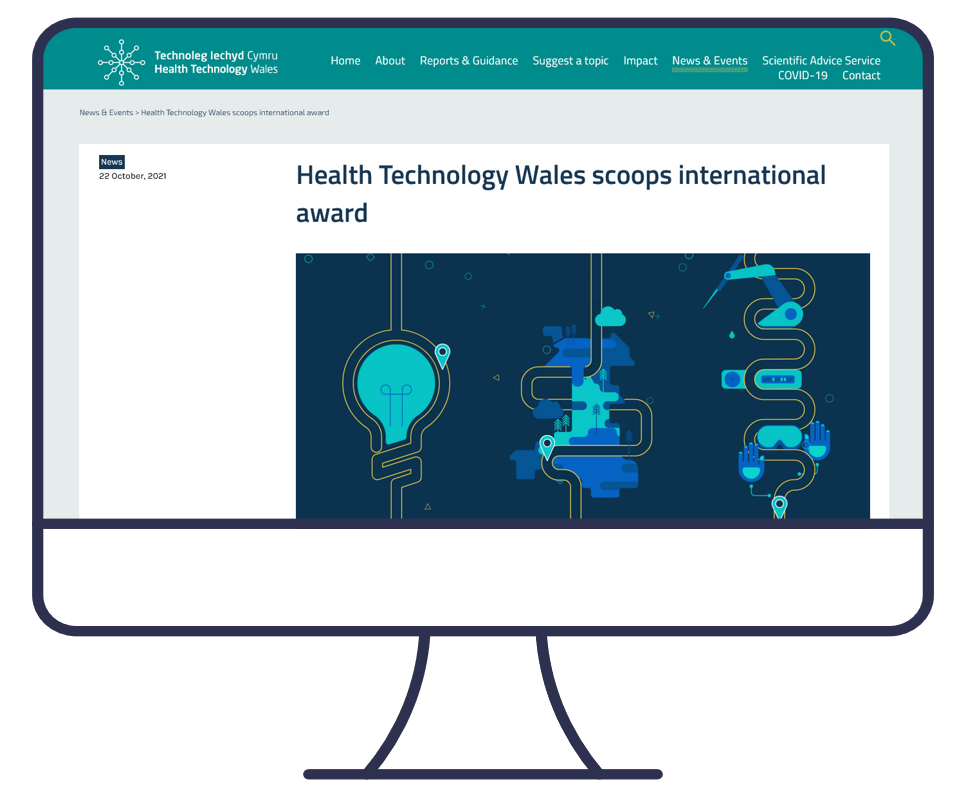 ---
Reporting in action: East Renfrewshire Health and Social Care Partnership
Reporting on outcomes in a meaningful way is the cherry on the cake from working in this way.
When East Renfrewshire Health and Social Care Partnership launched a new peer support service, they knew it was the right thing to do, but in the context of tight resources they needed solid evidence to justify the commitment of resources to the project. They went with us on a journey of mapping outcomes, tracking data and with our help produced an outcome focused report that showed how this service was contributing to improved outcomes for people.
The report highlighted that relationships between peers and the people they supported were key, and showed evidence of real improvement in outcomes for people. This led to the partnership committing to funding the service for another three years.
---
Tracking change across multiple initiatives: Transforming Local Systems
The Technology Enabled Change (TEC) Pathfinders project supports local areas to address a health challenge that is important to them: encouraging local innovation, cross-sector problem solving, and a focus on what matters to people locally. This created a challenge for the Scottish Government, as shared by Transforming Local Systems Lead Margot White, in understanding the contribution to the overall change.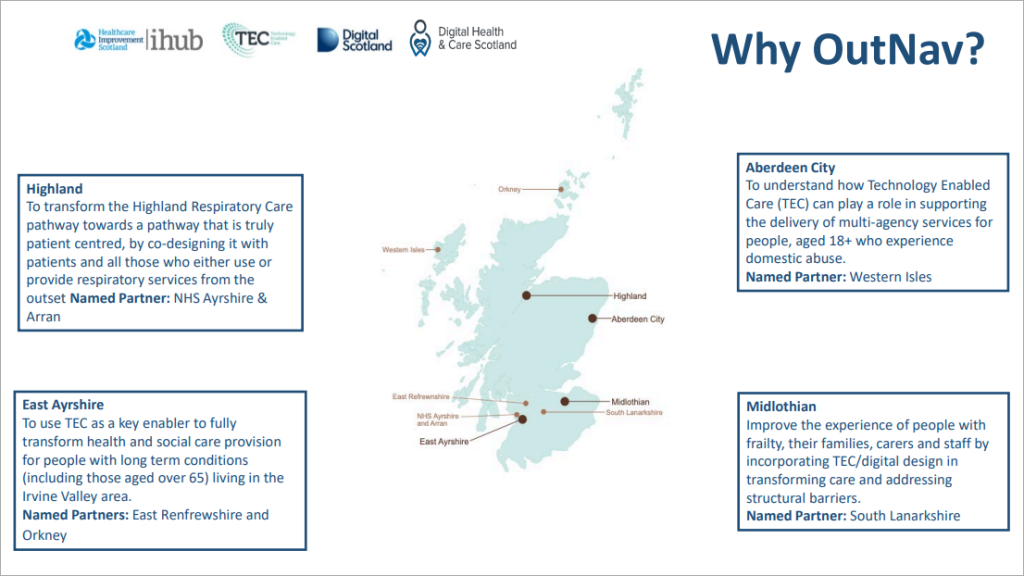 Working with OutNav (the software we have developed to hold our approach) enabled each place in the programme to set out and track the difference they made, focusing on what mattered locally, while also creating congruence across the projects.
"Focusing on what mattered to people enabled us to change the programme – we could see what people wanted and make changes to meet that."

Margot White, Transforming Local Systems Lead
Bringing the project teams together for virtual meetings to work on data analysis collectively was also great for team building despite the geographical spread, and for building collective understanding of the approach and what was happening in each place.
---
Owning your organisation's outcomes: WHALE Arts
Like many third sector organisations with multiple funders, leaders at community arts organisation WHALE Arts felt that there was outcome drift as they flexed to meet these requirements.
Working with OutNav over a few years, initially as part of our collective support for Edinburgh Community Health Forum, WHALE Arts has gone through several iterations of their outcome maps in order to realign their outcomes to what matters to the people they support.
"OutNav has helped us become experts in our own outcomes, to approach funders with robust evidence of what we do, and to secure funding for the things that matter to us."

Kirsty Frankland, Arts and Wellbeing Manager, WHALE Arts
Kirsty explained some of challenges to embedding the approach, through a process of choosing outcomes, defining them, learning and refining. Bringing together multiple forms of evidence into OutNav has been important for WHALE to highlight how they make a difference to people. Some challenges remain, and their strategy is to refine with a clear focus on what matters to people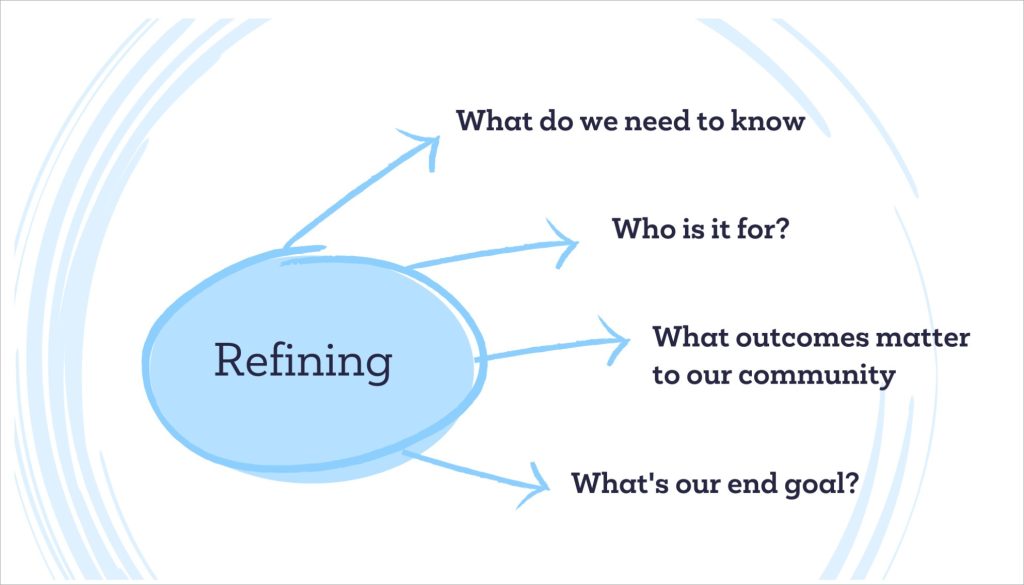 ---
Making the case for a new way of working: Future Pathways
Future Pathways was a new person-centred approach to supporting survivors of in-care abuse in Scotland. Putting people at the centre of support seemed important but had not been tried in this way before. This led to a lot of scrutiny not only from the funders, but also from survivors themselves who were understandably mistrustful of services, and cared deeply about how any government money was being spent.
"Outcome mapping allowed us to test assumptions early on, and take an iterative approach to delivery," said Flora Henderson, Alliance Manager for Future Pathways. The fact that the Matter of Focus approach focuses on relationships was a great fit. Using evidence helped Future Pathways evolve and change their offer, and demonstrate impact.
Embedding the approach created space for managers and staff to look at data together, so that learning and improvement was embedded in the work. They were able to successfully make the case for more funding.
"Bringing quality improvement and a focus on impact together from the start has helped to build a quality offer with clear benefits to people."

Flora Henderson, Alliance Manager for Future Pathways
---
Key themes from the discussions
It was great to launch the book and share these discussions with more than 60 people who brought massive expertise, experience and commitment to knowing that they are making a difference. Some strong themes emerged during group discussions, including:
The importance of sensemaking.
Many people described how taking the time to really think through change processes and learn from emerging evidence had been transformative. There were lots of great examples in the room of organisations creating spaces for reflective practice. People recognised that these kinds of sensemaking spaces can be the first things to go when initiatives are under pressure.
The importance of understanding the data culture you are working in.
Participants reflected on the diversity of data cultures that they worked with and how rarely assumptions around data were surfaced through day to day work. This could be very problematic, and participants described times when unreasonable expectations around data and measurement had got in the way of efforts to make change. Several people said they would approach working across data cultures differently in the future.
The importance of making time and space to learn how to know you are making a difference.
Each presenter reflected that their approach to knowing they were making a difference had evolved over time. In every case the process had taken more time than they anticipated, but had yielded more learning than they thought along the way.
This really resonated with participants' experiences of transforming their organisations in different ways.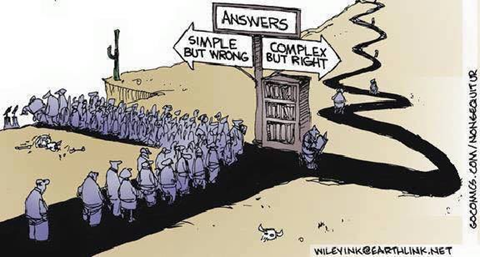 We are really grateful to our presenters and everybody that joined us for such an inspiring and interesting afternoon of discussion. It certainly cemented our belief that taking the time to come together really does make sense.
---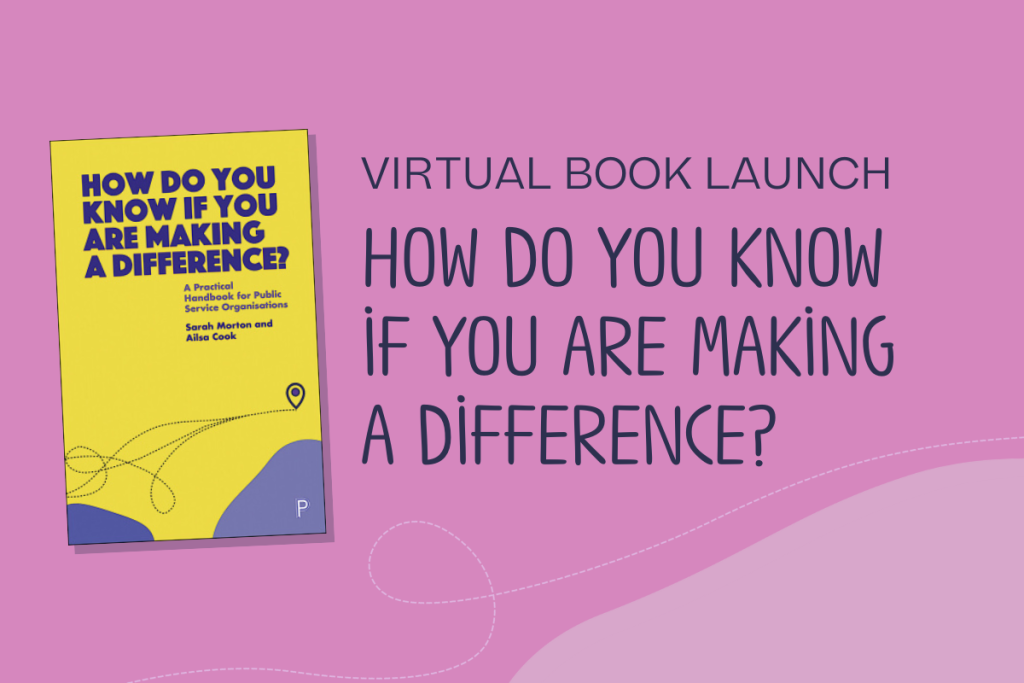 ---